Smoke & Mirrors Percussion Ensemble LP 180 Gram Vinyl 45rpm Yarlung Records Steve Hoffman Pallas USA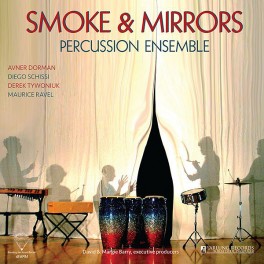 Maximize

Display all pictures
Artist:
Smoke & Mirrors
Title:
Percussion Ensemble
Catalog Number:
YAR17255-195V
Label:
Yarlung Records
Barcode:
888174172552
Original release year:
2015
Number of discs:
1
Revolutions per minute:
45 rpm
Disc size:
12"
Vinyl Weight Grade:
180gr
Total Item Weight:
274gr
Pressing country:
Germany
For Market Release in:
USA
Added to catalog on:
February 14, 2017
Vinyl Gourmet Audiophile TOP 100:
Yes
Note:
Never eligible for any further discounts
Vinyl Gourmet Club:
No
Smoke & Mirrors Percussion Ensemble takes us on many journeys in this album. These are refreshingly fully developed works, each very different from the others, each with its own story. As a whole, these pieces illustrate the breadth of contemporary classical music written for percussionists, as well as the flexibility and virtuosity of Smoke & Mirrors.
Featured in Vinyl Gourmet Audiophile TOP 100


Audiophile Analog Recording
45rpm 180 Gram Vinyl
Pressed at Pallas in Germany
Mastered by Steve Hoffman & Bob Attiyeh
All analog cut by Bernie Grundman
Smoke & Mirrors takes us on a journey of the breadth of contemporary classical music written for percussionists. The recording was captured using a single AKG C 24 stereo microphone in the glorious acoustics of Zipper Hall in Los Angeles. Each piece was recorded live to tape with no editing to create a lifelike performance.
In the age of compressed digital downloads, it is refreshing to hear real sound and real music again, reminiscent of RCA Living Stereo in its golden age, or Mercury Records at its height. Yarlung's sound is liquid and transparent, just as if you were sitting in the concert halls with superb acoustics, where these recordings are made.

"Yarlung Records newly recorded and released Smoke & Mirrors walked away with this year's top prize! …This recording's huge dynamic range (this is not a piece for the weak willed amplifier), instrumental colors and especially cornucopia of percussion instruments including bass drum and tam-tam will give even a thoroughbred audio system everything it can handle and even a bit more." --Myles Astor
"Here's a relatively new label dedicated to recording young and established concert artists with minimalist recording techniques using vacuum tube microphones recorded directly to two tracks. [Smoke & Mirrors Percussion Ensemble] presents a wide tapestry of rhythms and harmonics skillfully arrayed across a broad and deep soundstage. There's an immediacy, clarity, and transparency to this modern classical percussion recording that seemingly brings the performers to your living room." - Jim Hannon, Publisher & Senior Writer, The Absolute Sound

"The sonics here are spectacular, in some ways the best of the three records covered here, and presented at 45rpm because the 33 1/3 test pressing proved too difficult for most tone arms and cartridges to track. At 45rpm you should have no difficulty.
These performances were recorded live to tape with no editing by the seven members of Smoke & Mirrors. The power of their playing will immediately become evident upon the first drum "thwack" behind the hypnotic bell-toned overlay of the opener "Udacrep Akubrad" which is backwards for "Percadu Darbuka".

The recording is superbly transparent and well-captures the hall's natural reverb. I can't imagine you won't thoroughly enjoy listening repeatedly to this record. If you want to support the arts, great modern day analog recording and an adventurous classical music label, here's a great opportunity. This recording has all of the attributes of the great recordings of the "golden age" of recording: spaciousness, image three-dimensionality, timbral and textural accuracy and wide dynamics. Crank it up and enjoy!" - Michael Fremer, Analog Planet
Recorded in Zipper Hall, Los Angeles, June 7-10, 2011 and June 3-5, 2012
Musicians:

Smoke & Mirrors Percussion Ensemble
Joe Beribak
Jessica Cameron
Edward Hong
Katalin La Farve
Kevin Schlossman
Derek Tywoniuk
Wai Wah Wan

Track Listing:

Avner Dorman (b. 1975)
1. Udacrep Akubrad

Diego Schissi (b. 1969)
2. Juego de Relojes (Game of Clocks)

Derek Tywoniuk
3. Watch me vanish, watch me?
4. Happenstance Mov IV On the Road

Maurice Ravel (1875-1937)
5. Sonatine Mov III Animé