Contents of this section (click to go directly to that topic)
Carriers and Services used by Vinyl Gourmet
Vinyl Gourmet ships orders to any destination worldwide using "Signed For" Registered Mail and International Parcel services both with recipient signature requirement, insurance and package tracking service provided by CTT Correios de Portugal, the extremely reliable and efficient Portuguese National Postal Service company.
You can expect a very safe and fast service from CTT as they work with your own country's Postal Service to deliver "Signed For" packages at your door and providing Online Tracking through CTT's website (in Portuguese and English) as well as on your National Postal Service website when the package reaches your country. Vinyl Gourmet does not ship to PO Boxes outside of Portugal, and for those in Portugal we only ship if payment is made using Bank Wire Transfer.

Orders with total cost below 75 Euros and with delivery in Portugal have the option for Economic Non-Registered Mail. Vinyl Gourmet is not responsible for any damaged or lost packages when non-registered economic mail is selected at the sole responsibility of the customer.
UPDATE 2023 - We now also offer UPS shipping option for certain regions and certian products, depending on order value, weight and size.
Difference between Registered Mail and International Parcel CTT services

Both services deliver orders at your door and offer the same quality standard, both require signature from the recipient and provide package tracking. Which service is cheaper depends on the content of any particular order and destination country as it will vary with the weight range being used and some countries have much better Parcel rates than others, but in general the Parcel service is more suited and a better option for larger volumes with heavier contents. The Registered Mail service can be marginally faster but it might require that your order is shipped in multiple separate boxes because of a 2kg weight per volume limitation and in such case each box is sent at the same time being tracked and treated the same way. On the other hand the Parcel service can ship a single volume of up to 20kg. Given the option at checkout, you should always choose the service with the lower cost because both services offer great quality and speed.

Shipping Cost Calculator on the Shopping Cart quick view and at Chekout

The shipping cost calculator you can see on the Shopping Cart quick view (top right) provides automatic and dynamically updated shipping cost depending on the Cart contents at any given time, but it will display "0,00" if you are not logged in with your registered User Account and visiting the store as a Guest. We recommend that you login to the store and benefit from the estimates of the automatic shipping cost calculator in the Shopping Cart quick view, in which case the estimates are based on the least expensive available shipping option to your country. However this is only to help you calculate total costs as you add items, you should keep in mind that only the shipping cost displayed at the end of the Checkout process when all is accounted for right before the payment step is considered valid for the order.
On the technical details list of any item you'll usually find information about Item Total Weight (excluding packaging) allowing you to better plan your Cart contents and shipping options. The first weight range goes up to 1Kg with typical shipping cost for one item starting at 9.90 Euro for most European countries and 15.80 Euro for the rest of the World, increasing from there for more items on the next weight range up to 2Kg that can usually take between 2 and 4 items depending on the items weight and volume.

The relative shipping cost per item decreases dramatically for orders of 2, 3 or more items. You're advised to experiment and confirm with the automatic shipping cost calculator during Checkout to find the best shipping rates per item depending on the quantity of items and their respective weights. Because of the way our Weight Ranges are split and of the typical weight of audiophile vinyl records, you'll probably find that it is a much better option to order in multiples of 2 items but this really depends on the weight of each item that is being added to the cart and it can vary quite a bit if it is a single or double LP, type of packaging, and so on...
Please note that these weight ranges can change or suffer small variations depending on several factors related to the high quality of our packaging system. Adding extras directly or resulting from Vinyl Gourmet Services such as Professional Record Cleaning that includes one new inner sleeve for each disc can result in more weight being added to the order, this might affect the shipping cost if the order steps up to the next weight range because of such extras.
Other carrier / shipping options might become available at anytime in addition to the base services described here and shown in the above table. In the unlikely case where, for any reason, the automatic shipping cost calculator fails to provide the correct value and the order is charged at a lower shipping cost than it should have been, Vinyl Gourmet reserves the right to cancel & refund the order or ask the customer to take the steps necessary to pay the additional shipping cost so that the order can be corrected and accepted. We can ship orders up to 10Kg using the automated checkout system, if you'd like to place an order that exceeds the current maximum weigh range, please contact us and we'll send you details about shipping / payment options for larger and heavier orders.
Local In Store Pickup option (office)

This option allows you to buy online and pick up your order from our office in person. The payment options and checkout procedure is exactly the same as for mail delivery orders, the only difference is that the order can be picked up at our office by you saving on shipping costs. Vinyl Gourmet currently operates the Local In Store Pickup service almost 24 hours a day and 365 days of the year.
We ask all our customers planning to use this option to contact us by email or by phone to confirm when they want to come by, just to check our availability and to allow enough time for everything to be ready specially, but not exclusively, if any additional services were added to the order that can make the preparation take longer than usual.
We can not guarantee that we'll be open and available to service In Store Pickups when no contact has been made to confirm our availability as stated above. Please contact us and let us know what are your preferences to pick up your order when it's more convenient for you and when we are available.
Home Delivery Service (Portugal - Lisbon Area)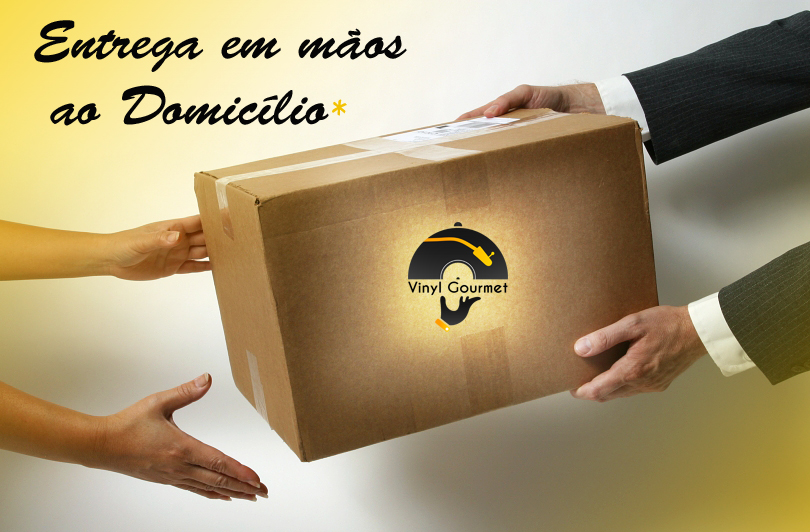 Free Home Delivery Service in Portugal - Great Lisbon Area for orders of at least 3 eligible items with total value of 500 Euros or more. Before making an order please contact us by email or by phone to confirm we can deliver to your address, if the address is accepted for this service you can complete checkout as usual and select the delivery option "Entrega em Mãos ao Domicílio" that is only available if the cart contains 500 Euros or more and all items in the cart are eligible.
After the order is placed please contact us to let us know your preference for day/time of delivery and we'll get back to you to schedule the delivery. This service is available only in the Great Lisbon Area and deliveries can be made every day of the week but only after regular work hours, from 20:30 to 22:30 in the evening, subject to our availability. If you have any questions about this service or if you're in doubt regarding your address being inside the Delivery Area, please contact us and we'll provide all the details.

Packaging System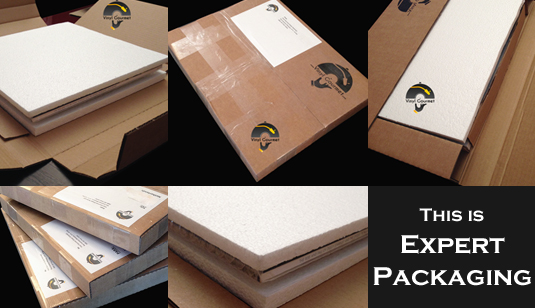 We are very proud to have our own unique and custom designed boxes with high quality extremely strong cardboard and an internal protection system that, along with our packaging preparation technique and expertise, makes it virtually impossible to damage the records and covers inside the box during shipping. You will not be disappointed, and if you want to be absolutely certain about the safety of your LP's and their covers, we urge you to use our free and recommended Expert Packaging service that eliminates the most common damage inflicted to LP's during shipping: Split Seams (cover edges cut through by bouncing LP records).
Shipping Exceptions (No Combined Shipping)

Some items on Vinyl Gourmet can not be shipped with any other items in the same package, so they cannot take part on combined shipping. This will apply mostly to items that have special packaging with unusual size or weight. In such cases you'll find specific information on the item technical details list and description, also the Checkout will automatically adjust the shipping cost to reflect this.
Shipping Restrictions (In Store Pickup Only)
Some items on Vinyl Gourmet can not be shipped at all, the only way they can be bought is by using the local In Store Pickup option or Home Delivery Service as described in a previous topic. This will apply mostly to items that are too big, or too expensive, where the associated risks of damage during transportation or the sheer logistics involved with shipping make it unpractical and not viable economically. In such cases you'll find specific information on the item technical details list and description, also the Checkout will only provide In Store Pickup as an option to process the order and for this reason you shouldn't make an order were unrestricted items are mixed with any item that is Shipping Restricted as it will affect the shipping options available to all items in the Shopping Cart (unless you plan to pick up in store all items in thar order).
Delayed Shipping option for Out Of Stock items from orders with both In Stock and Out Of Stock items
Delayed Shipping option will be presented to you on Checkout if your order contains both In Stock and Out Of Stock items. Check this box to have all In Stock items sent immediately on a first shipment and all Out Of Stock items sent on a separate second shippment. By selecting this option you choose to receive this order in multiple shipments (also called delayed shipping). Items In Stock at the time the order is placed are sent first, but Out Of Stock items are sent separately on a second shipment when all Out Of Stock items are back In Stock. If you leave this box unchecked all items in this order (In Stock and Out Of Stock) will remain on hold untill all items are In Stock and ready to send on a single shipment, this can reduce the cost of shipping but will delay delivery depending on how long it takes to have all items In Stock and ready to ship.
Special note for customers with Multiple Addresses
In certain scenarios the delivery and billing address must be the same, based on the delivery address, to ensure correct processing of taxes, customs forms and shipping costs is applied. If you have two or more addresses associated with your account, one of them is from a country that belongs to the European Union, and another one is from a country outside of the European Union, it is mandatory to set both shipping and billing adress with the same address, for each order. For example, you are from the USA (outside EU) and want to make an order to be delivered in a second address in Germany (EU member), then you must set the order with the Germany address for both delivery and billing address. The same should be made if you are in Germany and want to make an order to be delivered in the USA, in that case the delivery and billing address must be set to the USA address. In such scenarios as described above you cannot mix different addresses in the same order, this applies to all countries, Germany and USA were used only as examples.