Clark After Dark The Ballad Artistry Of Clark Terry LP 180 Gram Vinyl AAA Series MPS Optimal 2016 EU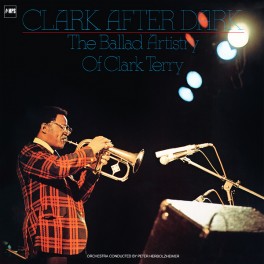 Maximize

Display all pictures
Artist:
Clark Terry
Title:
Clark After Dark
Catalog Number:
0211531MSW
Label:
MPS
Reissued by:
MPS
Barcode:
4029759115311
Original release year:
1978
Reissue year:
2016
Number of discs:
1
Revolutions per minute:
33⅓ rpm
Disc size:
12"
Vinyl Weight Grade:
180gr
Total Item Weight:
288gr
Pressing country:
Germany
For Market Release in:
EU
Added to catalog on:
February 13, 2017
Collection:
MPS AAA Reissue Series
Note:
Never eligible for any further discounts
Vinyl Gourmet Club:
No
Clark Terry legitimized the flugelhorn as a front-line instrument in jazz. Possessing a golden-warm, crystal-pure sound and prodigious technique, he worked with the Ellington and Basie Bands as well as most of the major players of the last 50 years, participating in over 900 recordings. Terry was also an important mentor to the likes of the young Miles Davis, Pat Metheny, and Quincy Jones.
Audiophile Analogue Remastering
Remastered by Christoph Stickel and Dirk Sommer
Reforest The Legend MPS AAA Reissue Series
180 Gram Audiophile Vinyl
Pressed at Optimal Media in Germany
Large insert with photo of the Original Master Tape box
In 2010 Clark Terry received a Grammy for life-time achievement.
"Clark Terry's 1977 studio date with an orchestra conducted by Peter Herbolzheimer might very well fall into the easy listening category were it not for his brilliant improvisations on fluegelhorn, which he plays throughout the session. Most of the material consists of classic songs that Terry was undoubtedly very familiar with by the time of this 1977 recording, including "Misty," "Willow Weep for Me," "Angel Eyes," and "Yesterdays," with the arrangements all having pretty much a low-key, late-night feeling, hence the album title. Producer Mike Hennessey co-wrote "November Song" with Willi Fruth, a ballad with swirling strings; and Herbolzheimer contributed "Clark After Dark," a tasty blues that is a good deal looser than most of the rest of the album, which also features great solos by pianist Gordon Beck and trombonist Dave Horler, as well as some great muted horn from Terry. The loping "Girl Talk" showcases tenor saxophonist Tony Coe and guitarist Martin Kershaw briefly. His flawless playing make it a worthwhile investment - if you can only find it." - Ken Dryden, All Music

This amazing album finds Terry backed by a 50-piece orchestra featuring the cream of London's session musicians, including 28 strings. The album contains 12 classic ballads. For instance: Nature Boy with its richly woven orchestral tapestry of lush, dark harmonies, and Willow Weep For Me with the brassy-blue big band sound backing Terry's wide-ranging solo, the flowing warmth and depth of November Song, the melancholy of Yesterdays, and the foreboding of Angel Eyes, transformed into an easy double-time swing punctuated by a lush horn and string arrangement before Terry returns with a somber statement of love lost. It's a great album for late-night romancing, or simply lay back in your armchair and enjoy the artistry of one of the most coherent, beautiful sounding players jazz has to offer.
Track Listing:

Side A
01. Misty
02. Nature Boy
03. Georgia On My Mind
04. November Song
05. Clark After Dark

Side B
06. Willow Weep For Me
07. Yesterdays
08. Emily
09. Angel Eyes
10. Girl Talk
Click here to listen to samples on YouTube.com ♫