Baden Powell Images On Guitar LP 180 Gram Vinyl Audiophile AAA MPS Optimal Germany 2016 EU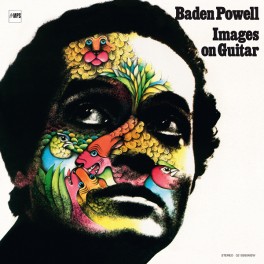 Maximize

Display all pictures
Artist:
Baden Powell
Title:
Images On Guitar
Catalog Number:
0210990MSW
Label:
MPS
Reissued by:
MPS
Barcode:
4029759109907
Original release year:
1971
Reissue year:
2016
Number of discs:
1
Revolutions per minute:
33⅓ rpm
Disc size:
12"
Vinyl Weight Grade:
180gr
Total Item Weight:
343gr
Pressing country:
Germany
For Market Release in:
EU
Added to catalog on:
September 7, 2016
Collection:
MPS AAA Reissue Series
Note:
Never eligible for any further discounts
Vinyl Gourmet Club:
No
This album is not only one of the most delightful covers in the MPS catalogue, this October 1971 Baden Powell recording is also part of the second trilogy that he recorded for the label between 1966 and 1975. The songs on this album show Powell's distinct style, fused elements of bossa nova, samba, Brazilian jazz, Latin jazz and popular music, as well as the amazing virtuosic guitar playing.
Audiophile Analogue Remastering
Remastered by Christoph Stickel and Dirk Sommer
MPS AAA

Reforest The Legend

Reissue Series
180 Gram Audiophile Vinyl
Pressed at Optimal Media in Germany
Gatefold Cover
Crowned with one of the most fanciful covers in the entire MPS catalogue, this October 1971 Baden Powell recording heralded in the second trilogy of the six LPs he recorded for the label between 1966 and 1975. Fueled by his artistic partnership with writer-producer Joachim Ernst Berendt (Berendt helped further Powell's European career by inviting him to play at the Berlin Jazz Festival in 1967), Powell was without a doubt the most inventive Brazilian guitarist of the period.
On this album Powell and his new quartet sketch the sound tableaus that color the background for French singer Janine Waleyne. The singer had partnered with the likes of Stan Getz and Michel Legrand. For Powell she was an ideal counterpart to his guitar playing. The journey begins with the sedate, almost somber samba "Até-Eu." With its wandering nocturnal melancholy "Violão Vagabundo" follows a similar musical path. There's a funky feel to the popular hit "Blues À Volonté." It also harbors one of the most brilliant scat choruses to be heard between Rio, Paris, and Baden-Baden.
The theatrical finesse of "Images" insures that virtuoso solo interludes shine between the vocal pieces. This is where we find the LP's other famous pieces – the classy "Petit Waltz" with its capricious, careening rhythms in the second section, and "Conversação Comigo Mesmo" (conversation with myself), a fantastic hybrid of choro and baroque with a percussive foundation. The unpretentious serenade "Sentimentos" presents Powell as a profound lyricist; and "É De Lei" is a tongue-in-cheek celebration of chromatics. With its intensive dialogue between rock-oriented improvisation and a magical sensuousness, "Canto" closes out this richly colored album.
Musicians:
Baden Powell - guitar
Janine De Waleyne - vocals
Track Listing:
1. Ate-Eu
2. Petit Waltz
3. Violao Vagabundo
4. Conversacao Comigo Mesmo
5. Blues A Volonte
6. Sentimentos
7. E De Lei
8. Canto
Click here to listen to samples on YouTube.com ♫