Loreena McKennitt A Midwinter Night's Dream LP 180 Gram Vinyl Numbered Limited Edition 2014 EU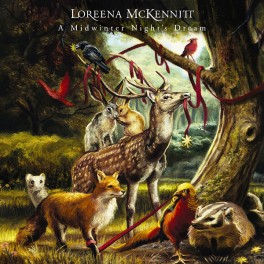 Maximize

Display all pictures
Artist:
Loreena McKennitt
Title:
A Midwinter Night's Dream
Catalog Number:
QRLP112
Label:
Quinlan Road
Reissued by:
Quinlan Road
Barcode:
0774213501127
Original release year:
2008
Reissue year:
2014
Number of discs:
1
Revolutions per minute:
33⅓ rpm
Disc size:
12"
Vinyl Weight Grade:
180gr
Limited Edition:
Yes
Numbered Edition:
Yes
Total Item Weight:
316gr
Pressing country:
Holland
For Market Release in:
EU
Added to catalog on:
February 22, 2016
Note:
Never eligible for any further discounts
Vinyl Gourmet Club:
No
A Midwinter Night's Dream features an array of Loreena McKennnitt's wide musical influences, ranging from Celtic to classical to Middle Eastern. McKennitt's eclecticism shines through in the mysticism of The Holly And The Ivy, the exotic Eastern arrangements of God Rest Ye Merry, Gentlemen, the Latin-sung Emmanuel and the North French/African rendering of Noël Nouvelet!, sung in Old French.
Limited Edition (5000 Units)
Numbered Edition
180 Gram Vinyl
Pressed at Record Industry, Holland
Mastered by Bob Ludwig at Gateway Mastering
Vinyl Cut by Jeff Wolpert
Expanded from the 5-track 1995 EP "A Winter Garden: Five Songs for the Season," the newly titled album (originally released in 2008) now contains 13 holiday classics.
"Canadian singer/composer/harpist Loreena McKennitt's lush Celtic-infused balladry and worldbeat sensibilities lend themselves well to holiday music...The songs are immaculately produced as always, and McKennitt's predilection for Eastern mysticism and unique instrumentation keeps them from falling into the usual seasonal clichés." ~ James Christopher Monger, All Music

Loreena continues to celebrate her 30th anniversary as a recording artist with the vinyl release of her 2009 cross-cultural collection of seasonal music,
A Midwinter Night's Dream.
A Midwinter Night's Dream is available in a global limited edition of just 5,000 individually numbered copies pressed at the Record Industry plant in the Netherlands on 180g vinyl from the original high resolution masters.
"We are delighted to bring this recording into the vinyl format. As someone who grew up with the beautiful and exquisite sonic experience of vinyl, I think those who cherish music in this way will find these archival releases illuminating. Additionally, given that we make so many decisions at tracking stage to enhance and protect the fidelity of the recording, it is gratifying from an artist's stand point that this music can be appreciated beyond the compression of an MP3." comments McKennitt.
Musicians:

Loreena McKennitt, vocals, piano, accordion, harp
Brian Hughes, oud, guitar
Hugh Marsh, violin
Caroline Lavelle, cello
Donald Quan, viola, percussion
Ben Grossman, hurdy gurdy, percussion
Simon Edwards, bass
Rick Lazar, percussion
Track Listing:

Side A
1. The Holly & The Ivy
2. Un Flambeau, Jeannette, Isabelle
3. The Seven Rejoices of Mary
4. Noel Nouvelet!
5. Good King Wenceslas
6. Snow
Side B
1. Coventry Carol
2. God Rest Ye Merry, Gentlemen (Abdelli version)
3. Breton Carol
4. Seeds of Love
5. Gloucestershire Wassail
6. Emmanuel
7. In the Bleak Midwinter
Click here to listen to samples on AllMusic.com ♫