High Fidelity Soundtrack 2LP Vinyl 15th Anniversary Editon Bob Dylan Smog Kinks Love Gatefold USA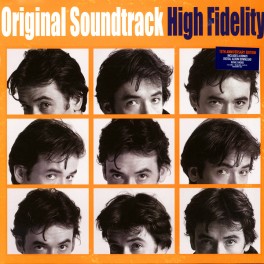 Maximize

Display all pictures
Released in March 2000, the film High Fidelity stars John Cusack in the roll of record store owner Rob Gordon, a self-confessed music lover with a poor understanding of women. The film went on to achieve cult status among record collectors, the soundtrack features music by outstanding musicians including Bob Dylan, The Kinks, The Velvet Underground, Stevie Wonder, Stereolab and more!
Double LP
15th Anniversary Edition
Gatefold Cover
Rob is a pop music junkie who runs his own semi-failing record store. His girlfriend, Laura, has just left him for the guy upstairs, and Rob is both miserable and relieved. After all, could he have spent his life with someone who has a bad record collection? Rob seeks refuge in the company of the offbeat clerks at his store, who endlessly review their top five films (Reservoir Dogs...); top five Elvis Costello songs ("Alison"...); top five episodes of Cheers (the one where Woody sang his stupid song to Kelly...).
Rob tries dating a singer whose rendition of "Baby, I Love Your Way" makes him cry. But maybe it's just that he's always wanted to sleep with someone who has a record contract. Then he sees Laura again. And Rob begins to think (awful as it sounds) that life as an episode of Thirtysomething, with all the kids and marriages and barbecues and K.D. lang CD's that this implies, might not be so bad.
The essential Original Soundtrack to Stephen Frears' classic 2000 film version of Nick Hornsby's acclaimed 1995 novel includes timeless tracks by the 13th Floor Elevators, The Kinks, John Wesley Harding, The Velvet Underground, Love, Bob Dylan, Sheila Nicholls, The Beta Band, Elvis Costello & The Attractions, Smog, Jack Black, Stereolab, Royal Trux and Stevie Wonder.
Track Listing:
LP 1 Side A
1. You're Gonna Miss Me - 13th Floor Elevators
2. Everybody's Gonna Be Happy - The Kinks
3. I'm Wrong About Everything - John Wesley Harding
4. Oh! Sweet Nuthin' - The Velvet Underground
LP 1 Side B
5. Always See Your Face - Love
6. Most of The Time - Bob Dylan
7. Fallen For You - Sheila Nicholls
8. Dry the Rain - The Beta Band
LP 2 Side C
1. Shipbuilding - Elvis Costello & The Attractions
2. Cold Blooded Old Times - Smog
3. Let's Get It On - Jack Black
LP 2 Side D
4. Lo Boob Oscillator - Stereolab
5. Inside Game - Royal Trux
6. Who Loves the Sun - The Velvet Underground
7. I Believe (When I Fall In Love It Will Be Forever) - Stevie Wonder
Click here to listen to samples on AllMusic.com ♫