Joe Bonamassa Blues of Desperation 2LP Vinil 180 Gramas Gatefold Provogue Records 2016 EU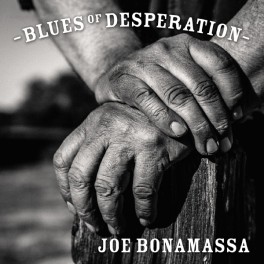 Maximizar

Mostrar todas as imagens
Artista:
Joe Bonamassa
Título:
Blues of Desperation
Número de Catálogo:
PRD74811
Editora:
Provogue Records
Código de Barras:
819873012702
Ano da edição original:
2016
Quantidade de discos:
2
Rotações por minuto:
33⅓ rpm
Tamanho do disco:
12"
Gramagem do Vinil:
180gr
Extras:
Código Download
Peso Total do Artigo:
538gr
País prensagem:
EU
Produzido para o Mercado de:
EU
Adicionado ao catálogo em:
9 Abril, 2016
Nota:
Nunca elegível para descontos adicionais
Vinyl Gourmet Club:
Não
Joe Bonamassa, nomeado para Grammy e icon da guitarra, apresenta o seu novo album de estúdio a solo, Blues Of Desperation. Este duplo LP é composto apenas de originais e mostra-nos o famoso guitarrista, cantor e compositor a dar a volta às regras enquanto continua a reinventar e redefinir o género blues-rock como nenhum outro artista activo nos nossos dias.
Capa Gatefold
2LP Vinil 180 Gramas
Inclui Código Download
Grammy-nominated blues-rock guitar icon Joe Bonamassa presents his brand-new studio solo album, Blues of Desperation (J&R Adventures). Like his previous solo effort, 2014's Top 10 Billboard hit Different Shades of Blue, this record features all-original material, and it sees the maverick superstar guitarist, singer and songwriter tossing away the rule book as he continues to reinvent and redefine the blues-rock genre like no other artist working today.
The writing sessions for Blues of Desperation took Bonamassa back to Nashville, where he'd composed Different Shades of Blue, to work with some of Music City's top tunesmiths, people like James House, Tom Hambridge, Jeffrey Steele, Jerry Flowers and Gary Nicholson. "These are some of the best guys in the business," Bonamassa raves. "Lyrically, you'll hear the proverbial trains, mountains, valleys and other blues references about heartbreak and loneliness but there are also some poignant moments about getting away from the stressful, crazy demands of life and losing yourself with your special someone. I think anybody will be able to relate."
Bonamassa and his longtime producer Kevin Shirley (Led Zeppelin, Iron Maiden, Journey) convened at Nashville's Grand Victor Sound Studios (formerly known as RCA Studio A), and during an intense, five-day period they recorded 11 galvanizing songs with a crack group of musicians including drummers Anton Fig and Greg Morrow, bassist Michael Rhodes, keyboardist Reese Wynans, horn players Lee Thornburg, Paulie Cerra and Mark Douthit, and background singers Mahalia Barnes, Jade McRae and Juanita Tippins.
Blues of Desperation is Bonamassa's most powerfully diverse and boldly realized album yet, with the material ranging from the gutsy, gritty blues call to arms of "This Train" (Joe's guitar is set to "rude" throughout) to the elegant yet emotionally shattering ballad "What I've Known for a Very Long Time" to the soul-nourishing, acoustic-based Americana of "The Valley Runs Low," on which Bonamassa's voice rises up majestically to meet Barnes, McRae and Tippins in gospel-like rapture. And then there's the bleary, tequila-soaked "Drive," dripping with the kind of raw, wicked and unsettling sensuality that could make David Lynch green with envy.
Throughout the record, Bonamassa's epic guitar playing conjures up stirring benedictions and explosive exorcisms of sound. "No Good Place For the Lonely" features some of the guitarist's most cauterizing licks yet, and the walloping title track is a white-knuckled, six-string thrill ride guaranteed to jolt the senses. Guitar fans everywhere will consider Blues of Desperation a treasure trove of axe riches. "There are some long solos on this record and even some mini-jams in the middle of a track where the band would just jive and crank it out," he says. "[During those jams], we do a tip of the hat to Beck and Clapton from the '70s. I think guitar nerds and music fans like myself will love it."
Lista de Faixas:


01. This Train
02. Mountain Climbing
03. Drive
04. No Good Place For The Lonely
05. Blues Of Desperation
06. The Valley Runs Low
07. You Left Me Nothin' But The Bill And The Blues
08. Distant Lonesome Train
09. How Deep This River Runs
10. Livin' Easy
11. What I've Known For A Very Long Time
Clique aqui para ouvir samples no YouTube.com ♫