Stevie Ray Vaughan and Double Trouble Soul To Soul 2LP 45rpm Vinil 180gr Analogue Productions QRP USA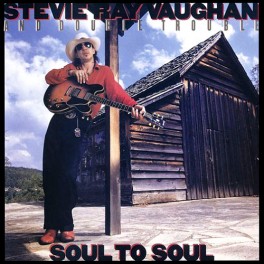 Maximizar
Artista:
Stevie Ray Vaughan
Título:
Soul To Soul
Número de Catálogo:
APB 098-45
Editora:
Epic
Reeditado por:
Analogue Productions
Código de Barras:
753088098413
Ano da edição original:
1985
Ano da reedição:
2016
Quantidade de discos:
2
Rotações por minuto:
45 rpm
Tamanho do disco:
12"
Gramagem do Vinil:
180gr
Edição Limitada:
Sim
Peso Total do Artigo:
722gr
País prensagem:
USA
Produzido para o Mercado de:
USA
Adicionado ao catálogo em:
13 Maio, 2017
Colecção:
Analogue Productions SRV Remasters
Nota:
Nunca elegível para descontos adicionais
Vinyl Gourmet Club:
Não
O mito de Stevie Ray Vaughan estava já completo quando gravou o seu terceiro album em três anos, editado em Outubro de 1985. Mas poucos podiam prever o salto artístico ou a evolução da técnica que o guitarrista demonstra em Soul To Soul, um disco onde Vaughan acrescentou um teclista e saxofonista permanente, e rebuscou as suas raízes musicais por motivos soul e R&B.
Edição Limitada
Duplo LP 45rpm
Corte Analógico por Ryan K. Smith
Masterizado na Sterling Sound
Corte a partir das Master Tapes Analógicas Originais
Vinil 180 Gramas Audiófilo
Prensagem na QRP, USA
Capa Gatefold Deluxe
With his astonishingly accomplished guitar playing, Stevie Ray Vaughan ignited the blues revival of the '80s. Vaughan drew equally from bluesmen like Albert King, Otis Rush and Hubert Sumlin and rock 'n' roll players like Jimi Hendrix and Lonnie Mack, as well as the stray jazz guitarist like Kenny Burrell, developing a uniquely eclectic and fiery style that sounded like no other guitarist, regardless of genre.
On his third album Soul to Soul, Stevie Ray Vaughan expanded the Double Trouble lineup with the additions of keyboardist Reese Wynans and saxophonist Joe Sublett. He also extended his electric blues style, seamlessly incorporating elements of soul, R&B and jazz into his approach. The result is one of the legendary guitarist's most highly prized efforts, one which includes such fan favorites as "Look at Little Sister," "Change It," and "Say What!"

The 45 RPM Analogue Productions reissue of Stevie Ray Vaughan's Soul To Soul is so good, as are its 45 RPM companions — Texas Flood and Couldn't Stand The Weather — that they truly represent what Gregg Geller, producer and A&R representative described as "the best replication of the master tapes to date."

We've used the original 30 inches-per-second, half-inch analog master tapes for all of these albums. Ryan K. Smith at Sterling Sound cut the lacquers for the LPs using the ultimate VMS 80 cutting lathe. Gary Salstrom handled the plating and the vinyl was pressed of course at our Quality Record Pressings, maker of the world's finest-sounding LPs.

Stevie Ray Vaughan's myth making was already complete by the time that his third record in as many years was released in October 1985. But no one could have expected the artistic leaps and additional prowess the guitarist displays on Soul To Soul, a record on which Vaughan added a full-time keyboardist and saxophonist, and dug deep into his native state's musical well for soul, R&B and surf motifs. Vaughan wrote four of Soul to Soul's 10 tracks; two songs were released as singles. The album went to No. 34 on the Billboard 200 chart and the music video for "Change It" received regular rotation on MTV.

There's not a link in this production chain that wasn't absolute first-rate. The absolute best that money can buy.But beyond that we've poured our passion into this project. Analogue Productions is a big fan of the blues and Stevie Ray Vaughan. It's a big dream come true to work on this project and to make these records sound and look the best they ever have.
Lista de Faixas:


Lado A
01. Say What!
02. Lookin' Out The Window
03. Look At Little Sister

Lado B
04. Ain't Gone 'N' Give Up On Love
05. Gone Home
Lado C
06. Change It
07. You'll Be Mine
08. Empty Arms

Lado D
09. Come On (Part III)
10. Life Without You
Clique aqui para ouvir samples no YouTube.com ♫