Stevie Ray Vaughan Couldn't Stand The Weather 2LP 45rpm Vinil 180gr Analogue Productions QRP USA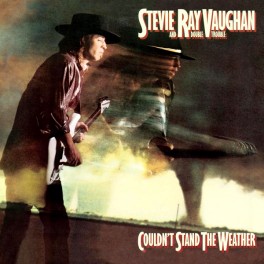 Maximizar
Artista:
Stevie Ray Vaughan
Título:
Couldn't Stand The Weather
Número de Catálogo:
APB 097-45
Editora:
Epic
Reeditado por:
Analogue Productions
Código de Barras:
753088097416
Ano da edição original:
1984
Ano da reedição:
2016
Quantidade de discos:
2
Rotações por minuto:
45 rpm
Tamanho do disco:
12"
Gramagem do Vinil:
180gr
Edição Limitada:
Sim
Peso Total do Artigo:
683gr
País prensagem:
USA
Produzido para o Mercado de:
USA
Adicionado ao catálogo em:
13 Maio, 2017
Colecção:
Analogue Productions SRV Remasters
Nota:
Nunca elegível para descontos adicionais
Vinyl Gourmet Club:
Não
Couldn't Stand The Weather é o fabuloso segundo album de Stevie Ray Vaughan and Double Trouble no seguimento do aclamado disco de estreia Texas Flood. Incorporando a mesma fórmula vencedora, entrosamento musical e excelentes composições, Couldn't Stand The Weather cimentou a posição de Vaughan como um dos maiores da música.
Edição Limitada
Duplo LP 45rpm
Corte Analógico por Ryan K. Smith
Masterizado na Sterling Sound
Corte a partir das Master Tapes Analógicas Originais
Vinil 180 Gramas Audiófilo
Prensagem na QRP, USA
Capa Gatefold Deluxe
With his astonishingly accomplished guitar playing, Stevie Ray Vaughan ignited the blues revival of the '80s. Vaughan drew equally from bluesmen like Albert King, Otis Rush and Hubert Sumlin and rock 'n' roll players like Jimi Hendrix and Lonnie Mack, as well as the stray jazz guitarist like Kenny Burrell, developing a uniquely eclectic and fiery style that sounded like no other guitarist, regardless of genre.
The Lone Star guitar god and his Double Trouble bandmates Tommy Shannon (bass) and Chris Layton (drums) hit full stride with their 1984 sophomore release Couldn't Stand the Weather. In addition to the hit "Cold Shot" and Stevie's memorable reading of Jimi Hendrix's "Voodoo Chile (Slight Return)," Couldn't Stand the Weather features the trademark instrumentals "Scuttle Buttin' " and "Stang's Swang." Arguably Vaughan's best outing and an absolute must for blues, rock, and pop fans.

The 45 RPM Analogue Productions reissue of Stevie Ray Vaughan's Couldn't Stand The Weather is so good, as are its 45 RPM companions — Texas Flood and Soul To Soul — that they truly represent what Gregg Geller, producer and A&R representative described as "the best replication of the master tapes to date."

We've used the original 30 inches-per-second, half-inch analog master tapes for all of these albums. Ryan K. Smith at Sterling Sound cut the lacquers for the LPs using the ultimate VMS 80 cutting lathe. Gary Salstrom handled the plating and the vinyl was pressed of course at our Quality Record Pressings, maker of the world's finest-sounding LPs.

Couldn't Stand The Weather is the remarkable sophomore album by Stevie Ray Vaughan and Double Trouble. It follows their critically acclaimed debut, Texas Flood. Incorporating the same winning formula of musicianship and songwriting, Couldn't Stand The Weather cemented Vaughan's place as one of music's greatest. It is their first to earn gold certification and their first platinum-seller. It includes breathtaking renditions of Clark's "Cold Shot" and Hendrix's "Voodoo Child." A staple on the Billboard charts, this definitive masterpiece received praise from Entertainment Weekly, Q, Down Beat and many others.

There's not a link in this production chain that wasn't absolute first-rate. The absolute best that money can buy. But beyond that we've poured our passion into this project. Analog Productions is a big fan of the blues and Stevie Ray Vaughan. It's a big dream come true to work on this project and to make these records sound and look the best they ever have.
Lista de Faixas:


Lado A
1. Scuttle Buttin'
2. Couldn't Stand The Weather
3. The Things (That) I Used to Do

Lado B
4. Voodoo Chile (Slight Return)

Lado C
1. (Tin Pan Alley) Roughest Place in Town

Lado D
1. Cold Shot
2. Honey Bee
3. Stang's Swang
Clique aqui para ouvir samples no YouTube.com ♫