Neil Young Peace Trail LP Vinyl Bernie Grundman Mastering Reprise Records 2017 EU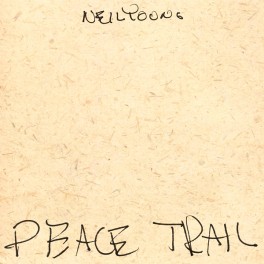 Maximize

Display all pictures
Artist:
Neil Young
Title:
Peace Trail
Catalog Number:
9362-49150-6
Label:
Reprise Records
Barcode:
093624915065
Original release year:
2017
Number of discs:
1
Revolutions per minute:
33⅓ rpm
Disc size:
12"
Total Item Weight:
300gr
Pressing country:
EU
For Market Release in:
EU
Added to catalog on:
January 17, 2017
Note:
Not eligible for any further discounts
Vinyl Gourmet Club:
No
Neil Young matches the fire in his belly to the poetry from his pen for one of the most gripping outings of his long career. This riveting collection, a spare acoustic-electric hybrid, seethes with righteous indignation over a plethora of social and political injustices, but also soothes with deeply felt empathy for those on the receiving end of iniquity. (Los Angeles Times / Randy Lewis)
"The 21st century revived Neil Young's radical spirit and, along with it, his sense of musical adventure. These two strands converge on Peace Trail, a rickety record written and cut in the wake of his 2016 live album, Earth. Neil wrote Peace Trail quickly and recorded it even faster, pushing through ten songs in four days with the support of ace drummer Jim Keltner and bassist Paul Bushnell. According to Bushnell, most of the album consists of first or second takes but Peace Trail sounds like it entirely comprises rehearsal tapes, with the rhythm section lagging behind as they follow Young's basic chord changes. In form, almost all of the ten songs are folky protest numbers but Neil slashes through his hippie haze with shards of overamplified harmonica, guitar squalls, and vocoders, the modern world intruding on his melancholy reveries and subdued anger. It's interesting aesthetically, but the problem with Peace Trail isn't the concept, it's the execution. Intended as a musical bulletin à la "Ohio" or Living with War, Peace Trail is filled with songs about its precise moment in time -- "Indian Givers" is about the protests at the Dakota Access Pipeline, "Terrorist Suicide Hang Gliders" concerns rampant xenophobia -- but the execution is so artless it veers toward indifference. Young's songs are so simple they feel jejune and the performances are intentionally ragged, with Keltner and Bushnell stumbling through rhythms as if they're learning the songs as they're being recorded. To compound the oddness, the production by Young and John Hanlon is deliberately scattered with sound effects, displaying a flair assembled with more care than either the album's composition or recording. All this adds up to one of Neil Young's genuinely strange albums, a record that's compelling in its series of increasingly bad decisions." - Thomas Erlewine, All Music

Peace Trail was recorded at Rick Rubin's Shangri-la Studios and features Young on vocals and guitar, Jim Keltner on drums, and Paul Bushnell on bass. It was produced by Young and John Hanlon, mixed by John Hanlon.
Track Listing:


01. Peace Trail
02. Can't Stop Workin'
03. Indian Givers
04. Show Me
05. Texas Rangers
06. Terrorist Suicide Hang Gliders
07. John Oaks
08. My Pledge
09. Glass Accident
10. My New Robot (Home Host-Bot)
Click here to listen to samples on YouTube.com ♫