Pink Floyd A Saucerful Of Secrets LP 180 Gram Vinyl Remastered Warner Bernie Grundman 2016 EU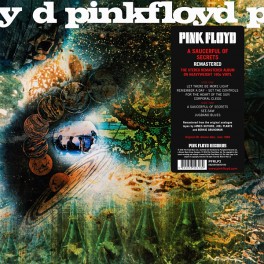 Maximize

Display all pictures
The band's second album, originally released in 1968, was the first album to feature David Gilmour, who replaced Syd Barrett on guitar and vocals. It is both the last Pink Floyd album on which Syd Barrett appeared and the only studio album to which all five band members contributed. This is Pink Floyd in transition from Barrett's psychedelic whimsy to the style of their epic pieces. Classic tracks include Jugband Blues and Set The Controls For The Heart Of The Sun. Stereo version cut by Bernie Grundman.
Pink Floyd 2016 Remasters
Remastered from the Original Master Tapes
180 Gram Audiophile Vinyl
Mastered by James Guthrie and Joel Plante
Vinyl cut by Bernie Grundman
Pressed at Optimal Media in Germany
Reproduction of Original Artwork
On 3 June 2016, Pink Floyd Records will begin the reintroduction of the Pink Floyd catalogue on vinyl for the first time in over two decades. The first four records will be 'The Piper at the Gates of Dawn', 'A Saucerful of Secrets', the soundtrack from the film 'More' and the 2 LP set 'Ummagumma'. Pink Floyd Records will reproduce the vinyl catalogue throughout the year with release dates being announced at regular intervals.
Special care has been taken to replicate the original packaging. The first batch of releases, mastered by James Guthrie, Joel Plante and Bernie Grundman will be pressed on 180gram vinyl for optimum sound quality.
Pink Floyd featuring Syd Barrett, Roger Waters, Rick Wright and Nick Mason first broke onto the music scene in 1967, with the hit single 'Arnold Layne'. Despite the departure of Syd Barrett, the group, which now included David Gilmour, recorded some of the most innovative and ground breaking records of the time, culminating in 1973 with one of the biggest selling albums of all time, 'The Dark Side Of The Moon'. There followed numerous global number 1 albums, including, 'The Wall', 'Animals', 'Wish You Were Here', 'The Final Cut' and 2014's finale, 'The Endless River'.
Pink Floyd Records releases will be manufactured and distributed by Warner Music for the UK and Europe and by Sony Music for North America and the rest of the world.
"A transitional album on which the band moved from Syd Barrett's relatively concise and vivid songs to spacy, ethereal material with lengthy instrumental passages. Barrett's influence is still felt (he actually did manage to contribute one track, the jovial "Jugband Blues"), and much of the material retains a gentle, fairy-tale ambience. "Remember a Day" and "See Saw" are highlights; on "Set the Controls for the Heart of the Sun," "Let There Be More Light," and the lengthy instrumental title track, the band begin to map out the dark and repetitive pulses that would characterize their next few records." ~ Richie Unterberger, All Music
Track Listing:


Side A:
1. Let There Be More Light
2. Remember A Day
3. Set the Conrols For the Heart of The Sun
4. Corporal Clegg
Side B:
1. A Saucerful of Secrets
2. See-Saw
3. Jugband Blues
Click here to listen to samples on YouTube.com ♫