The Counting Crows August And Everything After 2LP 45rpm 180 Gram Vinyl Analogue Productions QRP USA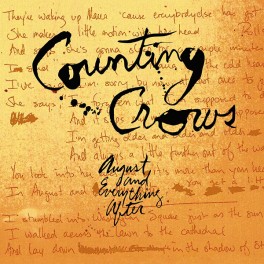 Maximize
Artist:
The Counting Crows
Title:
August And Everything After
Catalog Number:
APP 24528-45
Label:
Geffen Records
Reissued by:
Analogue Productions
Barcode:
753088452871
Original release year:
1993
Reissue year:
2012
Number of discs:
2
Revolutions per minute:
45 rpm
Disc size:
12"
Vinyl Weight Grade:
180gr
Limited Edition:
Yes
Total Item Weight:
718gr
Pressing country:
USA
For Market Release in:
USA
Added to catalog on:
June 14, 2015
Note:
Never eligible for any further discounts
Vinyl Gourmet Club:
No
Counting Crows put in the gigging hours during the early days of the band, and it paid off. By the time they signed to Geffen in 1993, they had already built up a significant fanbase. Their debut, August and Everything After, produced by T-Bone Burnett, was released later the same year and became an unexpected multi-platinum hit, partly as a result of the successful single 'Mr. Jones'.
Rolling Stone 100 Best Albums of the Nineties, Rated #67
Rated 8/10 Music and 10/10 Sound by Michael Fremer (Analog Planet)
Limited Edition
2LP 45rpm 180 Gram Vinyl
Pressed at Quality Record Pressings QRP, USA
Mastered by Ryan K. Smith at Sterling Sound
Cut from Original Analog Master Tapes
Deluxe Gatefold Cover
By the time the Counting Crows signed to Geffen in 1993, they had already built up a significant fanbase which payed large dividends upon the release of their debut album August And Everything After later that same year. Produced by the-one-and-only T-Bone Burnett, the album climbed all the way to #4 on the Billboard 200 charts thanks to the trio of hit singles "Mr. Jones," "Rain King" and "Round Here," selling over seven million copies in the U.S. alone in the process.

Rated #67 of the '100 Best Albums of the Nineties' by Rolling Stone: "An artfully crafted, intimate song cycle, August and Everything After seemed to explode on impact. Vividly produced by T Bone Burnett, its post-punk bleakness married to old-school rock influences, August became that rare album over which both alterna-kids and classic rockers could bond."

"We were fortunate that this was recorded to analog in an age that had many digital recordings," says Acoustic Sounds founder and CEO Chad Kassem. who describes August and Everything After as "one of the better albums in the entire '90s," with a timeless vibe and classic pop sound. Although recorded to audio tape, the album was originally mastered for CD and featured a longer playing time than a standard LP. Thus Analogue Productions has reissued August and Everything After as a double LP set to maximize the dynamic range of this recording. This is the first time that the 'Crows multi-platinum smash has been released in the U.S. as an LP. Mastered by Ryan Smith at Sterling Sound.

"With his influences clearly imprinted on his creative sleeve, Adam Duritz and friends created in 1993 one of the last great analog rock recordings... spectacular sonics, engineered by Patrick McCarthy... The drums in particular are recorded spectacularly well here, spread across the stage... The electric guitars are also recorded with a beautiful blend of body and chime. The recording also excels dynamically and the mix produces satisfying three-dimensionality and superb image focus and solidity. If you're part of the 'Mr. Jones' generation that came of age to this record, you'll want to invest in this sonically spectacular version expertly mastered by Ryan Smith at Sterling Sound. You make think you've heard this album but until you hear this edition you really haven't. Quality Record Pressings plating and pressing quality remain models of velvety quiet backdrops and explosive sonics." - Michael Fremer, Analog Planet
Musicians:

Matt Malley, bass guitar, guitar, vocals
Charlie Gillingham, piano, Hammond B3 organ, accordion, Chamberlin, vocals
Adam Duritz, vocals, piano, harmonica
Steve Bowman, drums, vocals
David Bryson, guitars, vocals

Additional Musicians:

David Immergluck, guitars, mandolins, pedal steel guitar, mandocello, vocals
Bill Dillon, guitar, guitorgan
Denny Fongheiser, percussion, drums on track 3
T-Bone Burnett, guitar,producer
Gary Louris, backing vocals
Mark Olson, backing vocals
Maria McKee, backing vocals

Track Listing:

LP1 Side A
1. Round Here
2. Omaha
3. Mr. Jones

LP1 Side B
1. Perfect Blue Buildings
2. Anna Begins
3. Time And Time Again

LP2 Side C
1. Rain King
2. Sullivan Street
3. Ghost Train

LP2 Side D
1. Raining In Baltimore
2. A Murder Of One
Click here to listen to samples on YouTube.com ♫