Jazz At The Pawnshop 2LP 180 Gram Vinyl Proprius Records Arne Domnérus Lars Erstrand Sweden EU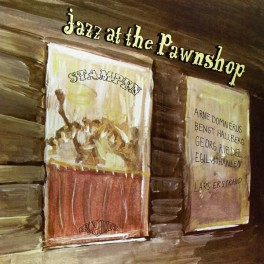 Maximize

Display all pictures
Artist:
Arne Domnérus
Title:
Jazz At The Pawnshop
Catalog Number:
PROP 7778-79
Label:
Proprius
Reissued by:
Proprius
Barcode:
7392004777792
Original release year:
1977
Reissue year:
2007
Number of discs:
2
Revolutions per minute:
33⅓ rpm
Disc size:
12"
Vinyl Weight Grade:
180gr
Total Item Weight:
518gr
Pressing country:
EU
For Market Release in:
EU
Added to catalog on:
June 12, 2015
Note:
Never eligible for any further discounts
Vinyl Gourmet Club:
Yes
Jazz at the Pawnshop from Proprius Records in Sweden is one of the most famous audiophile records in music. These sessions recorded at the jazz club Stampen 'Pawnshop' in Stockholm in December 1976 by Gert Palmcrantz has an extraordinary presence and a genuine live feeling that rapidly became a huge cult classic.
2LP 180 Gram Vinyl
Gatefold Cover
"On December 6 and 7, 1976, in a small jazz club called Stampen (The Pawn Shop) in Stockholm's Old Town, Swedish sound engineer Gert Palmcrantz recorded a group of leading Scandinavian jazzmen live, trying to get "the tight, harmonious sound of the records of my childhood." Conditions were less than ideal. A full house, a great deal of background noise. No rehearsals. No sound checks. The musicians just started playing with no one knowing what would be next on the agenda until reedman Arne Domnerus called it.

The result has often been hailed as the best live jazz recording ever. Amazingly, for a small country such as Sweden, the record sold more than half a million copies and still sells, at a rate of around 4,000 copies annually. In the past thirty years it has been re-released in all manner of formats and become a cult album for Hi-Fi freaks.

The music is an absolutely glorious mix that seamlessly knits Ellington with Armstrong, melancholic Swedish folk songs with bop, and two takes of African High Life thrown in for good measure. Domnerus is at the very height of his considerable powers on alto saxophone and clarinet. The highlights are a lovely, lyrical version of "Over The Rainbow" and his booting rendition of Parker's "Now's The Time," which follow one another on the second disc. Pianist Bengt Hallberg, usually an extremely delicate and very measured player, was obviously affected by the general ambience, and here and there cuts loose with awesome force. "Bengt went almost crazy on occasions," bassist Riedel recalls.

Erstrand, one of Europe's best on vibes, played just one night but added a light, airy feel. He rides high on up-tempo numbers like "Limehouse Blues," but also provides subtle underpinning on ballads including "I'm Confessin'" and "Lady Be Good."
You hear the chink of glasses, the chime of the bell to acknowledge a tip, the burr of conversation. It all fits; that intimate club atmosphere that sparks jazz at its best. You feel as though you're there. Which is Palmcrantz's triumph, and why Jazz at the Pawnshop is likely to continue to fascinate both jazz and audio fans for a good many years to come." - Chris Mosey, All About Jazz
Musicians:

Lars Erstrand, vibes
Arne Domnerus, alto sax, clarinet
Bengt Hallberg, piano
Georg Riedel, bass
Egil Johansen, drums


Track Listing:

01. Limehouse Blues
02. I'm Confessin'
03. High Life
04. Struttin' With Some Barbeq
05. Jeep's Blues
06. Stuffy
07. Lady Be Good
08. Here Is That Rainy Day
09. Barbados
10. How High The Moon
11. Take Five
12. Everything Happens To Me
Click here to listen to samples on YouTube.com ♫