David Hazeltine Trio Alice In Wonderland LP 180 Gram Vinyl Venus Records Hyper Magnum Sound Japan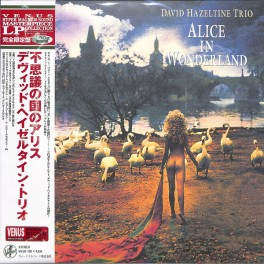 Maximize
Japanese audiophile label Venus Records is renowned for their great jazz music, high quality recordings and gorgeous artwork. Founded in 1992 by Tetsuo Hara, who had worked as a producer for RCA Victor, uses a signature mastering process named 'Venus Hyper Magnum Sound', a Direct Mix recording that results in incredible sound quality appreciated by music fans around the world.
Limited Edition
LP 180 Gram Audiophile Vinyl
High Quality Japanese Pressing
Mixed and Mastered by Tetsuo Hara
Venus Hyper Magnum Sound Direct Mix Stereo
Venus Masterpiece Collection
Includes original OBI Strip
Deluxe Textured Cover
Made in Japan
Impressive jazz trio with gifted pianist David Hazeltine on 180-gram vinyl!

David Hazeltine is a major pianist working both in New York and Japan, and a seasoned performer who's been playing gigs since he was 13. He did not seriously consider going into music until right before college. Once he entered into the jazz world he was encouraged by Chet Baker who told him to go to New York. He has played and recorded with Jon Hendricks, Louis Hayes, and One For All. Although he is a pianist he feels more influenced by saxophonists, particularly Charlie Parker.

Hazeltine, in the tradition of Parker, works within and across the constrains of bebop, and arcs toward the aesthetic of consonance rather than dissonance: reaching toward beauty in harmony, melody, rhythm and never straying too deeply from his roots. He is particularly influenced by Parker, Rollins, Bud Powell and early Miles Davis. Although seemingly hard-line about the tradition, Hazeltine has done an impressive amount of innovation and is a gifted arranger and composer.

Hazeltine is joined on this release by George Mraz on bass and Billy Drummond on drums.
Musicians:
David Hazeltine, piano
George Mraz, bass
Billy Drummond, drums
Track Listing:
Side A
1. How Deep Is The Ocean
2. Beautiful Love
3. When You Wish Upon A Star
Side B
4. Sweet & Lovely
5. Autumn Leaves
6. Alice In Wonderland
Click here to listen to samples on YouTube.com ♫