Massimo Faraò Trio Jimmy Cobb This Can't Be Love LP 180g Vinyl Venus Hyper Magnum Sound Japan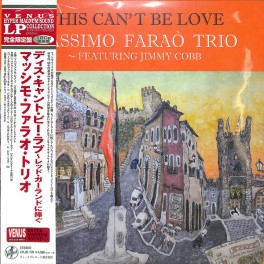 Maximize
Artist:
Massimo Faraò
Title:
This Can't Be Love
Catalog Number:
VHJD-176
Label:
Venus Records
Reissued by:
Venus Records
Barcode:
4580051151426
Edition:
Venus Hyper Magnum Sound
Original release year:
2020
Reissue year:
2021
Number of discs:
1
Revolutions per minute:
33⅓ rpm
Disc size:
12"
Vinyl Weight Grade:
180gr
Limited Edition:
Yes
Total Item Weight:
370gr
Pressing country:
Japan
For Market Release in:
Japan
Added to catalog on:
September 30, 2021
Note:
Never eligible for any further discounts
Vinyl Gourmet Club:
No
Japanese audiophile label Venus Records is renowned for their great jazz music, high quality recordings and gorgeous artwork. Founded in 1992 by Tetsuo Hara, who had worked as a producer for RCA Victor, uses a signature mastering process named 'Venus Hyper Magnum Sound', a Direct Mix recording that results in incredible sound quality appreciated by music fans around the world.
Limited Edition
LP 180 Gram Audiophile Vinyl
High Quality Japanese Pressing
Mixed and Mastered by Tetsuo Hara
Venus Hyper Magnum Sound Direct Mix Stereo
Includes original OBI Strip
Deluxe Textured Cover
Made in Japan
Massimo Farao' Trio featuring Jimmy Cobb on high-quality 180-gram vinyl

Italian pianist Massimo Farao' is joined by Paolo Benedettini (bass), Nicola Barbon (bass) and special guest Jimmy Cobb (drums) on this set.

Jazz piano master Massimo Farao collaborated with American veteran jazz drum king Jimmy Cobb to perform a number of masterpieces. The wonderful interpretation perfectly shows the style of the royal drummers of Miles Davis and Wes Montgomery.

Recorded at Riverside Studio in Torino on July 21 and 22, 2019.
Musicians:
Massimo Faraò, piano
Paolo Benedettini, bass
Nicola Barbon, bass
Jimmy Cobb, drums
Track Listing:
Side A
1. The Gentle Rain
2. The Things We Did Last Summer
3. Teach Me Tonight
Side B
4. Do Nothing Till You Hear From Me
5. This Can't Be Love
6. I Remember Clifford
Click here to listen to samples on YouTube.com ♫