David Gilmour Live At Pompeii 4LP 180 Gram Vinyl Slipcase Box Set 24 Page Booklet Sony Music 2017 EU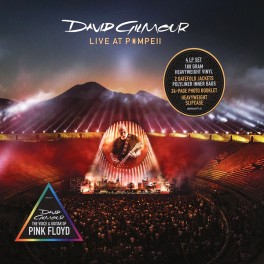 Maximize

Display all pictures
Artist:
David Gilmour
Title:
Live At Pompeii
Catalog Number:
88985464971
Label:
Columbia
Barcode:
889854649715
Original release year:
2017
Number of discs:
4
Revolutions per minute:
33⅓ rpm
Disc size:
12"
Vinyl Weight Grade:
180gr
Extras:
24 Page Booklet
Total Item Weight:
1599gr
Pressing country:
EU
For Market Release in:
EU
Added to catalog on:
October 26, 2017
Collection:
Best New Music 2017
Note:
Never eligible for any further discounts
Vinyl Gourmet Club:
No
Returning to the Pompeii Amphitheater 45 years after his performance for Adrian Maben's Pink Floyd: Live at Pompeii, David Gilmour continues to be the only performer to play to an audience in the arena since the gladiators. David Gilmour commented about the Pompeii shows: 'It's a magical place and coming back and seeing the stage and the arena was quite overwhelming. It's a place of ghosts…'
4LP 180 Gram Vinyl
2 Gatefold Covers
Polylined inner sleeves
Heavyweight slipcase Box Set
24-page photo booklet
Live At Pompeii from David Gilmour follows his critically acclaimed studio album Rattle That Lock from September 2015. Live at Pompeii is available in multiple formats: a 2 CD live album, a standard DVD and Blu-Ray concert film, a Deluxe Boxset including the 2 CD live album and 1 Blu-ray of the entire live concert with bonus content on 2nd Blu-ray disc, and a special 4 LP vinyl package.
Following the release of Rattle That Lock in 2015, David Gilmour set out to play a series of concerts in historic venues across the world. On July 7-8, 2016, David Gilmour performed two spectacular shows at the legendary Pompeii Amphitheatre in the shadow of Mount Vesuvius, 45 years after he first played there for Adrian Maben's classic film "Pink Floyd Live at Pompeii." The concerts were the first-ever rock performances played to an audience in the ancient Roman amphitheatre, which was built in 90 BC and entombed in ash when Vesuvius erupted in AD 79. David Gilmour is the only performer to play to an audience in the arena since the time of the gladiators, almost 2,000 years ago.
The album includes songs from throughout David's career including the title tracks of his two most recent No. 1 solo albums: Rattle That Lock and On An Island. Also included are other solo and Pink Floyd classics such as "Wish You Were Here," "Comfortably Numb," and "One Of These Days," the only song that was also performed by the band in 1971. Both concerts also saw extraordinary performances of "The Great Gig In The Sky" from The Dark Side Of The Moon, which David rarely plays as a solo artist.
"David Gilmour's two concerts assembled for Live at Pompeii mark the first time that the amphitheater has hosted a rock gig since Pink Floyd played there in 1971. They didn't play for an audience, however, they were filmed for Adrian Maben's documentary Pink Floyd: Live at Pompeii. Gilmour's gigs -- some 45 years after Floyd -- bests their gig historically: It hosted a paying audience assembled from all over the globe, and it was the first time an audience had occupied the site since 79 AD. This double-disc set is the movie's soundtrack. Pompeii was just one of the historic sites Gilmour played on the tour, others included amphitheaters in Verona and Nîmes, Circus Maximus in Rome, a chateau in Chantilly, and five nights at London's Royal Albert Hall, none of which held quite the weight of history like this one. Accompanied by a sextet that included keyboardist Chuck Leavell, bassist Guy Pratt, and a trio of backing vocalists, the repertoire is heavy on material from the guitarist's Rattle That Lock -- the album he was touring at the time, 2006's On an Island -- and Pink Floyd material in all of its incarnations.
The sound is excellent, and Gilmour is obviously inspired. Live at Pompeii might be better served with its video counterpart due to the stunning visuals created by Marc Brickman, but on its own, this set offers ample pleasure." - Thom Jurek, All Music
Track Listing:

LP 1 Side A
1. 5 A.M.
2. Rattle That Lock
3. Faces Of Stone
4. What Do You Want From Me

LP 1 Side B
1. The Blue
2. The Great Gig In The Sky
3. A Boat Lies Waiting

LP 2 Side A
1. Wish You Were Here
2. Money
3. In Any Tongue

LP 2 Side B
1. High Hopes
2. One Of These Days

LP 3 Side A
1. Shine On You Crazy Diamond (Parts 1-5)
2. Fat Old Sun

LP 3 Side B
1. Coming Back To Life
2. On An Island
3. Today

LP 4 Side A
1. Sorrow
2. Run Like Hell

LP 4 Side B
3. Time/Breathe (In The Air) (Reprise)
4. Comfortably Numb
Click here to listen to samples on YouTube.com ♫