Robert Cray Strong Persuader LP 200g Vinyl Analogue Productions Limited Edition Sterling QRP USA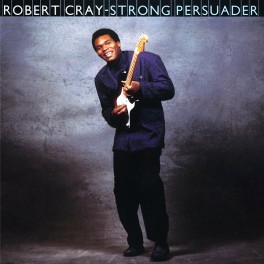 Maximize
Artist:
Robert Cray
Title:
Strong Persuader
Catalog Number:
APB 051
Label:
Mercury
Reissued by:
Analogue Productions
Barcode:
753088005114
Original release year:
1986
Reissue year:
2013
Number of discs:
1
Revolutions per minute:
33⅓ rpm
Disc size:
12"
Vinyl Weight Grade:
200gr
Limited Edition:
Yes
Total Item Weight:
342gr
Pressing country:
USA
For Market Release in:
USA
Added to catalog on:
April 2, 2016
Note:
Never eligible for any further discounts
Vinyl Gourmet Club:
No
Robert Cray is one of the all-time great blues guitarists. As Rolling Stone magazine describes, his distinctive and razor-sharp playing introduced a new generation of mainstream rock fans to the language and form of the blues. As much as anyone next to Stevie Ray Vaughan, Cray helped the blues thrive with brilliant albums like Strong Persuader.
Limited Edition
200 Gram Audiophile Vinyl
Pressed at Quality Record Pressings, QRP USA
Mastered by Ryan K. Smith
Mastered at Sterling Sound
Cut from original analog Master Tapes
#42 on Rolling Stone's '100 Best Albums of the Eighties'
With a Blues Hall of Fame induction, 5 Grammy Awards, millions of record sales, and thousands of sold out performances around the world, blues icon Robert Cray is befitting of his reputation as "one of the greatest guitarists of his generation." Rolling Stone credits Cray with reinventing the blues with his "distinct razor sharp guitar playing" that "introduced a new generation of mainstream rock fans to the language and form of the blues" with the release of 1986's Strong Persuader.
Serving as Cray's fourth full-length solo effort overall and commercial breakthrough, the sensual 10-song set climbed to #13 on the Billboard 200 which was the highest-charting blues album since Bobby 'Blue' Bland's 1963 release Call On Me/That's the Way Love Is. Featuring the slow burning classics "Smoking Gun," "Right Next Door" and "Nothing But A Woman" with the Memphis Horns, Strong Persuader also made Cray one of the Blues' first sex symbols in decades.
Analogue Productions is pleased to offer Robert Cray's landmark blues album Strong Persuader on 200g vinyl remastered from the original analog tape by Ryan Smith at Sterling Sound and pressed at Quality Record Pressings.

Cray, a five-time Grammy winner, originally released Strong Persuader, his fifth studio album, in 1986 — his major label debut. Stinging urban blues by way of Texas and Memphis distinguish Cray's guitar mastery — since the release of Strong Persuader, Cray has gone on to record 15 Billboard-charting studio albums and has written or performed with everyone from Eric Clapton to Stevie Ray Vaughan, from Bonnie Raitt to John Lee Hooker.
Inducted into the Blues Hall of Fame at the age of 57, he is one of the youngest living legends to receive the prestigious honor. And although Cray can look back over an astonishing three decade-long career, punctuated by his trademark sound and distinct playing style, he is far too busy moving forward as the amazing journey continues. 2012 saw Robert release his 16th studio album, Nothin' But Love and embark on yet another world tour.
"The set that made Cray a pop star, despite its enduring blues base. Cray's smoldering stance on 'Smoking Gun' and 'Right Next Door' rendered him the first sex symbol to emerge from the blues field in decades, but it was his innovative expansion of the genre itself that makes this album a genuine 1980s classic. 'Nothing but a Woman' boasts an irresistible groove pushed by the Memphis Horns and some metaphorically inspired lyrics, while 'I Wonder' and 'Guess I Showed Her' sizzle with sensuality." - Bill Dahl, All Music

Musicians:
Robert Cray (vocals, guitar)
Richard Cousins (bass)
David Olson (drums)
Peter Boe (Keyboards)
Lee Spath (percussion)
Andrew Love (tenor saxophone)
Wayne Jackson (trumpet, trombone)
Track Listing:
Side A
1. Smoking Gun
2. I Guess I Showed Her
3. Right Next Door (Because Of Me)
4. Nothin' But A Woman
5. Still Around
Side B
1. More Than I Can Stand
2. Foul Play
3. I Wonder
4. Fantasized
5. New Blood
Click here to listen to samples on AllMusic.com ♫