Lynyrd Skynyrd Gimme Back My Bullets 2LP 45rpm 180 Gram Vinyl Analogue Productions QRP 2017 USA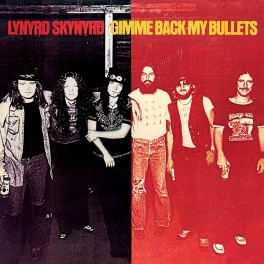 Maximize
Artist:
Lynyrd Skynyrd
Title:
Gimme Back My Bullets
Catalog Number:
APP 2170-45
Label:
MCA Records
Reissued by:
Analogue Productions
Barcode:
753088217074
Original release year:
1976
Reissue year:
2017
Number of discs:
2
Revolutions per minute:
45 rpm
Disc size:
12"
Vinyl Weight Grade:
180gr
Limited Edition:
Yes
Total Item Weight:
663gr
Pressing country:
USA
For Market Release in:
USA
Added to catalog on:
January 2, 2019
Last modified / Restocked on:
December 26, 2022
Note:
Never eligible for any further discounts
Vinyl Gourmet Club:
No
This 1976 Tom Dowd-produced classic, Gimme Back My Bullets, the fourth studio album from the legendary southern rock band, features the original line-up of Ronnie Van Zant on vocals, lead guitar great Gary Rossington, Allen Collins on guitar, Leon Wilkerson on bass, Billy Powell on piano, and Artemus Pyle on the drums.
Limited Edition
45rpm Double LP
Analog cut by Ryan K. Smith
Mastered at Sterling Sound
Cut from the Original Analog Master Tapes
180 Gram Audiophile Vinyl
Pressed at QRP, USA
Deluxe Gatefold Cover
What would American southern rock be without the scorching sounds of Lynyrd Skynyrd? Analogue Productions and Quality Record Pressings have already brought you exceptional reissues of Second Helping and Nuthin' Fancy. Back to the well then, we go, for two more Skynyrd favorites — the epic Gimme Back My Bullets and the band's bluesy, hard-rocking 1973 debut Pronounced Leh-nerd Skin-nerd.
In true fashion, Lynyrd Skynyrd followed up the runaway success of their essential first three albums rebel style with the very hard rockin' 1976 fan favorite Gimme Back My Bullets. Somewhat of a transitional album, the group's fourth full-length overall finds Skynyrd replacing band founder and producer Al Kooper with Tom Dowd, boasting a 2-guitar line-up for the first time after the departure of Ed King, and incorporating a female backup vocal group into the mix to boot.

The rugged and grooving nine track effort lives and breathes the rock 'n' roll life style and all the spoils and pitfalls that come with it and is filled with Southern fried standards like the hard hitting title cut, anthemic "Double Trouble," yearning "Searchin" and yet another successful take on a J.J. Cale classic with "I Got The Same Old Blues."
Track Listing:
1. Gimme Me Back My Bullets
2. Every Mother's Son
3. Trust
4. I Got The Same Old Blues
5. Double Trouble
6. Roll Gypsy Roll
7. Searching
8. Cry For The Bad Man
9. All I Can Do Is Write About It
Click here to listen to samples on YouTube.com ♫