Ella Fitzgerald Clap Hands Here Comes Charlie 2LP 45rpm 200g Vinyl Verve Analogue Productions QRP USA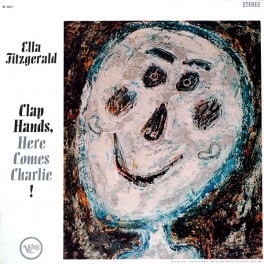 Maximize
Artist:
Ella Fitzgerald
Title:
Clap Hands, Here Comes Charlie!
Catalog Number:
AP-4053
Label:
Verve
Reissued by:
Analogue Productions
Barcode:
753088405310
Original release year:
1961
Reissue year:
2012
Number of discs:
2
Revolutions per minute:
45 rpm
Disc size:
12"
Vinyl Weight Grade:
200gr
Limited Edition:
Yes
Total Item Weight:
545gr
Pressing country:
USA
For Market Release in:
USA
Added to catalog on:
July 11, 2018
Collection:
Analogue Productions Verve Series
Note:
Never eligible for any further discounts
Vinyl Gourmet Club:
Yes
Fourteen songs from the heyday of swing, composed between 1930 and 1945, played and sung time and time again in ballrooms or on the radio advertisements, were recorded by Ella Fitzgerald in completely new and personal interpretations in 1961. Clap Hands, Here Comes Charlie! has absolutely top notch musicality, perfect recording quality and superb accompaniment with room for improvisation.
TAS Super LP List - The Absolut Sound
Limited Edition
Double LP 45rpm on 200 Gram Vinyl
Pressed at QRP USA
Mastered by George Marino at Sterling Sound
Cut from the Original Analog Master Tapes
Dubbed "The First Lady of Song," Ella Fitzgerald was the most popular female jazz singer in the United States for more than half a century. In her lifetime, she won 13 Grammy awards and sold over 40 million albums. Her voice was flexible, wide-ranging, accurate and ageless. With a vocal range spanning three octaves, she was noted for her purity of tone, impeccable diction, phrasing and intonation, and a "horn-like" improvisational ability, particularly in her scat singing. Fitzgerald was a notable interpreter of the Great American Songbook. She could sing sultry ballads, sweet jazz and imitate every instrument in an orchestra. She worked with all the jazz greats, from Duke Ellington, Count Basie and Nat King Cole, to Frank Sinatra, Dizzy Gillespie and Benny Goodman. (Or rather, some might say all the jazz greats had the pleasure of working with Ella.) She performed at top venues all over the world, and packed them to the hilt. Her audiences were as diverse as her vocal range. They were rich and poor, made up of all races, all religions and all nationalities. In fact, many of them had just one binding factor in common - they all loved her.

The First Lady of Song is at her most intensely swinging and graceful level for this session of 14 songs including "Cry Me a River" and "'Round Midnite". "...a superior representation of the singer as a jazz interpreter. This set is one of her best." - John Tynan, Down Beat, 1962

"Back in the 1990s original Verve pressings of this record were hot items pushed into prominence in great part by write-ups in The Absolute Sound, particularly by my friend Frank Doris. I found a few, and even a few in pretty good condition, but none of them begin to compare to this double 45 RPM set that offers more of everything, particularly transparency and instrumental separation. ...Ella's on a microphone with a slightly rising high end but if it sounds icy, don't blame the recording or the mastering. It's your system. If it's well-balanced and your cartridge is a good tracker, the vocal transparency and clarity are spooky and the sibilant articulation is precise. These double 45s cut at Sterling Sound use the original tapes, not copies of the original tapes and the clarity and transparency coupled with QRP's drop dead silent pressings are remarkable. The original pre-MGM buyout LP has a pleasingly nostalgic quality and the added warmth produces a bit more room sound, but in my opinion it can't compare to this reissue unless you like hear things through rose-tinted loudspeakers. Elegantly produced, arranged and recorded and easy to recommend..." - Michael Fremer, Analog Planet, Music 9/11, Sound 9/11.
Fourteen numbers from the heyday of swing, composed sometime between 1930 and 1945 - played and sung time and time again in ballrooms, or on the radio to advertise biscuits or war bonds, were recorded by Ella in completely new and personal interpretations in 1961. No one should be put off by the rather unfortunate cover. Clap Hands... is absolutely top notch as regards musicality, perfect recording quality, superb accompaniment by a small ensemble, with room for improvisations; it offers a wonderful opportunity to discover something new in these evergreens, despite the occasionally banal lyrics. The songs of this recording conjure up bygone days, with listeners in the 21st century being offered a highly personal homage to one of the most successful periods in the 100-year history of jazz.
Musicians:
Ella Fitzgerald, vocals
Herb Ellis, guitar
Gus Johnson, drums
Stan Levey, drums
Lou Levy, piano
Wilfred Middlebrooks, bass
Joe Mondragon, bass
Track Listing:

01. Night In Tunisia
02. You're My Thrill
03. My Reverie
04. Stella My Starlight
05. 'Round Midnite
06. Jersey Bounce
07. Signing Off
08. Cry Me A River
09. This Year's Kisses
10. Good Morning Heartache
11. (I Was) Born To Be Blue
12. Clap Hands, Here Comes Charlie!
13. Spring Can Really Hang You Up the Most
14. Music Goes 'Round and 'Round
Click here to listen to samples on YouTube.com ♫