Prokofiev Alexander Nevsky Reiner CSO LP 200g Vinyl RCA Living Stereo Analogue Productions QRP USA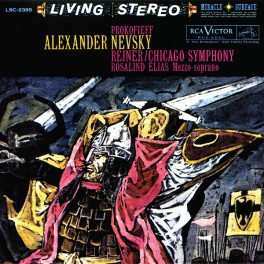 Maximize
Fritz Reiner conducting the Chicago Symphony Orchestra in a performance of Sergei Prokofiev's arrangement of Sergei Eisenstein's Alexander Nevsky featuring mezzo-soprano soloist Rosalind Elias and chorus director Margaret Hillis. Another perfect mastering from the Original Master Tapes, cut all analog by Ryan K. Smith at Sterling Sound and pressed at QRP in the USA.
Limited Edition
33rpm 200 Gram Audiophile Vinyl
Cut from Original Analog Master Tapes
Pressed at Quality Record Pressings QRP USA
Lacquers plated by Gary Salstrom
Mastered by Ryan K. Smith at Sterling Sound
Deluxe "tip-on" Gatefold Cover
RCA's "golden age" was more like a "golden minute" - in a scant period, roughly from 1958 to 1963, the beginning of the stereo era - pure vacuum tube amplification helped produce recordings demonstrating unparalleled fidelity and warmth, lifelike presence and midband illumination.
"...Why...did Eisenstein turn to Prokofiev in the belief that he was the only man qualified to set aurally what he (Eisenstein) imagined visually? This is the answer in Eisenstein's own words: 'The Prokofiev of our time is a man of the screen...(He) is a man of the screen in that special sense which makes it possible for the screen to reveal not only the appearances and subject of objects, but also, and particularly, their special inner structure...Having grasped this structural secret of all phenomena, he clothes it in the total camera angles of instrumentation, compelling it to gleam with shifts in timbre, and forces the whole inflexible structure to blossom into the emotional fullness of orchestration.' This, then, codifies the respect felt by a master in one field for a master in another..." - Notes by Jay S. Harrison, Music Editor, New York Herald Tribune (1962)

The Chicago Symphony Orchestra and Chorus, prepared by Margaret Hillis, first performed Sergei Prokofiev's cantata Alexander Nevsky at Orchestra Hall on March 5, 6, and 10, 1959. Fritz Reiner conducted and Rosalind Elias was the mezzo-soprano soloist. The subsequent recording—the first collaboration with the Orchestra and the Chicago Symphony Chorus—was made on March 7, 1959, at Orchestra Hall. Richard Mohr was the producer and Lewis Layton was the recording engineer.

And in the Daily News, Donal Henahan added: "The fever and excitement latent in this muscular music originally part of the score for the Sergei Eisenstein movie, was brought out by Reiner gradually with a slow-fuse sort of detonation. The climactic 'Battle on the Ice' was approached with expansive calm and deliberation, and thus aroused the audience's martial blood properly. A conductor who tries to pile climax after climax into this work can never achieve the hair-raising thrust that Reiner drew from Margaret Hillis's Chicago Symphony Chorus [singing in English] at such a moment. No one can write a march like Prokofiev, and it was grand to hear this one played with power but without hysterics. The chorus, although called on for less heroic vocal effort that in some other works it has sung, produced a pleasing sound in all voices and a more homogeneous tone than at any time since Miss Hillis began her missionary work in Chicago."
Musicians:

Arranger - Sergei Prokofiev
Conductor - Fritz Reiner
Vocalist - Rosalind Elias (Mezzo-Soprano)
Chorus Director - Margaret Hillis
Orchestra - Chicago Symphony Orchestra
Track Listing:

1. Russia Under The Mongolian Yoke
2. Song About Alexander Nevsky
3. The Crusaders In Pskov
4. Arise, Ye Russian People
5. The Battle On The Ice
6. The Field Of The Dead
7. Alexander's Entry Into Pskov