Miles Davis Ascenseur Pour L'Échafaud Vinil 10" Banda Sonora Fontana Sam Records França 2016 EU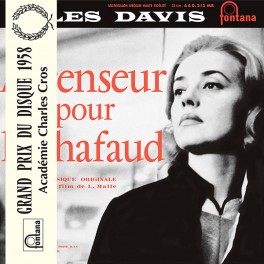 Maximizar

Mostrar todas as imagens
Artista:
Miles Davis
Título:
Ascenseur Pour L'Échafaud
Número de Catálogo:
660.213 MR
Editora:
Fontana
Reeditado por:
Sam Records
Código de Barras:
3700409815058
Ano da edição original:
1958
Ano da reedição:
2016
Quantidade de discos:
1
Rotações por minuto:
33⅓ rpm
Tamanho do disco:
10"
Extras:
OBI Strip
Edição Limitada:
Sim
Peso Total do Artigo:
190gr
País prensagem:
Alemanha
Produzido para o Mercado de:
EU
Adicionado ao catálogo em:
5 Fevereiro, 2017
Nota:
Nunca elegível para descontos adicionais
Vinyl Gourmet Club:
Não
Em 1957 Miles Davis esteve em Paris para um compromisso no 'Club Saint-Germain' e um maravilhoso concerto no Olympia Theatre. Durante a sua estadia Miles teve contacto com vários membros do ambiente cultural existencialista moderno da zona de Saint-Germain-des-Près. Entre estes inclui-se o realizador Louis Malle que acabava de terminar o seu primeiro filme : 'Ascenseur Pour L'échafaud'.
Avaliado em 10/11 Música e 10/11 Som por Michael Fremer (Analog Planet)
Edição Limitada (1000 Unidades)
Vinil 10" a 33 1/3 rpm
Prensagem na Pallas da Alemanha
Pela primeira vez replicado em 10"
Remasterizado a partir das Master Tapes Originais
Corte analógico por Ray Staff na Air Mastering
IInclui OBI Strip Grand Prix Du Disque 1958
In 1957, Miles Davis is in Paris for an engagement at the 'Club Saint-Germain' and a wonderful concert at the Olympia Theatre. Once in Paris, Miles came into contact with many members of the modern existentialist cultural environment in the neighborhood of Saint-Germain-des-Près. These include the director Louis Malle who had just finished his first movie : 'Ascenseur Pour L'échafaud'. Jean-Paul Rappeneau, a Jazz fan and Louis Malle's assistant at the time, suggested asking Miles Davis to create the film's soundtrack. A private sceening has been organized.

On December 4 1957, Miles Davis brought three French Jazzmen – Barney Wilen on tenor saxophone, René Urtreger on piano, Pierre Michelot on bass and his american compatriot Kenny Clarke on drums – to the recording studio 'Le Poste Parisien' without having them prepare anything. Miles Davis only gave the musicians a few rudimentary harmonic sequences he had assembled in his hotel room. This recordings was made at night in a most informal atmosphere.

The soundtrack was not released on it's own in the USA but ten songs from this soundtrack was released as one side of the album Jazz Track which received a 1960 Grammy nomination for Best Jazz Performance, Solo or Small Group. 'Ascenseur Pour L'échafaud' has become a great achievement of artistic excellence.

"Jazz and film noir are perfect bedfellows, as evidenced by the soundtrack of Louis Malle's Ascenseur Pour L'Echafaud (Lift to the Scaffold). This dark and seductive tale is wonderfully accentuated by the late-'50s cool or bop music of Miles Davis, played with French jazzmen -- bassist Pierre Michelot, pianist René Urtreger, and tenor saxophonist Barney Wilen -- and American expatriate drummer Kenny Clarke. This recording evokes the sensual nature of a mysterious chanteuse and the contrasting scurrying rat race lifestyle of the times, when the popularity of the automobile, cigarettes, and the late-night bar scene were central figures. Davis had seen a screening of the movie prior to his making of this music, and knew exactly how to portray the smoky hazed or frantic scenes though sonic imagery, dictated by the trumpeter mainly in D-minor and C-seventh chords. Michelot is as important a figure as the trumpeter because he sets the tone, as on the stalking "Visite du Vigile." While the mood of the soundtrack is generally dour and somber, the group collectively picks up the pace exponentially on "Diner au Motel." At times the distinctive Davis trumpet style is echoed into dire straits or death wish motifs, as on "Generique" or "L'Assassinat de Carala," respectively. Clarke is his usual marvelous self, and listeners should pay close attention to the able Urtreger, by no means a virtuoso but a capable and flexible accompanist. This recording can stand proudly alongside Duke Ellington's music from Anatomy of a Murder and the soundtrack of Play Misty for Me as great achievements of artistic excellence in fusing dramatic scenes with equally compelling modern jazz music." - Michael G. Nastos, All Music
Músicos:

Miles Davis (Trompete)
René Urtreger (Piano)
Barney Wilen (Saxofone Tenor)
Pierre Michelot (Baixo)
Kenny Clarke (Bateria)

Lista de Faixas:
Lado A
01. Générique 2'47"
02. L'assassinat des Carala 2'09"
03. Sur l'autoroute 2'18"
04. Julien dans l'ascenseur 2'09
05. Florence sur les Champs-Elysées 2'51"

Lado B
06. Diner au motel 3'56"
07. Evasion de Julien 0'51"
08. Visite du vigile 2'04"
09. Au bar du petit bac 2'53"
10. Chez le photographe du motel 3'57"
Clique aqui para ouvir samples no YouTube.com ♫