Elvis Presley 24 Karat Hits! 3LP Vinil 200 Gramas 45rpm Sterling Sound Analogue Productions QRP 2010 USA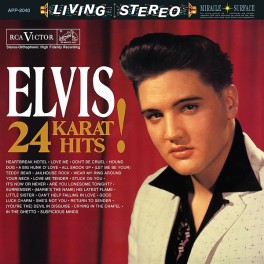 Maximizar
Não foi por acaso que Elvis Presley era aclamado como O Rei. Provavelmente a mais crucial e sem duvida a mais indentificável figura na história do pop/rock, editou dezenas de singles que mudaram o mundo ao longo da sua incrível carreira. Reunindo 24 das melhores canções do cantor, 24 Karat Hits é a antologia definitiva de Presley em termos de música, som e performance.
Edição Limitada
LP Triplo Vinil Audiófilo 200 Gramas
Prensagem na QRP, USA
Corte a partir das Master Tapes Originais Analógicas
Masterizado por George Marino na Sterling Sound USA
Elvis Presley 24 Karat Hits on 180g 45RPM 3LP Set from Analogue Productions. An Audiophile Dream Set - Mastered from the Original Tapes by George Marino at Sterling Sound. Quite Possibly the Best-Sounding Elvis Record Ever Pressed. Check Out This Track Listing - Includes Every One of the King's All-Time Greatest Singles.

Elvis' 24 greatest recordings painstakingly compiled and remastered from the original one, two and three track master tapes lovingly stored in the vaults of RCA-Victor. All the hits are here from "Heartbreak Hotel" to "Suspicious Minds." Elvis as we've never heard him before.

Had Elvis Presley done nothing else but record "That's Alright, Mama," his place in pop music history would be secure. With his first regional hit, Presley fused rhythm and blues with country, put a handsome white face out front for audiences to see, and in so doing legitimized beat music for white audiences. It is no understatement to call Presley the chief catalyst of the rock-and-roll era. During the 1950s, Presley's records spent a collective 53 weeks in the number one chart position. Only the Beatles can boast similar sales success.

Presley's monumental accomplishments continued until his untimely death in 1977. After a stint in the Army, he spent a decade making profitable but forgettable movies. Then in 1968 he reestablished his artistic relevance with a spectacular television special and several great albums. During the last decade of his career, Presley's live show was the hottest ticket in America. A great singer first and last, Presley was equally adept at raunchy blues, lilting boogie, operatic pop, and country tear-jerkers.
There's a good reason Elvis Presley earned the nickname The King. Arguably the most crucial and undisputably the most identifiable figure in pop history, he released dozens of course-altering singles over the course of his influential career, many of which are scattered on incomplete or inconsistent compilations that cover only a portion of a certain era. But one collection towers above the rest. And this is it. Gathering the singer's 24 greatest tracks in one place, 24 Karat Hits is the definitive Presley anthology in terms of music, sound, and performance. Spanning 1956 ("Heartbreak Hotel") through 1969 ("Suspicious Minds"), the 3LP set is mandatory for every music lover--let alone Presley diehards and record collectors. And now, the long-out-of-print audiophile favorite - it was originally assembled to serve Presley's music in the highest possible fidelity it's always deserved - sounds better than ever. It's as if the Fort Knox of music landed on your doorstep. Amazing.
Spreading 24 absolutely unbeatable tracks across a total of three LPs and six wide-grooved sides of 45RPM 180-gram vinyl, Analogue Productions' pristine pressing soars allowing you to enjoy the magic of Presley's voice, rhythms, and foundation-paving melodies like never before. Mastered by George Marino, the King's best work has never sounded so intimate, detailed, present, and alive. Images are true, tones are balanced, and the unbeatable warmth that only analog provides comes through unabated on every cut.
Of course, there's no way to overstate the brilliance of the music. Here are the singles that provided the foundation for rock and roll, the sides informed by country, folk, R&B, blues, pop, and rockabilly strains. Every memorable facet of Presley's mulitple personas is represented: the hip-shaking rebel ("Jailhouse Rock"), sensitive balladeer ("Can't Help Falling in Love"), beckoning romantic ("Are You Lonesome Tonight"), teen idol ("(Let Me Be) Your Teddy Bear"), socially conscious soul man ("In the Ghetto"), and passionate loverman ("Suspicious Minds"). The two dozen songs on this golden compilation read like a history of pop music and play like it is unfolding before our very eyes. There's no substitution for the experience this set provides.
Do not miss the chance to own part of American history in unsurpassed fidelity that brings every shade, texture, and breath of Presley's voice into your room, clear and true. This could very well be the best-sounding Presley LP set ever released.
Lista de Faixas:


LP 1 Lado A
1. Heartbreak Hotel (mono)
2. Love Me (mono)
3. Don't Be Cruel - with the Jordanaires (mono)
4. Hound Dog - with the Jordanaires (mono)

LP 1 Lado B
1. A Big Hunk O' Love - with the Jordanaires (mono)
2. All Shook Up - with the Jordanaires (mono)
3. (Let Me Be Your) Teddy Bear - with the Jordanaires (mono)
4. Jailhouse Rock (mono)
5. Wear My Ring Around Your Neck - with the Jordanaires (mono)

LP 2 Lado C
1. Love Me Tender (stereo)
2. Stuck On You (stereo)
3. It's Now Or Never (stereo)

LP 2 Lado D
1. Are You Lonesome Tonight? - with the Jordanaires (stereo)
2. Surrender - with the Jordanaires (stereo)
3. (Marie's The Name) His Latest Flame (stereo)
4. Little Sister (stereo)

LP 3 Lado E
1. Can't Help Falling In Love (stereo)
2. Good Luck Charm - with the Jordanaires (stereo)
3. She's Not You - with the Jordanaires (stereo)
4. Return To Sender - with the Jordanaires (stereo)

LP 3 Lado F
1. (You're The) Devil In Disguise - with the Jordanaires (stereo)
2. Crying In The Chapel - with the Jordanaires (stereo)
3. In The Ghetto (stereo)
4. Suspicious Minds (stereo)
Clique aqui para ouvir samples no YouTube.com ♫