Al Di Meola All Your Life Tribute To The Beatles 2LP Vinil 180 Gramas 45rpm DMM Edição Limitada 2013 EU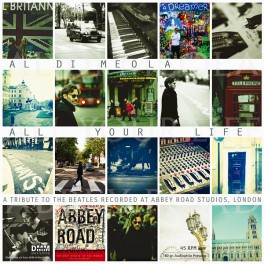 Maximizar
Artista:
Al Di Meola
Título:
All Your Life
Número de Catálogo:
91281
Editora:
In-Akustik
Código de Barras:
707787912815
Ano da edição original:
2013
Quantidade de discos:
2
Rotações por minuto:
45 rpm
Tamanho do disco:
12"
Gramagem do Vinil:
180gr
Edição Limitada:
Sim
Peso Total do Artigo:
520gr
País prensagem:
EU
Produzido para o Mercado de:
EU
Adicionado ao catálogo em:
19 Dezembro, 2016
Nota:
Nunca elegível para descontos adicionais
Vinyl Gourmet Club:
Não
All Your Life pode ser um dos mais interessantes albuns de Al Di Meola. A sua apreciação pela música dos Beatles que preenche o disco foi certamente aumentada por ter sido gravada nos Abbey Road Studios onde o famoso quarteto gravou a maior parte da sua obra. Um novo olhar sobre melodias familiares e som fantástico numa edição In-Akustik em 2LP de corte DMM a 45rpm a partir das masters de alta resolução.
Edição Limitada
Tributo aos The Beatles
Gravado nos Abbey Road Studios
2LP 45rpm Vinil 180 Gramas Audiófilo
Direct Metal Mastering (DMM)
Corte a partir da 24/96 Hi-Res Master
Capa Gatefold
"All Your Life may be the loveliest album Al Di Meola has ever done. His affection for the Beatles material that comprises the album was no doubt amplified by recording at Abbey Road Studios where the iconic foursome did the bulk of their work.
In producing this tribute to the Beatles, Di Mieola remains true to his previous recorded efforts by working in the acoustic vein within which his flamenco skills allow him to find nuance in melodies like that of "In My Live" and "And I Love Her." Yet however much he embroiders upon the melody and rhythm at the heart of such great songs, all selections are almost immediately recognizable and Di Meola never succumbs to technique for its own sake. In fact, it's only in the wordy essay inside the cover where he overstates his enthusiasm for his subjects.
The choices of Lennon-McCartney tunes here (none are George Harrison's) all make good sense in terms of the concept of All My Life and while some, such as "Blackbird" and "If I Fell," are perhaps too obvious, it may be true those selections proved irresistible to the guitarist for that very reason. Still, Di Meola doesn't play it safe here: alongside "Michelle" and "Eleanor Rigby" (where he takes the chance of including sparse strings similar to the orchestration on the original Revolver cut), he demonstrates both courage and ambition by recording "A Day in the Life" and "I Am the Walrus, " two of more complex pieces of music, not to mention studio arrangements, the Beatles ever attempted; yet Di Meola's technical skill, as with the restraint he displays elsewhere All Your Life, stands him in especially good stead within the two contrasting sections of the former number, while this rendition of the latter is no less memorable: to imbue such a cerebral song with so much warmth is indicative of this musician's approach to this project.
Recorded over the course of two days within a comparatively protracted nine-month period, All Your Life nevertheless boasts a readily discernible continuity. Simpler solo performances are interwoven within the track sequencing alongside those that contain additional percussion and/or more ornate playing. As a result, the complementary picking meshing across the stereo channels during "She's Leaving Home" becomes an absolutely perfect denouement to the record as the closing number of fourteen tracks (coincidentally or deliberately, the same number as on the Beatles own albums), all of which are even more vividly picturesque than the glossy color photos that adorn this package inside and out." - Doug Collette, Glide Magazine
Lista de Faixas:

Lado A
01. In My Life
02. And I Love Her
03. Because
04. Michelle
05. Eleanor Rigby
06. Penny Lane
07. I Will

Lado B
01. Blackbird
02. I Am The Walrus
03. Day In The Life
04. Being For The Benefit of Mr. Kite
05. With A Little Help From My Friends
06. If I Fell
07. She's Leaving Home
Clique aqui para ouvir samples no YouTube.com ♫