Cowboy Junkies The Trinity Session 2LP Vinil 180gr Audiófilo Gatefold Sterling Sound QRP 2016 USA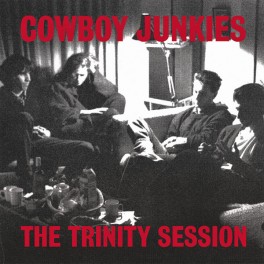 Maximizar

Mostrar todas as imagens
Artista:
Cowboy Junkies
Título:
The Trinity Session
Número de Catálogo:
APP 072
Editora:
RCA Victor
Reeditado por:
Analogue Productions
Código de Barras:
753088007217
Ano da edição original:
1988
Ano da reedição:
2016
Quantidade de discos:
2
Rotações por minuto:
33⅓ rpm
Tamanho do disco:
12"
Gramagem do Vinil:
180gr
Edição Limitada:
Sim
Peso Total do Artigo:
668gr
País prensagem:
USA
Produzido para o Mercado de:
USA
Adicionado ao catálogo em:
26 Novembro, 2016
Nota:
Nunca elegível para descontos adicionais
Vinyl Gourmet Club:
Não
Os Cowboy Junkies gravaram este LP espectacular ao vivo em Novembro de 1987 na igreja da Holy Trinity em Toronto. Com a voz quente de Margo Timmins, impecavelmente acompanhada pelos irmãos Peter (bateria) e Michael (guitarra), e o baixista Alan Anton, The Trinity Session é um clássico country-rock envolvente e evocativo que soa como se a banda estivesse a tocar mesmo à sua frente!
Edição Limitada
2LP Vinil 180 Gramas
Remasterizado por Peter Moore e Cowboy Junkies
Corte por Ryan K. Smith na Sterling Sound
Acetatos preparados por Gary Salstrom
Prensagem na Quality Record Pressings USA
Capa Gatefold Deluxe "tip-on" Stoughton Printing

Capa especial inclui fotos adicionais

Novo design gráfico como desejado pelos artistas

Novo texto/notas pelo autor Jason Schneider
Cowboy Junkies recorded this spectacular LP as a "live" event Nov. 27, 1987 at the Church of the Holy Trinity in Toronto. It was recorded with a digital R-Dat and using only a Calrec Ambisonic Microphone. What this means is the record sounds like the band was playing right in front of you with the perfect ambiance.

Yes, this is a digital recording. True to our company principles, Analogue Productions in almost all cases reissues recordings only where the analog master tape is available. However, there are rare exceptions that whether digitally recorded or otherwise, a recording is so outstanding it's worthy of the highest quality vinyl reissue.

Featuring the sultry voice of Margo Timmins, the precise musicianship of her brothers Peter (on drums) and Michael (on guitar), and bassist Alan Anton, The Trinity Session is a spare, evocative, countrified-rock classic. First released in late 1988, The Trinity Session was named "Album of the Year" by The Los Angeles Times and The New York Times described it as "a quiet, special record that challenges traditional music." Rolling Stone declared the album to be "as important as it its inspiring."

Today, it remains much more than a snapshot of a single day's work captured on tape. So for this deluxe reissue, Analogue Productions pulled out all the stops. Starting with new mastering from the original session digital tapes by the original recording engineer, Peter Moore and continuing with lacquer cutting by Ryan K. Smith at Sterling Sound. The church where the album was recorded was selected on the basis of work Moore had done there with other jazz and classical artists. Using a single Calrec Ambisonic microphone, the results are stunning.

Analogue Productions kicked up the packaging and content several notches including a heavyweight old-style tip-on Stoughton Printing jacket featuring brand-new liner notes by author and music editor Jason Schneider. Schneider is the author of Whispering Pines: the Northern Roots of American Music from Hank Snow to The Band. He's also the roots music editor at Exclaim! and his work has been published in Paste, The Word, The Toronto Star and other publications. The liner notes share space with additional recording session photos, inside and on the back cover. Additionally, the cover has been redesigned to remove the lettering and photo distortion originally applied and make it appear as the musicians/artist originally intended. Lastly, this sonic treasure has been pressed on 200g vinyl at Quality Record Pressings, maker of the world's finest LPs, with stampers plated by master plating technician Gary Salstrom.

The inspired reworking of both "Blue Moon" and "Working On A Building" reveal the Timmins family to be talented interpreters and insightful neo-traditionalists. Mixing the ambitious songwriting of Margo and Michael Timmins with subdued covers of Lou Reed's "Sweet Jane" and Hank Williams' "I'm So Lonesome I Could Cry," The Trinity Session is an exquisite collection that holds up quite well under repeated listenings.

"The main appeal of The Trinity Session, the Cowboy Junkies' second album, remains its lo-fi sound. The ambient buzz of Toronto's Church of the Holy Trinity, where the Junkies recorded the album around one microphone, colors every song, reinforcing the live setting and generating vinyl intimacy even on CD. It's as if the church itself was an instrument, one that Junkies could play pretty well. It allows Margo Timmins' voice to fill your field of vision, simultaneously soothing and unsettling, while her brother Michael's guitar rumbles through the songs, a little louder and sharper than anticipated." — Pitchfork
Lista de Faixas:

Lado A
1. Mining For Gold
2. Misguided Angel
3. Blue Moon Revisited (Song for Elvis)

Lado B
4. I Don't Get It
5. I'm So Lonesome I Could Cry
6. To Love Is To Bury

Lado C
1. 200 More Miles
2. Dreaming My Dreams With You
3. Working On A Building

Lado D
4. Sweet Jane
5. Postcard Blues
6. Walking After Midnight
Clique aqui para ouvir samples no YouTube.com ♫