Johnny Cash American Recordings I-VI Caixa 7LP Vinil 180 Gramas Rick Rubin Edição Limitada 2015 EU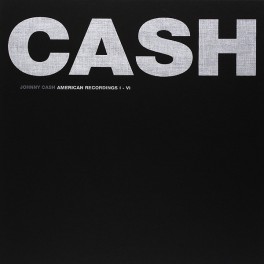 Maximizar

Mostrar todas as imagens
Artista:
Johnny Cash
Título:
American Recordings I-VI
Número de Catálogo:
060254721702
Editora:
American Recordings
Reeditado por:
American Recordings
Código de Barras:
602547217028
Ano da edição original:
1994
Ano da reedição:
2015
Quantidade de discos:
7
Rotações por minuto:
33⅓ rpm
Tamanho do disco:
12"
Gramagem do Vinil:
180gr
Extras:
Código Download MP3
Edição Limitada:
Sim
Peso Total do Artigo:
2550gr
País prensagem:
EU
Produzido para o Mercado de:
EU
Adicionado ao catálogo em:
4 Novembro, 2016
Nota:
Não elegível para descontos adicionais
Vinyl Gourmet Club:
Não
ENCOMENDA ESPECIAL: Não disponível para compra online, por favor contacte-nos para detalhes sobre métodos de pagamento disponíveis e custo de envio.

Os seis álbuns de Johnny Cash para a American Recordings estão pela primeira vez integralmente disponíveis numa caixa. Reedições especiais, Edição Limitada, do prolífico cantor e compositor, que incluem American Recordings, Unchained, American III: Solitary Man, American IV: The Man Comes Around, American V: A Hundred Highways & American VI: Ain't No Grave.
Caixa 7LP Edição Limitada
Vinil Audiófilo 180 Gramas
Seis álbuns de Cash para a American Recordings
Masterizado por Chris Bellman na Bernie Grundman Mastering
Corte a partir das masters originais supervisionado por Rick Rubin
Cartão com Código para Download MP3
In the early '90s, Johnny Cash signed to Rick Rubin's American label and began releasing the American Recordings series of albums. Produced by Rubin, the American Recordings were stark, stripped-down, mostly acoustic meditations on the more apocalyptic side of his persona, writes Rolling Stone. Cash covered Beck, Nick Cave, Bonnie "Prince" Billy, Soundgarden, Danzig, and, of course, Nine Inch Nails' "Hurt." And he cemented his reputation as one of the reigning badasses in American music history — not that that rep really needed much help.

These are acoustic roots-radical albums on hip hop/metal producer Rick Rubin's label of the same name. The albums wonderfully capture Cash's famous baritone as powerful as ever. The set includes American Recordings, Unchained, Solitary Man, The Man Comes Around, American V: A Hundred Highways and the final chapter and last recording in the series, American VI: Ain't No Grave.

Topping out on the C&W chart at No. 23 and lingering on the pop chart for nine weeks, American Recordings also took home a Grammy for Best Contemporary Folk Album. In addition to Cash originals like "Let The Train Blow the Whistle," "Drive On," "Redemption," and "Like A Soldier," the intimate 13-song set features stirring covers of songs by artists of all backgrounds including Nick Lowe ("The Beast In Me"), Kris Kristofferson ("Why Me Lord"), Glenn Danzig ("Thirteen"), Leonard Cohen ("Bird On A Wire"), Tom Waits ("Down There By the Train") and Loudon Wainwright III ("The Man Who Couldn't Cry").

Cash returned with its equally as impressive follow-up Unchained in 1996. Whereas American Recordings featured Johnny unaccompanied on acoustic guitar, Unchained finds the music legend backed by Tom Petty and the Heartbreakers and Marty Stuart. The heartfelt 14-song set again consists of a mix of Cash originals like "Country Boy," "Mean Eyed Cat" and "Meet Me in Heaven" and effective covers of material by a diverse selection of artists including Beck ("Rowboat"), Soundgarden ("Rusty Cage") and Tom Petty ("Southern Accents") among others. Unchained became Cash's second straight Grammy-winning album, this time for Best Country Album.

After rejuvenating his career with the two Grammy winning albums American Recordings (1994) and Unchained (1996), Johnny took a four year break due to health reasons before returning in 2000 for his third release in the series, Solitary Man. This time around Cash performs his originals/covers program unaccompanied as well as duets with guest artists like Tom Petty, June Carter, Merle Haggard, Sheryl Crow and Will Oldham. Along with his own compositions "Field of Diamonds," "Before My Time," "Country Trash" and I'm Leavin' Now," the 14-song set features Cash's moving takes on U2's "One," Tom Petty's "I Won't Back Down," Neil Diamond's "Solitary Man," and Will Oldham's "I See A Darkness." Cash was awarded a Grammy for Best Male Country Vocal Performance for his version of Diamond's "Solitary Man," his third straight album to take home hardware from the prestigious institution.

2002's The Man Comes Around is the fourth in the series of excellent collaborations with Rubin and the last released before his death in 2003. The Man Comes Around includes new Cash compositions like the title track and revisits of older material such as "Give My Love To Rose" and "Tear Stained Letter" as well as a diverse array of cover songs including Nine Inch Nails' "Hurt," Depeche Mode's "Personal Jesus," Simon & Garfunkel's "Bridge Over Troubled Water" with Fiona Apple, the Eagles "Desperado" with Don Henley, and Hank Williams' "I'm So Lonesome I Could Cry" with Nick Cave. The Man Comes Around also continued Cash's Grammy winning streak, taking home awards for Best Country Male Vocal Performance for "Give My Love To Rose" and Best Short Form Video for the moving music video for "Hurt."

Cash's first posthumous release, American V: A Hundred Highways (2006) debuted at No. 1 on both the Billboard Top 200 and the Country Albums chart, and contains 12 tracks recorded in 2002-2003 including the original, "Like The 309" (the last song that Johnny wrote and recorded before he died). American VI: Ain't No Grave (2010) is the final chapter and last recordings in the illustrious series. Recorded during the same 2002-2003 sessions that produced its predecessor American V: A Hundred Highways, American VI: Ain't No Grave features one Cash original ("I Corinthians 15:55"), covers of material by Sheryl Crow ("Redemption Day") and Kris Kristofferson ("For the Good Times") and the Avett Brothers on the title cut.
Lista de Faixas:

American Recordings (American I)
01. Delia's Gone
02. Let The Train Blow The Whistle
03. The Beast In Me
04. Drive On
05. Why Me Lord
06. Thirteen
07. Oh, Bury Me Not
08. Introduction: A Cowboy's Prayer
09. Bird On A Wire
10. Tennessee Stud
11. Down There By The Train
12. Redemption
13. Like A Soldier
14. The Man Who Couldn't Cry

Unchained (American II)
01. Rowboat
02. Sea of Heartbreak
03. Rusty Cage
04. The One Rose (That's Left In My Heart)
05. Country Boy
06. Memories are Made of This
07. Spiritual
08. The Kneeling Drunkard's Plea
09. Southern Accents
10. Mean Eyed Cat
11. Meet Me In Heaven
12. I Never Picked Cotton
13. Unchained
14. I've Been Everywhere

American III: Solitary Man
01. I Won't Back Down
02. Solitary Man
03. That Lucky Old Sun (Just Rolls Around Heaven All Day)
04. One
05. Nobody
06. I See A Darkness
07. The Mercy Seat
08. Would You Lay With Me (In A Field Of Stone)
09. Field Of Diamonds
10. Before My Time
11. Country Trash
12. Mary Of The Wild Moor
13. I'm Leavin' Now
14. Wayfaring Stranger

American IV: The Man Comes Around
LP 1:
01. The Man Comes Around (John R. Cash)
02. Hurt (Trent Reznor)
03. Give My Love To Rose (John R. Cash)
04. Bridge Over Troubled Water w/ Fiona Apple (Paul Simon)
05. I Hung My Head (Sting)
06. First Time Ever I Saw Your Face (Ewan MacColl)
07. Personal Jesus (Martin L. Gore)
08. In My Life (John Lennon/Paul McCartney)
LP 2:
01. Sam Hall (John R. Cash)
02. Danny Boy (Arrangement by John R. Cash)
03. Desperado w/ Don Henley (Glenn Frey/Don Henley)
04. I'm So Lonesome I Could Cry w/ Nick Cave (Hank Williams)
05. Streets of Laredo (Arranged & Adapted By John R. Cash)
06. Wichita Lineman
07. Big Iron
08. Tear Stained Letter (John R. Cash)
09. We'll Meet Again (Ross Parker/Hugh Charles)

American V: A Hundred Highways
01. Help Me
02. God's Gonna Cut You Down
03. Like the 309 (written by CASH)
04. If You Could Read My Mind
05. Further On Up the Road
06. The Evening Train
07. I Came to Believe
08. Love's Been Good To Me
09. A Legend In My Time
10. Rose of My Heart
11. Four Strong Winds
12. I'm Free From the Chain Gang Now

American VI: Ain't No Grave
01. Ain't No Grave
02. Redemption Day
03. For the Good Times
04. 1 Corinthians 15:55
05. Can't Help But Wonder Where I'm Bound
06. Satisfied Mind
07. I Don't Hurt Anymore
08. Cool Water
09. Last Night I Had the Strangest Dream
10. Aloha Oe
Clique aqui para ouvir samples no YouTube.com ♫