Elvis Costello Almost Blue LP Vinil 180 Gramas Mobile Fidelity Sound Lab Edição Limitada MFSL 2012 USA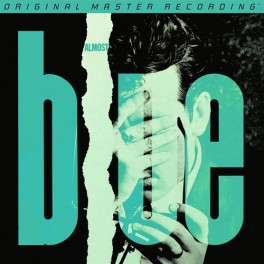 Maximizar

Mostrar todas as imagens
Artista:
Elvis Costello
Título:
Almost Blue
Número de Catálogo:
MFSL 1-335
Editora:
Columbia
Reeditado por:
Mobile Fidelity Sound Lab
Código de Barras:
821797133517
Ano da edição original:
1981
Ano da reedição:
2012
Quantidade de discos:
1
Rotações por minuto:
33⅓ rpm
Tamanho do disco:
12"
Gramagem do Vinil:
180gr
Edição Limitada:
Sim
Edição Numerada:
Sim
Peso Total do Artigo:
410gr
País prensagem:
USA
Produzido para o Mercado de:
USA
Adicionado ao catálogo em:
26 Outubro, 2016
Colecção:
MFSL Original Master Recording
Nota:
Nunca elegível para descontos adicionais
Vinyl Gourmet Club:
Não
Elvis Costello ficou tão enamorado quando descobriu a música country Americana, que o motivou a gravar Almost Blue. Com a reputação de ser um dos mais apaixonados e entusiásticos albuns de covers de sempre, este set de 12 canções apresenta o icónico cantor e compositor a interpretar standards de Hank Williams, Gram Parsons, George Jones, Merle Haggard, e outros artistas lendários.
Edição Limitada
Edição Numerada
Vinil 180 Gramas de Alta Definição prensado na RTI USA
Masterização half-speed no Gain 2 Ultra Analog System
Masterização Mobile Fidelity Sound Lab
Corte a partir das Master Tapes Analógicas Originais
Masterizado por Krieg Wunderlich
Capa interior especial antiestática
Capa Deluxe
Costello's Soulful Country & Western Covers Album Tackles Standard Tunes by George Jones, Hank Williams, Gram Parsons, and More! Expertly played 1981 set marks the second of the Encyclopedic Pop Musician's many forays into multiple styles. Half-Speed Mastered from the Original Master Tapes: Knockout Sonics Present Costello's Close-Up Vocals, Steve Nieve's Piano, and the Pedal-Steel Guitars in Great Relief.

Elvis Costello was so enamored with American country music when he finally discovered it, he was motivated to record Almost Blue. Renowned as one of the most passionate and enthusiastic covers albums ever made, the 12-song set finds the iconic singer/songwriter interpreting standards by the likes of Hank Williams, Gram Parsons, George Jones, Merle Haggard, and other legends. Replete with heartbreak, lonesomeness, boozing, cheating, and dreaming, it's laden with country and western's customary themes and dignified by one of the finest performances of Costello and the Attractions' peerless career.

Half-speed mastered from the original master tapes, Mobile Fidelity's numbered limited edition 180g LP opens up the soundstages, clears previously muddled midrange frequencies, and places the imaging of the various country-tuned instruments into clear focus. For the first time, listeners can hear just how much of himself Costello invests in the vocal performances, while the Attractions don't miss a beat, particularly pianist Steve Nieve and guest musician John McFee. Moreover, the strings (when employed) take on new life, and the record's cover art, a take-off on Kenny Burrell's Midnight Blue, is faithfully reproduced.

At the time of the album's recording in 1981, Costello was admittedly emotionally shattered. The title of the effort isn't merely coincidental. Feeling dejected and disenchanted, the vocalist had been put through the ringer: His pop stardom yielded one incredible record after another, but Costello's marriage was in tatters, his behavior deplorable, and his reputation tarnished by a famous drunken incident that shamed him for decades. In addition, he chose to follow his string of original LPs up with the soul- and R&B-minded Get Happy, a creative masterwork that nonetheless caused some of his mainstream fans to believe he'd abandon his hit-making pedigree.

So he did what any self-respecting, astute musician would want to do: Cut a country and western record steeped in heartbreak, fragility, sadness, despair, and beer-glass-raising spirit. Largely informed by the stacks of country LPs he bought in used shops during U.S. tours, and in the ideal frame of mind, Costello sought out not to make standards such as "Sweet Dreams," "Too Far Gone," "Honey Hush," and "Tonight the Bottle Let Me Down" his own but to put a unique spin on the darkness, surprise, soulfulness, foreboding, and authenticity that they contain within.

With each note, Costello succeeds and exceeds expectations, turning in versions that sound both old and new. Such timelessness, and the confluence of contemporary and traditional, distinguishes Almost Blue from nearly every other country tribute album made by pop/rock artists before and since. Costello and the Attractions embody the deep sentiments attached to these weeping ballads, tear-jerking lullabies, honky-tonk rave-ups, and playful shuffles in an incredibly convincing manner. Producer George Sherrill, famous for working with the likes of Tammy Wynette, George Jones, and Marty Robbins, and brought on board specifically for the project, frames the music with the perfect blend of grit and professionalism.

Recorded in CBS Studio A Nashville May 18-29, 1981.
Músicos:

Elvis Costello, guitarra voz
Pete Thomas, bateria
Bruce Thomas, baixo
Steve Nieve, piano orgão

Lista de Faixas:

Lado A
01. Why Don't You Love Me (Like You Used to Do)?
02. Sweet Dreams
03. Success
04. I'm Your Toy
05. Tonight The Bottle Let Me Down
06. Brown To Blue

Lado B
07. A Good Year for the Roses
08. Sittin' and Thinkin'
09. Colour of the Blues
10. Too Far Gone
11. Honey Hush
12. How Much I Lied
Clique aqui para ouvir samples no YouTube.com ♫