Steve Reich Music For 18 Musicians 2LP Vinil 180gr Edição Limitada Numerada Nonesuch Pallas 2015 EU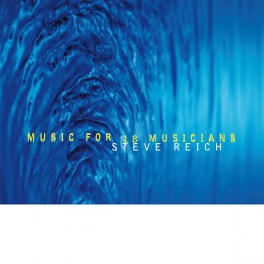 Maximizar

Mostrar todas as imagens
Artista:
Steve Reich
Título:
Music for 18 Musicians
Número de Catálogo:
79448-1
Editora:
Nonesuch Records
Reeditado por:
Nonesuch Records
Código de Barras:
075597958157
Ano da edição original:
1998
Ano da reedição:
2015
Quantidade de discos:
2
Rotações por minuto:
33⅓ rpm
Tamanho do disco:
12"
Gramagem do Vinil:
180gr
Edição Limitada:
Sim
Edição Numerada:
Sim
Peso Total do Artigo:
696gr
País prensagem:
Alemanha
Produzido para o Mercado de:
EU
Adicionado ao catálogo em:
4 Outubro, 2016
Nota:
Elegibilidade Limitada para Descontos
Vinyl Gourmet Club:
Não
No final dos anos 70, o New York Times declarou Music For 18 Musicians de Steve Reich uma das dez obras mais importantes dessa década. Mas a passagem do tempo revelou a imprecisão dessa declaração. Como escreve K. Robert Schwartz nas notas do disco, é 'uma das poucas gravações de final do século XX que alterou o rumo da história da música Ocidental'.
Edição Limitada (4000 unidades)
Edição Numerada
Gravação de 1998 vencedora de um Grammy Award
Pela primeira vez em Vinil
2LP Vinil 180 Gramas
Prensagem na Pallas da Alemanha
Capa Gatefold
Masterizado por Robert Ludwig
Corte por Chris Bellman nos Estúdios Bernie Grundman
In 2015, Nonesuch re-issued Steve Reich's landmark Music for 18 Musicians, performed by Steve Reich and Musicians, on two 180-gram vinyl LPs for Record Store Day. The album was pressed at Pallas Manufacturing in Diepholz, Germany, and is packaged in a vintage-style double pocket gatefold jacket with poly sleeves. The original 1998 recording, which was released on CD and earned a Grammy Award for Best Small Ensemble Performance, was mastered for vinyl by Robert C. Ludwig. Each limited-edition record has been individually numbered.

At the close of the 1970s, the New York Times declared Steve Reich's Music for 18 Musicians one of the ten most important works of that decade. But the passage of time has proven that inaccurate. As K. Robert Schwartz writes in his liner notes, it is "one of the handful of late-twentieth-century works that can rightly claim to have altered the course of Western music." Twenty-two years after its first release on vinyl, Steve Reich and Musicians deliver a new recording of Music for 18 Musicians on Nonesuch Records. Originally offered as a volume within the composer's 10-CD retrospective box set in 1997.
Reich himself admits that 18 marks a "high point" in his thirty-year career. "It's undoubtedly one of the best pieces I've ever done. Sometimes everything just comes together and suddenly you've created this wonderful organism, and in this piece it happened. That accounts for its durability. but it also has a real structural backbone, so it continues to please me twenty years later."
The product of virtually continuous work from May 1974 to March 1976, 18 was finished when Reich was nearly forty, and reflects numerous influences that had made their mark on the composer's life up to that point: bebop and Balinese gamelan, African drumming and modal jazz, the melismas of Perotin and the scat-singing of Ella Fitzgerald. These elements came together to define Reich's essential harmonic language, one that had evolved well beyond the austere and reductive so-called minimalism of his earlier pieces.
Along with the benefit of digital recording, this new 18 features many of the very same musicians that participated in its first recording as well as many of its concert performances over the last two decades: a team that could be said, over time, to have osmotically absorbed every nuance this richly-detailed score has to offer. A tempo change in the new album—governed by the breathing pattern of the clarinetist—has resulted in a version eleven minutes longer than the original. Some harmonic reinterpretation may be noted as well.
Music for 18 Musicians has influenced a whole generation of young composers, as well as a legion of pop musicians. As much as ever, it remains an alluring marvel of coloristic shimmer and an evocation of non-Western music, of classical music, and of jazz—without sounding like any of them. Viewing it from a modest historical distance, is it still absurd to label it a minimalist work? Steve Reich replies, "Yes, I think it is. You can apply minimalism to 18 if you want, but what you're really hearing is that whole phenomenon—at least in any recognizable, strict form—fade away into the distance."
Musicians:
Steve Reich, marimba, piano
Rebecca Armstrong, Marion Beckenstein, Cheryl Bensman Rowe, sopranos
Jay Clayton, alto, piano
Russell Hartenberger, Bob Becker, Tim Ferchen marimbas, xylophones
James Preiss, vibraphones, piano
Garry Kvistad, marimba, xylophone, piano
Thad Wheeler, marimba, maracas
Nurit Tilles, Edmund Niemann, pianos
Philip Bush, piano, maracas
Elizabeth Lim, violin
Jeanne LeBlanc, cello
Leslie Scott, Evan Ziporyn, clarinets, bass clarinets
Production Credits:
Produced by Judith Sherman
Recorded October 1996 at the Hit Factory, New York City
Engineered by John Kigore
Assistant Engineers: Glen Marchese, Chris Hilt
Mixed November 1996 and January 1997 at the Hit Factory, New York City
Assistant Mix Engineers: Tony Black, Greg Thompson
Production Assistants: Sidney Chen, Jeanne Velonis
Design by John Gall
Cover Photo by Fumio Kurasakai/Photonica
Executive Producer: Robert Hurwitz
Lista de Faixas:


01. Pulses 5:26
02. Section I 3:58
03. Section II 5:13
04. Section IIIA 3:55
05. Section IIIB 3:46
06. Section IV 6:37
07. Section V 6:49
08. Section VI 4:54
09. Section VII 4:19
10. Section VIII 3:35
11. Section IX 5:24
12. Section X 1:51
13. Section XI 5:44
14. Pulses 6:11