Neil Young Tonight's The Night LP Vinil Bernie Grundman Official Release Series AAA Pallas 2016 EU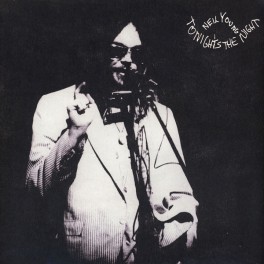 Maximizar

Mostrar todas as imagens
Tonight's the Night de Neil Young permanece como uma dura reflexão sobre a vida, perda e tormenta. Revelando profundamente a dor do cantor e compositor, apresentando cada nota e rasgo da expressão vocal com realismo impressionante, esta reedição analógica de Tonight's the Night masterizada a partir das master tapes originais foi prensada em vinil de alta qualidade com som impressionante.
Rolling Stone 500 Melhores Albums de Todos os Tempos posição 330/500
Prensado em Vinil de Alta Qualidade na Pallas da Alemanha
Corte a partir das Master Tapes Analógicas Originais
Remasterização supervisionada directamente pelo próprio Neil Young
Corte por Chris Bellman nos estúdios Bernie Grundman Mastering
Reprodução exacta do grafismo e textura da capa original
Capa Gatefold
Todos os quatro albums do segundo volume ORS disponíveis aqui:
Pack Vinyl Gourmet: Neil Young 4LP Official Release Series 5-8 (2016)
Although the album was recorded in 1973, nearly all of it on a single day, the release of Neil Young's sixth studio album "Tonight's The Night" was delayed until 1975. Music for Tonight's The Night was written just months after the tragic death of Bruce Berry, a friend and roadie of Crazy Horse guitarist Danny Whitten and Neil Young.
"Written and recorded in 1973 shortly after the death of roadie Bruce Berry, Neil Young's second close associate to die of a heroin overdose in six months (the first was Crazy Horse guitarist Danny Whitten), Tonight's the Night was Young's musical expression of grief, combined with his rejection of the stardom he had achieved in the late '60s and early '70s. The title track, performed twice, was a direct narrative about Berry: 'Bruce Berry was a working man/He used to load that Econoline van.' Whitten was heard singing 'Come On Baby Let's Go Downtown,' a live track recorded years earlier. Elsewhere, Young frequently referred to drug use and used phrases that might have described his friends, such as the chorus of 'Tired Eyes,' 'He tried to do his best, but he could not.' ... the style worked perfectly for the material, emphasizing the emotional tone of Young's mourning...He remained unimpressed with his commercial success, noting in 'World on a String,' 'The world on a string/Doesn't mean anything.' In 'Roll Another Number,' he said he was "a million miles away/From that helicopter day' when he and CSN had played Woodstock. And in 'Albuquerque,' he said he had been 'starvin' to be alone/Independent from the scene that I've known' and spoke of his desire to 'find somewhere where they don't care who I am.' Songs like 'Speakin' Out' and 'New Mama' seemed to find some hope in family life, but Tonight's the Night did not offer solutions to the personal and professional problems it posed. It was the work of a man trying to turn his torment into art and doing so unflinchingly. Depending on which story you believe, Reprise Records rejected it or Young withdrew it from its scheduled release at the start of 1974 after touring with the material in the U.S. and Europe. In 1975, after a massive CSNY tour, Young at the last minute dumped a newly recorded album and finally put Tonight's the Night out instead. Though it did not become one of his bigger commercial successes, the album immediately was recognized as a unique masterpiece by critics, and it has continued to be ranked as one of the greatest rock & roll albums ever made." - William Ruhlman, All Music
Neil Young's Harrowing, Loose, Emotionally Raw Tribute to His Fallen Friends in Unrivaled Analog Sound: 1974 Masterpiece Tonight the Night Mastered from the Original Master Tapes
One of the most harrowing, weary, mournful, and emotionally raw albums ever made, Neil Young's Tonight's the Night remains an uncompromising reflection of life, loss, and torment. Revealing the inner depths of the singer-songwriter's pain, and presenting every note and ragged vocal expression with staggering realism, this audiophile reissue of Tonight's the Night is mastered from the original master tapes and pressed on dead-quiet vinyl for the ultimate listening experience.
Recorded in the wake of the drug overdoses of Crazy Horse guitarist Danny Whitten and friend and roadie Bruce Berry, the unflinchingly somber affair serves as a eulogy to both men and is dark and moving in equal measures. The nocturnal, come-as-you-go arrangements and Young's loose performances make a perfect match. Recognized by Rolling Stone as the 330th greatest album ever made, and looked upon by countless listeners as a inimitable masterwork, Tonight's the Night is as honest, frayed, and direct as rock n' roll gets.
Lista de Faixas:
Lado A:
1. Tonight's the Night
2. Speakin' Out
3. World On A String
4. Borrowed Tune
5. Come On Baby Let's Go Downtown
6. Mellow My Mind
Lado B:
1. Roll Another Number (For The Road)
2. Albuquerque
3. New Mama
4. Lookout Joe
5. Tired Eyes
6. Tonight's The Night (Part II)
Clique aqui para ouvir samples no AllMusic.com ♫