Nina Simone Little Girl Blue LP Vinil 200 Gramas Analogue Productions Sterling Sound QRP 2015 USA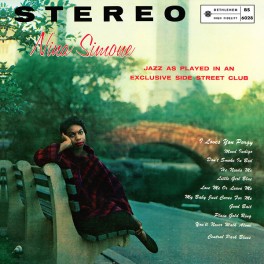 Maximizar

Mostrar todas as imagens
Artista:
Nina Simone
Título:
Little Girl Blue
Número de Catálogo:
BS-6028 / APJ 083
Editora:
Bethlehem Records
Reeditado por:
Analogue Productions
Código de Barras:
753088008313
Ano da edição original:
1958
Ano da reedição:
2015
Quantidade de discos:
1
Rotações por minuto:
33⅓ rpm
Tamanho do disco:
12"
Gramagem do Vinil:
200gr
Edição Limitada:
Sim
Peso Total do Artigo:
520gr
País prensagem:
USA
Produzido para o Mercado de:
USA
Adicionado ao catálogo em:
30 Junho, 2016
Nota:
Nunca elegível para descontos adicionais
Vinyl Gourmet Club:
Não
Eunice Kathleen Waymon gravou mais de 40 álbuns durante uma longa e distinta carreira de cinco décadas. Como Nina Simone, a sua voz única e quente apurou uma carreira categorizada muitas vezes como cantora jazz, soul, ou artista folk; ela foi todas estas coisas e muito mais. Little Girl Blue foi o album de estreia de Nina Simone, um disco maravilhoso e a não perder!
Avaliado em 10/11 Música e 9/11 Som por Michael Fremer (Analog Planet)
Edição Limitada
Vinil 200 Gramas Audiófilo 33rpm
Corte a partir das Master Tapes Originais Analógicas
Prensagem na Quality Record Pressings QRP USA
Masterizado por Ryan K. Smith na Sterling Sound
Capa Gatefold Deluxe com fotos
Capa produzida na Stoughton Printing
Eunice Kathleen Waymon recorded more than 40 albums over a long, distinguished career that stretched for five decades. As Nina Simone, her distinctive mellifluous voice honed a career catagorized variously as a jazz singer, soul singer and folk artist; she was all of these — and more. Little Girl Blue was Nina Simone's debut release. Bethlehem founder Gus Wildi, taken with the uniquely beautiful quality of her voice, gave her complete control over song selection, backing musicians, arrangements and production of the recording.
For this new Analogue Productions reissue of Little Girl Blue, they've upped the ante. A single pocket jacket to suffice? No. They've done the lady right with a heavy Stoughton Printing tip-on gatefold jacket featuring gorgeous color photos of Nina from a glamorous stage performance. And the peerless mastering by Ryan Smith at Sterling Sound in New York sounds incredible. Then top it off with 200-gram Quality Record Pressings vinyl that is unsurpassingly silent and gives incredibly rich playback.
As the liner notes say, there are plenty of musical singers who vocalize well and have an individual style but who never cross that thin and hard-to-define line that separates a good "pop" style from one that is jazz. The first few notes of this record will immediately confirm Nina's jazz credentials. As she said, "You got to get to people." That she does with a vibrant and husky contralto that tonally sounds like a blend of an unlikely combination of Marian Anderson and Ma Rainey.
For Little Girl Blue, Nina and her rhythm section recorded the entire album plus three additional tracks in just one session. In her biography of Nina, Nadine Cohodas recounts engineer Irv Greeenbaum's recollection of that day: "Nothing like Nina's artistry had ever happened before ... Her voice and the keyboard playing were so rich and interesting that they could have stood alone."
Little Girl Blue documents Nina Simone's unparalleled and idiosyncratic musical persona at a particularly vibrant, formative stage, and helped launch her on a trajectory with more than its share of personal and professional trials and triumphs.
"Backed by bassist Jimmy Bond and Albert "Tootie" Heath, it showcases her ballad voice as one of mystery and sensuality and showcases her up-tempo jazz style with authority and an enigmatic down-home feel that is nonetheless elegant." -Thom Jurek, All Music
From June 22, 2016 review of Analog Productions reissue on 200g vinyl:
"The recording quality is extremely high. Transparency and timbral accuracy are high points, the 'stereo' spread, the low point. This sounds as if it was a two track recording meant to be mixed to mono and in fact, I have a mono original that I prefer spatially, but it can't otherwise begin to compare to this reissue's remarkable clarity, transparency and black backgrounds..." - Michael Fremer, Analog Planet
"Analogue Productions' reissue of Little Girl Blue cut by Ryan K. Smith at Sterling Sound from the original stereo master tape, pressed at QRP on 200 gram vinyl and presented in a gatefold "Tip on" jacket is well worth the money. It's a classic you'll play often and enjoy every time." - Michael Fremer, Analog Planet
Músicos:
Nina Simone, voz, piano
Jimmy Bond, contrabaixo
Albert "Tootie" Heath, bateria

Lista de Faixas:
Lado A
1. Mood Indigo
2. Don't Smoke In Bed
3. He Needs Me
4. Little Girl Blue
5. Love Me Or Leave Me
6. My Baby Just Cares For Me

Lado B
1. Good Bait
2. Plain Gold Ring
3. You'll Never Walk Alone
4. Porgy
5. Central Park Blues
Clique aqui para ouvir samples no YouTube.com ♫