Anthony Wilson Frogtown 2LP Vinil 180gr Goat Hill Recordings Bernie Grundman Mastering RTI 2016 USA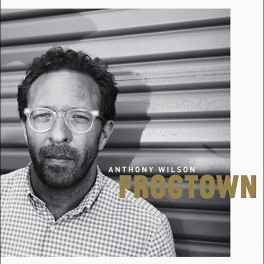 Maximizar

Mostrar todas as imagens
Artista:
Anthony Wilson
Título:
Frogtown
Número de Catálogo:
GHR-004LP
Editora:
Goat Hill Recordings
Código de Barras:
728028410563
Ano da edição original:
2016
Quantidade de discos:
2
Rotações por minuto:
33⅓ rpm
Tamanho do disco:
12"
Gramagem do Vinil:
180gr
Edição Limitada:
Sim
Peso Total do Artigo:
479gr
País prensagem:
USA
Produzido para o Mercado de:
USA
Adicionado ao catálogo em:
15 Junho, 2016
Nota:
Elegibilidade Limitada para Descontos
Vinyl Gourmet Club:
Não
Frogtown é o album mais diverso do guitarrista Anthony Wilson, e também a sua estreia como vocalista, com o baixista premiado (Grammy) Mike Elizondo, baterista lendário Jim Keltner, violinista Petra Haden, e saxofonista icónico Charles Lloyd, para o ajudar a realizar a sua visão. Virtuosismo na guitarra e na interacção musical, um album de canções bem trabalhadas num ambiente intimista.
Avaliado em 10/11 Música e 10/11 Som por Michael Fremer (Analog Planet)
Duplo LP Vinil 180 Gramas
Masterizado por Bernie Grundman
Consultoria Audio de Joe Harley
Encarte 12" x 12" dobrado com letras
Prensagem na RTI, USA
Diana Krall Guitarist Anthony Wilson a Double Threat on Frogtown: Mastered by Bernie Grundman and Pressed at RTI, 2LP Set Features Incredible Supporting Cast and Reference Sound
Renowned guitarist Anthony Wilson has a nifty trick up his sleeve on the intimate Frogtown on which the Diana Krall instrumentalist proves he's as compelling in the vocal department as he is with the six-string. A narrative-based album on which Wilson convincingly steps into the role of storyteller, the all-original set features a who's who of musicians – drummers Jim Keltner and Matt Chamberlain, bassist Mike Elizondo, violinist Petra Haden, and keyboardists Patrick Warren and Josh Nelson. Organic, and splashed with atmospheric textures and complex emotions, Frogtown transports the listener to evocative landscapes painted with rich arrangements, taut interplay, and virtuosic playing. The Elizondo-produced work also boasts stunning audiophile sound – particularly on the evocative analog version.
Mastered by Bernie Grundman and pressed at RTI, this 2LP set delights with wide-ranging dynamics, pristine soundstaging cues, and gorgeous detail. The transparency, three-dimensionality, layering, and balance will make it a go-to test disc for anyone interested in giving their system a workout. But beyond the sonics, the music and band interplay impress most.
"Frogtown," an album of original songs, is guitarist Anthony Wilson's most wide-ranging recorded work to date, and his debut as a singer. Wilson enlisted Grammy-winning producer/bassist Mike Elizondo and a cast of musicians including legendary drummer Jim Keltner, violinist Petra Haden, and iconic saxophonist Charles Lloyd, to help him realize his vision. Virtuosic guitar and ensemble work, well-crafted songs, and intimate vocals drive this album, rooted deeply in jazz while summoning an array of diverse influences.
"Frogtown" reaches across genres and evokes complex emotional landscapes. With "Frogtown," Anthony Wilson steps confidently into the center of a vivid musical and personal portrait.
"Anthony Wilson, best known as a jazz guitarist, has released an organic, occasionally "noir-ish", sounding album on which he sets up and sings within cinematic musical landscapes, proving himself to be an equally compelling story teller. "Frogtown" is an area of Los Angeles, whose official name is "Elysian Valley". People live there but other than a lush stretch of the L.A. riverbed, there's not much there, which is how the people like it. The same can't be said of this record, which will have you wondering from where came this Anthony Wilson?
"Wilson doesn't ease into this new role—he jumps: opening with "She Won't Look Back", which sounds conjured up by Angelo Badalamenti with direction by David Lynch.
"Not every musician can make convincing this kind of epic shift, but Wilson doesn't force a note or vocal gesture unwinding a story that navigates skillfully from heartbreak to liberation...
"The first of the album's four sides ends with "Your Footprint", a dreamy, late afternoon-sounding drift down reverie that Wilson's vocal nails. First play leaves you wondering where this Anthony Wilson has been hiding all of these years? If the goal was to establish a crossover foothold in Norah Jones's musical territory, mission accomplished.
"That was my thought before reading in the credits that Jones collaborator Jesse Harris plays harmonica on one tune. Harris's Wikipedia page says his music has been described as a "blend of folk, rock, jazz and world rhythms" and that pretty much sums up what this record offers. Also onboard here on various tracks: Petra Haden, Patrick Warren, Jim Keltner and on one track Charles Lloyd....
"Produced by Mike Elizondo, who also plays bass and synth bass, and engineered by Adam Hawkins at Can-Am Recorders, the album's sound and the deftly drawn arrangements (for some reason uncredited) perfectly compliment Wilson's dreamy, rural intentions (producer Joe Harley gets a "audio consultation" credit). The sound achieves a rare level of transparency, delicacy and three-dimensionality in today's hard-edged audio world. Bernie Grundman cut lacquers from what I assume were high resolution files. I doubt you'll ask yourself "why buy the vinyl?" after your first listen.
"While those familiar with Wilson's previous recorded output will be stunned and perhaps left confused after the first play, I think even those with no Wilsonian perspective will be equally moved by the record's musical and sonic beauty and especially by Wilson's evocative vocalizing. Who knew?
"From the first note of the first song Frogtown engages and it doesn't let go of its considerable grip for four sides..." - Michael Fremer, Analog Planet
Músicos:
Anthony Wilson, guitars, vocals
Petra Haden, violin, bird whistle
Mike Elizondo, bass, synth bass
Patrick Warren, piano, organ, pump organ, autoharp, keyboards, samples
Jim Keltner, drums, percussion
Matt Chamberlain, drums, percussion
Charles Lloyd, tenor sax on "Your Footprints"
Jesse Harris, harmonica on "Arcadia"
Josh Nelson, piano on "Silver And Flint" and "The Geranium"
Daniel Rosenboom, trumpet
Bob Reynolds, tenor sax
Adam Schroeder, baritone sax, bass clarinet

Lista de Faixas:
LP 1 Lado A
01. She Won't Look Back
02. Frogtown
03. Your Footprints
LP 2 Lado B
04. Occhi di Bambola
05. Silver and Flint
06. Our Affair
LP 2 Lado C
07. The Cares of A Family Man
08. Mopeds
09. Arcadia
LP 2 Lado D
10. The Geranium
11. Shabby Bird
12. I Saw It Through the Skylight
13. Downtown Abbey
Clique aqui para ouvir samples no YouTube.com ♫