Dick Schory's Music for Bang Baaroom and Harp LP Vinil 200 Gramas RCA Analogue Productions QRP USA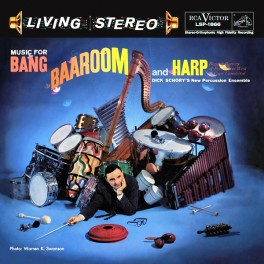 Maximizar

Mostrar todas as imagens
Artista:
Dick Schory
Título:
Music for Bang Baaroom and Harp
Número de Catálogo:
LSP-1866 / AAPP 1866
Editora:
RCA Victor
Reeditado por:
Analogue Productions
Código de Barras:
753088186615
Ano da edição original:
1958
Ano da reedição:
2016
Quantidade de discos:
1
Rotações por minuto:
33⅓ rpm
Tamanho do disco:
12"
Gramagem do Vinil:
200gr
Edição Limitada:
Sim
Peso Total do Artigo:
393gr
País prensagem:
USA
Produzido para o Mercado de:
USA
Adicionado ao catálogo em:
2 Junho, 2016
Colecção:
Analogue Productions RCA Living Stereo
Nota:
Não elegível para descontos adicionais
Vinyl Gourmet Club:
Não
'Era impossível prever em 1958, para todos os envolvidos no planeamento e gravação de Music for Bang, Baaroom and Harp, como seria enorme o impacto deste album para a indústria musical e para minha carreira', escreveu Dick Schory, sobre este clássico instrumental audiófilo, a primeira gravação estereofónica que se pode classificar como Best Seller.
TAS Super LP List - The Absolut Sound
Edição Limitada
Vinil 200 Gramas Audiófilo 33rpm
Corte a partir das Masters 2 e 3 Track
Prensagem na Quality Record Pressings QRP USA
Acetatos processados por Gary Salstrom
Masterizado por Ryan K. Smith na Sterling Sound
Capa "tip-on" Deluxe
"Little did any of us who were involved in the planning and recording of Music for Bang, Baaroom and Harp know, back in 1958, what an impact this album would have on the record industry and how it would effect my career," writes Dick Shory, about the audiophile instrumental classic, the first stereophonic recording in the industry to be classified a "Best Seller."
Now, revel in the enhanced clarity and sonic richness of a 200-gram pressing by Quality Record Pressings, and remastering and lacquer cutting by Ryan Smith at Sterling Sound, giving this classic a fresh, vibrant appeal. The superb remastering from the original 3-track master tapes brings out subtleties of the instruments, arrangements, performance and ambiance of Chicago's Orchestra Hall lacking from the original pressing and subsequent versions.
The concept for this album is simple: Dozens of standard and exotic percussive instruments (re: manifold from a 1946 Chevrolet) were employed in original and standard tunes arranged by Schory, Bobby Christian, Mike Simpson, Willis Charkovsky and Skitch Henderson, who at the time was musical director for NBC's "Tonight Show." Three tracks are of particular note: the quirky "Tiddley Winks" and the exotic "Baia" and "Typee." The jacket, depicting Schory poking out from a pile of instruments, is a classic of LP art.
The recording, utilizing RCA Victor Record's Red Seal Classical Division's equipment — the same used to record the Chicago, Philadelphia and Boston Symphony orchestras at the time — was recorded in Chicago's Orchestra Hall on June 2 and 3, 1958. Two custom Ampex 300-3 half-inch 3-track tape recorders, running at 15 and 30 inches a second, captured the performances by eight percussionists together with other performers from the Chicago Symphony on piano, string bass, guitar, banjo and harp.
Commercial success followed. Not only was the album an audiophile classic, it also became one of the best selling instrumental albums of the late 1950s and early '60s with Billboard, Record World and Cash Box magazines listing it on their charts for more than two years, and in the "Top 10" best sellers for more than six months. The album kicked off an era of percussion recordings that tried to duplicate the success of Music for Bang, Baaroom and Harp, with limited results.
Analogue Productions and Quality Record Pressings bring you this remastered and improved pressing so that a whole new generation of audiophiles and even casual music lovers can discover for themselves the wizardry, wit and wonder that is Music for Bang, Baaroom and Harp!
RCA Living Stereo classical LPs - the gold standard for top quality orchestral performance and sound!
"...I'd have to say that the usual stumbling blocks have been sidestepped. Great care has been taken to do the right things, starting with the way the decision to remaster these RCAs was made." - Jonathan Valin, The Absolute Sound
"These records are definitive." - Michael Fremer, Analog Planet
RCA's "golden age" was more like a "golden minute" - in a scant period, roughly from 1958 to 1963, the beginning of the stereo era - pure vacuum tube amplification helped produce recordings demonstrating unparalleled fidelity and warmth, lifelike presence and midband illumination.
Pressed at Quality Record Pressings and plated by Gary Salstrom. Packaged in the original tip-on jacket facsimiles that precisely duplicate the original cover art, including the "Living Stereo" logo, LSC numbers and "Shaded Dog" label. These reissues are designed from the mastering, to the cutting, to the pressing and packaging to be the finest RCA Living Stereo LPs ever reissued. These new versions are clearer than the originals and warmer and richer than past reissues!
Lista de Faixas:
Lado A
01. National Emblem March
02. Baia
03. Way Down Yonder In New Orleans
04. Ding Dong Polka
05. April In Paris
06. Holiday In A Hurry
Lado B
07. Buck Dance
08. Duel On The Skins
09. September In The Rain
10. Tiddley Winks
11. The Sheik Of Araby
12. Typee