Radiohead A Moon Shaped Pool 2LP Vinil 180 Gramas Gatefold + Download XL Recordings 2016 EU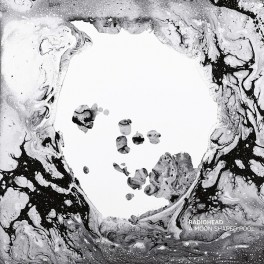 Maximizar

Mostrar todas as imagens
Artista:
Radiohead
Título:
A Moon Shaped Pool
Número de Catálogo:
XLLP790
Editora:
XL Recordings
Código de Barras:
634904079017
Ano da edição original:
2016
Quantidade de discos:
2
Rotações por minuto:
33⅓ rpm
Tamanho do disco:
12"
Gramagem do Vinil:
180gr
Extras:
Código Download
Peso Total do Artigo:
577gr
País prensagem:
EU
Produzido para o Mercado de:
EU
Adicionado ao catálogo em:
21 Maio, 2016
Colecção:
Melhor Música Nova 2016
Nota:
Não elegível para descontos adicionais
Vinyl Gourmet Club:
Não
A XL Recordings apresenta A Moon Shaped Pool, o muito esperado nono album da aclamada banda Britânica Radiohead e sucessor de King Of Limbs de 2011. Conjunto de 11 faixas melodicamente ricas e tempo meditativo que estiveram em gestação durante 5 anos e já é considerado um dos melhores discos da banda em muitos anos, seguramente um dos lançamentos mais importantes de 2016.
Vinyl Gourmet Melhor Música Nova 2016
2LP Vinil 180 Gramas
Prensagem Optimal Media (Alemanha)
Corte na Alchemy Mastering
Capa Gatefold
Inclui Código Download (MP3 & WAV)
XL Recordings presents A Moon Shaped Pool, the highly anticipated ninth studio album from the radical and revered British act Radiohead and follow-up to 2011's The King of Limbs. The melodically rich and meditatively mid-tempo eleven-track set was five years in the making and has already been hailed as one of the band's most accessible efforts in years. The album comes preceded by the evocative videos for the Paul Thomas Anderson-directed "Daydreaming" and Chris Hopewell-directed "Burn the Witch" while further shimmering tracks like "Identikit," "Ful Stop," "Present Tense," "Desert Island Disk" and "True Love Waits" have been previously performed live, the latter even dating all the way back to 1995 and an appearance on the 2001 EP I Might Be Wrong.
"A cursory glance at A Moon Shaped Pool may suggest a certain measure of indifference on the part of Radiohead. Its 11 songs are sequenced in alphabetical order - a stunt befitting a Pixies concert or perhaps a Frank Black box set, not a proper album - and many of these tunes are of an older vintage: the group began work on the opening "Burn the Witch" at the turn of the century, while the closing "True Love Waits" first appeared in concerts way back in 1995. These are the elements of a clearinghouse, but with Radiohead appearances are always deceiving. A Moon Shaped Pool doesn't play like an ill-considered collection of leftovers; it unfurls with understated ease, each silvery song shimmering into the next. The pulse rarely quickens and the arrangements seldom agitate, yet the album never quite feels monochromatic. Sly, dissonant strings grace some cuts, acoustic guitars provide a pastoral counterpoint to an electronic pulse, Thom Yorke's voice floats through the music, often functioning as nothing more than an element of a mix; what he's saying matters not as much as how he murmurs.
Such subtle, shifting textures emphasize Radiohead's musicianship, a point underscored when this version of "True Love Waits" is compared to its 2001 incarnation. There, Yorke accompanied himself with a simple acoustic guitar and he seemed earnest and yearning, but here, supported by piano and strings, he sounds weary and weathered, a man who has lost his innocence. What he and Radiohead have gained, however, is some measure of maturity, and with this, their music has deepened. Certainly, sections of A Moon Shaped Pool contain an eerie, disconcerting glimmer, usually attained through power kept in reserve - nothing stabs as hard as the sawing fanfare of "Burn the Witch," while the winding, intersecting guitars that conclude "Identikit" provide the noisiest element - yet the album as a whole doesn't feel unsettling. Instead, there's a melancholic comfort to its ebb and flow, a gentle rocking motion that feels comforting; it's a tonic to the cloistered, scattered King of Limbs and even the sleek alienation of Kid A.
Radiohead are recognizably the same band that made that pioneering piece of electronica-rock but they're older and wiser on A Moon Shaped Pool, deciding not to push at the borders of their sound but rather settle into the territory they've marked as their own. This may not result in a radical shift in sound but rather a welcome change in tone: for the first time Radiohead feel comfortable in their own skin." Thomas Erlewine, All Music
Lista de Faixas:


LP 1 Lado A
01. Burn the Witch
02. Daydreaming
LP 2 Lado B
03. Decks Dark
04. Desert Island Disk
05. Ful Stop
LP 2 Lado C
06. Glass Eyes
07. Identikit
08. The Numbers
LP 2 Lado D
09. Present Tense
10. Tinker Tailor Soldier Sailor Rich Man Poor Man Beggar Man Thief
11. True Love Waits