Esperanza Spalding Emily's D+Evolution LP Vinil 180 Gramas Tony Visconti Concord Music 2016 EU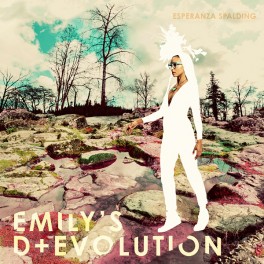 Maximizar

Mostrar todas as imagens
Artista:
Esperanza Spalding
Título:
Emily's D+Evolution
Número de Catálogo:
0888072382817
Editora:
Concord Records
Código de Barras:
888072382817
Ano da edição original:
2016
Quantidade de discos:
1
Rotações por minuto:
33⅓ rpm
Tamanho do disco:
12"
Gramagem do Vinil:
180gr
Peso Total do Artigo:
390gr
País prensagem:
EU
Produzido para o Mercado de:
EU
Adicionado ao catálogo em:
25 Março, 2016
Colecção:
Melhor Música Nova 2016
Nota:
Elegibilidade Limitada para Descontos
Vinyl Gourmet Club:
Não
Emily's D+Evolution, o novo projecto de Esperanza Spalding, é uma visão artística renovada para a vencedora de 4 Grammys, um enredo de música desafiante, imagens vibrantes e uma performance de palco com design artístico. Co-produzido por Tony Visconti (David Bowie), este album é uma abordagem electrizante ao power trio com vozes de fundo e algumas nuances de sintetizador.
Vinyl Gourmet Melhor Música Nova 2016
Vinil 180 Gramas
Capa Gatefold
Co-produzido por Tony Visconti
Esperanza assembled a new band for Emily's D+Evolution including guitarist Matthew Stevens (Christian Scott) and drummer Karriem Riggins (Madlib, Erykah Badu). She recorded some of the album's eleven tracks in front of a small audience in a Los Angeles studio. The result is otherworldly cosmic soul, kinetic songs that burst with energy and life. Album opener "Good Lava" offers a grand salvo: sinewy riffs doubled on electric bass and distorted guitar with melodies that stick and float across registers.
As a child, Esperanza was called Emily, which was her middle name. With Emily's D+Evolution, Esperanza explores ideas that she was curious about as a child.
"On previous albums, Grammy-winning bassist and vocalist Esperanza Spalding dived into jazz standards, Brazilian rhythms, and sophisticated, harmonically nuanced R&B. But with her 2016 album, Emily's D+Evolution, she takes an entirely different approach. A concept album revolving around a central character named Emily (Spalding's middle name), Emily's D+Evolution is not a jazz album -- though jazz does inform much of the music here. Instead, Spalding -- who also co-produced the album alongside legendary producer Tony Visconti (David Bowie) -- builds the release largely around angular, electric guitar-rich prog rock, kinetic, rhythmically rich jazz fusion, and lyrically poetic pop.
Of course, Spalding's version of pop is never predictable, always harmonically inventive, and frequently imbued with as many improvisational moments as possible within the boundaries of a given song. But relative to her previous releases, this is still a significant shift. Helping to bring Emily's D+Evolution to life is a band Spalding put together specifically for this project, including guitarist Matthew Stevens, drummer Karriem Riggins, keyboardist Corey King, and others. Conceptually, the character of Emily represents Spalding as a young girl, and works as a conduit through which she explores and unpacks complex ideas about life, love, sex, race, education, and the creative process.
While it would be reductive to call Emily's D+Evolution a retro album, Spalding's harmonic and melodic content and production aesthetics definitely have a '70s quality. Cuts like "Earth to Heaven" and "Noble Nobles" bring to mind the forward-thinking sound of singer/songwriter Joni Mitchell's work with jazz artists like Wayne Shorter and Jaco Pastorius, whose liquid bass style is an obvious antecedent to Spalding's approach here. While Spalding never sounds anything less than original on the album, part of the beauty here is in recognizing her inspirations and reveling in how she has made them her own. "Elevate or Operate" sounds like a serpentine Steely Dan melody, sung with Valkyrian agility over a strident, Dr. Dre-friendly militaristic beat. Similarly, "One" brings to mind Mitchell's soaring vocal style, set against a Greek chorus of harmonized backing vocals and accented by Stevens' cascading guitar lines, like something John McLaughlin would do with Mahavishnu Orchestra.
Elsewhere, tracks like "Good Lava" and "Funk the Fear" reveal Spalding's swaggering, inner rock goddess and sound like a fantasy collaboration between Frank Zappa and Jimi Hendrix. While Spalding has long been a virtuoso bassist and commanding, lithe vocalist, she's developed into a gifted songwriter with a poet's sense for imagistic, emotionally resonant lyrics. It's a formidable combination best represented here by the epic "Ebony and Ivy." Bookended with a machine-gun-fire spoken word poem, the song allows Spalding as Emily to explore a mythic childhood netherworld in which she ambitiously juxtaposes the joys of learning from the natural world and the desire for a formal education against historical notions of how science was, ironically, used to justify slavery. She sings, "It's been hard to grow outside/Growin' good and act happy/And pretend that the ivy vines/Didn't weigh our branches down." ~ Matt Collar, All Music
Lista de Faixas:
Lado A
1. Good Lava
2. Unconditional Love
3. Judas
4. Earth to Heaven
5. One
6. Rest In Pleasure
Lado B
1. Ebony and Ivy
2. Noble Nobles
3. Farewell Dolly
4. Elevate Or Operate
5. Funk the Fear
6. I Want It Now
Clique aqui para ouvir samples no AllMusic.com ♫