Patricia Barber Smash 2LP Vinil 180gr Edição Limitada Numerada Mobile Fidelity Sound Lab MFSL MoFi USA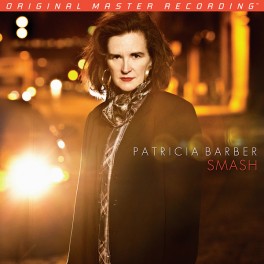 Maximizar

Mostrar todas as imagens
Acessível e complicado, desafiante, sensual e libertador, Smash de Patricia Barber confirma que a pianista/cantora existe num plano artístico elevado a que poucos da sua geração chegaram. Quatro anos em desenvolvimento, o primeiro album de estúdio da artista desde 2008, a sua estreia pela Concord Records supera expectativas e cristaliza o seu estatuto de compositora proeminente.
Edição Limitada
Edição Numerada
2LP 33rpm Vinil 180 Gramas de Alta Definição
Prensagem na RTI USA
Masterização Gain 2 Ultra Analog System Half-Speed pela MFSL
Masterizado por Krieg Wunderlich
Corte a partir das Master Tapes Originais
Capas interiores especiais antiestáticas
Capa Gatefold Deluxe
Accessible and complicated, alluring and challenging, sensuous and liberating, Patricia Barber's Smash once and for all confirms the pianist/singer exists in an elevated artistic plane reached by none of her generational peers. Four years in the making, and the beloved musician's first studio record since 2008, her Concord Records debut defies expectations and crystallizes her status as a preeminent songwriter. Informed by personal episodes of significant loss and yearning, the album masterfully unites harmony and melody via uncommon delicacy, tonal intimacy, and ethereal surrealism. It will likely stand as 2013's finest jazz effort, an instant classic.
Mastered from the original master tapes and pressed at RTI, our 180g 2LP possesses audiophile-quality fidelity and dynamic transparency unmatched by the commercially released CD. Akin to the reissue label's previous Barber releases, many of which are long out-of-print and command huge sums on the collector's market, Smash brings the singer and her band into your listening room, converting it into a recreation of the stage at Chicago's Green Mill, Barber's home base. Sonic characteristics crucial to Barber's sophisticated compositions—atmospherics, decay, whisper-soft transients, mood, acoustic dimensions, precise imaging—are rendered with utmost detail, balance, and accuracy. All else that's required for your trip to the Green Mill is a stereo and glass of chardonnay.
And consider what Barber herself has said about the record's producer, Jim Anderson: "Jim brings that uniquely clear sound quality as well as all his expertise to the studio. His equipment and the way he records is so pure. He creates a silence as landscape and an intimacy that listeners understand as such. His mikes pick up so many frequencies he doesn't have to add any."
Punctuated by deft instrumental passages and mysterious verses, Smash marks a triumphant return for Barber after she endured a series of melancholic episodes, including the death of her mother and four other people close to her. In addition, a disagreement with business associate cost her untold amount of money. She also broke away from Blue Note after its president stepped down from his position. Barber channels these painful, often-angry experiences and transitional periods into expressionistic poetry on Smash, transferring her emotions to arrangements that mirror the deep, meaningful cycle of human life and death.
Backed by a brilliant trio, Barber opts for her now-signature subdued methods, allowing each syllable to linger, every note to hover before fading, each rhythmic line to develop unique relationships with the groove. Chicago Tribune jazz critic Howard Reich wrote in his rave review of Smash: "No one else writes or sounds like this, in other words, because no one else approaches the art of singing, songwriting, and piano playing with Barber's particular interests. The liquidity of her vocals, the sharp edge of her jazz pianism, and the quirkiness of her original songs cannot be imitated and remain a work in progress."
These aspects, and more, are immediately apparent on Smash, arguably the boldest and most satisfying set of the reclusive talent's career. Her famously seductive and breathy vocals, supple right-hand runs, and nuanced harmonics simultaneously engage, hypnotize, and tempt. Her mates follow suit with aptly sculpted bass lines, taut percussion, and suggestive guitar fills. A model of economical succinctness, Smash takes risks, harbors intensity, and utilizes silences to communicate.

Lista de Faixas:
01. Code Cool
02. The Wind Song
03. Romanesque
04. Smash
05. Redshift
06. Spring Song
07. Devil's Food
08. Scream
09. The Swim
10. Bashful
11. The Storyteller
12. Missing
Clique aqui para ouvir samples no AllMusic.com ♫