Charles Mingus The Black Saint And The Sinner Lady 2LP 45rpm Vinil 180g Analogue Productions QRP USA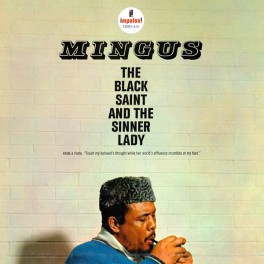 Maximizar
Artista:
Charles Mingus
Título:
The Black Saint And The Sinner Lady
Número de Catálogo:
AIPJ 35
Editora:
Impulse!
Reeditado por:
Analogue Productions
Código de Barras:
753088003578
Ano da edição original:
1963
Ano da reedição:
2011
Quantidade de discos:
2
Rotações por minuto:
45 rpm
Tamanho do disco:
12"
Gramagem do Vinil:
180gr
Edição Limitada:
Sim
Peso Total do Artigo:
794gr
País prensagem:
USA
Produzido para o Mercado de:
USA
Adicionado ao catálogo em:
24 Outubro, 2015
Colecção:
Analogue Productions Impulse! Series
Nota:
Nunca elegível para descontos adicionais
Vinyl Gourmet Club:
Sim
Em Janeiro de 1963, o contrabaixista e compositor Charles Mingus gravou um trabalho muito pessoal e de consciência social com o título The Black Saint & The Sinner Lady. Cada composição, desde a abertura com 'Solo Dancer' até ao fecho com 'Group and Solo Dance' era a expressão musical da filosofia de vida, do amor e do mundo que rodeia Mingus. Uma viagem musical impressionante!
Edição Limitada
Duplo LP 45rpm em Vinil 180 Gramas
Prensagem QRP USA
Capa Gatefold Deluxe
Masterização Analógica
Corte por Kevin Gray na AcousTech
The Black Saint And The Sinner Lady, Charles Mingus' Impulse! debut, is awarded the rare, prestigious "crown" rating in the normally stingy Penguin Guide to Jazz, which deems the 1963 masterpiece "Ellingtonian in ambition and scope, and in the disposition of horns, the piece has a majestic, dancing presence." Add in long-form compositional devices, pioneering dubbing techniques, social themes, and intense timbres, and you have music of the very highest order.

Indeed, each composition, from the opening "Solo Dancer" to the closing "Group and Solo Dance" stands as a musical expression of Mingus' philosophy of life, love and the world around him. For Mingus and the musicians that joined him (Charlie Mariano, alto saxophone; Jaki Byard, piano; Jay Berliner, guitar; Don Butterfield, tuba; Dick Hafer, tenor saxophone and flute; Quentin Jackson, trombone) The Black Saint And The Sinner Lady was much more than just another album: it was a jazz ballet performed by a small ensemble. It has become a landmark event.

Rendering all previous editions, analog and digital, lesser by comparison, Analogue Productions' extraordinary 45RPM version boasts sonics that will have you convinced Mingus and his compadres are playing in your room. You won't believe how amazing this sounds until you hear it! Mastered from the original tapes, pressed at RTI, and limited to 2500 units.
"The Black Saint and the Sinner Lady is one of the greatest achievements in orchestration by any composer in jazz history. Charles Mingus consciously designed the six-part ballet as his magnum opus, and - implied in his famous inclusion of liner notes by his psychologist - it's as much an examination of his own tortured psyche as it is a conceptual piece about love and struggle. It veers between so many emotions that it defies easy encapsulation; for that matter, it can be difficult just to assimilate in the first place. Yet the work soon reveals itself as a masterpiece of rich, multi-layered texture and swirling tonal colors, manipulated with a painter's attention to detail. There are a few stylistic reference points - Ellington, the contemporary avant-garde, several flamenco guitar breaks - but the totality is quite unlike what came before it. Mingus relies heavily on the timbral contrasts between expressively vocal-like muted brass, a rumbling mass of low voices (including tuba and baritone sax), and achingly lyrical upper woodwinds, highlighted by altoist Charlie Mariano. Within that framework, Mingus plays shifting rhythms, moaning dissonances, and multiple lines off one another in the most complex, interlaced fashion he'd ever attempted. Mingus was sometimes pigeonholed as a firebrand, but the personal exorcism of Black Saint deserves the reputation - one needn't be able to follow the story line to hear the suffering, mourning, frustration, and caged fury pouring out of the music. The 11-piece group rehearsed the original score during a Village Vanguard engagement, where Mingus allowed the players to mold the music further; in the studio, however, his exacting perfectionism made The Black Saint and the Sinner Lady the first jazz album to rely on overdubbing technology. The result is one of the high-water marks for avant-garde jazz in the '60s and arguably Mingus' most brilliant moment." ~ Steve Huey, All Music
Músicos:

Charlie Mingus, contrabaixo
Charlie Mariano, sax alto
Jake Byard, piano
Jay Berliner, guitarra
Don Butterfield, tuba
Dick Hafer, sax tenor, flauta
Quentin Jackson, trombone
Lista de Faixas:

Solo Dancer (Stop! And Listen, Sinner Jim Whitney!)
Duet Solo Dancers (Heart's Beat And Shades In Physical Embraces)
Group Dancers ([Soul Fusion] Freewoman And Oh This Freedom's Slave Cries)
Trio And Group Dancers (Stop! Look! And Sing Songs Of Revolutions!)
Single Solos And Group Dance (Saint And Sinner Join In Merriment On Battle Front)
Group And Solo Dance (Of Love, Pain, And Passioned Revolt, Then Farewell, My Beloved, 'til It's Freedom Day)
Clique aqui para ouvir samples no YouTube.com ♫