Roger Waters Amused to Death 2LP Vinil 200 Gramas Analogue Productions Gatefold Deluxe QRP 2015 USA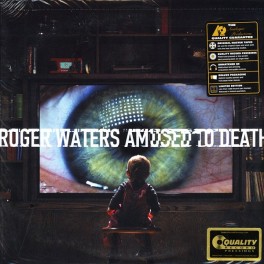 Maximizar

Mostrar todas as imagens
Artista:
Roger Waters
Título:
Amused to Death
Número de Catálogo:
APP 468761
Editora:
Columbia
Reeditado por:
Analogue Productions
Código de Barras:
888430905818
Edição:
Edição Deluxe
Ano da edição original:
1992
Ano da reedição:
2015
Quantidade de discos:
2
Rotações por minuto:
33⅓ rpm
Tamanho do disco:
12"
Gramagem do Vinil:
200gr
Edição Limitada:
Sim
Peso Total do Artigo:
754gr
País prensagem:
USA
Produzido para o Mercado de:
USA
Adicionado ao catálogo em:
3 Março, 2016
Vinyl Gourmet TOP 100 Audiófilo:
Sim
Nota:
Nunca elegível para descontos adicionais
Vinyl Gourmet Club:
Não
A edição de 2015 em vinil 200 gramas de Amused to Death traz-nos audio completamente remasterizado por James Guthrie, colaborador de longa data e co-produtor de Roger Waters e Pink Floyd. A arte e grafismo da capa gatefold original foi actualizada para 2015 por Sean Evans, o director criativo da tour (e filme) The Wall Live de Roger Waters em 2010-2013.
Avaliado em 9/11 Música e 11/11 Som por Michael Fremer (Analog Planet)
Incluído no Vinyl Gourmet TOP 100 Audiófilo
Edição Limitada

Edição USA

Capa Gatefold Deluxe
Produzido pela Analogue Productions USA
Prensagem na Quality Record Pressings QRP USA
Masterização por James Guthrie e Doug Sax
Duplo LP Vinil 200 Gramas Audiófilo
Capa Gatefold da Stoughton Printing
Grafismo actualizado para nova edição 2015
Amused to Death fez soar o alarme sobre uma sociedade cada vez mais e, de forma irrefletida, dominada pelos seus ecrãs de televisão. 23 anos mais tarde, Amused to Death fala sobre o nosso presente de formas que dificilmente poderiam ter sido antecipadas há duas décadas atrás. "Lembro-me do disco de há mais de 20 anos atrás, que a maior parte do que queria dizer na altura ainda se verifica, infelizmente, no presente e talvez seja ainda mais relevante para a nossa situação como pessoas em 2015 do que foi em 1992", afirma Roger Waters.
An unblinking look at an entertainment-obsessed society, Amused to Death addresses issues that have only grown in complexity and urgency over the past two decades. With Amused to Death, Roger Waters sounded the alarm about a society increasingly – and unthinkingly – in thrall to its television screens. Twenty-three years later, Amused to Death speaks to our present moment in ways that could scarcely have been anticipated two decades ago. In 2015, television is just one option in an endless array of distractions available to us anytime, anywhere, courtesy of our laptops, tablets and smartphones. With eyes glued to our screens, the dilemmas and injustices of the real world can easily recede from view.

The 2015 2 LP 200 gram vinyl edition of Amused to Death features remastered audio completed by longtime Roger Waters / Pink Floyd collaborator and co-producer, James Guthrie. The cover and gatefold art has been updated for 2015 by Sean Evans, the creative director of Waters' 2010-2013 "The Wall Live" tour and movie.
"This could be the most spectacular production ever put to tape, which means it's more spectacular sounding than anything put to ProTools—at least in my listening experience. If for no other reason than to experience the astonishing production and sound, this album should be considered "mandatory listening". No expense seems to have been spared in the lavish production and the great care with which Waters chose the musicians.

Co-producer and keyboardist Patrick Leonard (of Toy Matinee fame) is joined by Jeff Beck on lead guitar, James (Jimmy) Johnson on bass and a slew of other famous musicians and guest stars including Don Henley, John Patitucci, Randy Jackson,Andy Fairweather Low, John "Rabbit" Brundrick, wailing vocalist P.P. Arnold and others. There are symphonic arrangements by Michael Kamen.

And then there's the absolutely spectacular—singularly spectacular—sound. I have the original double vinyl issue of this, that until recently went for upwards of $600, and this reissue beats that one in every possible way. The QSound™ "surround sound" is more intensely drawn, dynamics are staggering, deep bass is monumental and the depth and width of the cinematic soundstage is beyond that of every other record I can think of in my collection. That is not hyperbole. It's 100% true as you'll hear or perhaps have already heard.

The 200g QRP pressing I got was perfectly quiet and flat and after sitting through all four sides I felt as if I'd experienced a 3D IMAX movie, only with greater sonic intensity and dimensionality. On one level, this can be a ponderous exercise in the heavy-handed but on another subjecting yourself to it to completion can be a dazzling, even liberating experience in great part because of the audacious production and mind-boggling sonics. Nothing I've ever heard comes close. If you do dose off here or there you will be sorry! There are some time bomb explosive moments that will scare the crap out of you if experienced in a stupor. You have been warned.

Was this reissue worth the long wait? In a word "yes" (...) The explosive, transparent sonics on this reissue make the original sound meek and mild." ~ Michael Fremer, Analog Planet

Lista de Faixas:

01. The Ballad of Bill Hubbard
02. What God Wants, Part I
03. Perfect Sense, Part I
04. Perfect Sense, Part II
05. The Bravery of Being Out of Range
06. Late Home Tonight, Part I
07. Late Home Tonight, Part II
08. Too Much Rope
09. What God Wants, Part II
10. What God Wants, Part III
11. Watching TV
12. Three Wishes
13. It's a Miracle
14. Amused to Death
Clique aqui para ouvir samples no YouTube.com ♫