Steely Dan Can't Buy A Thrill 2LP 45rpm Vinil 200gr Clarity Analogue Productions UHQR Caixa QRP USA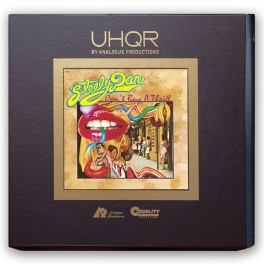 Maximizar

Mostrar todas as imagens
Com liderança de Walter Becker e Donald Fagen os Steely Dan editaram uma série extraordinária de sete sofisticados álbuns pela ABC e MCA Records entre 1972 e 1980. Musicalidade e virtuosismo de alto nível, letras inteligentes e subversivas, humor irónico, arranjos geniais e vários hits do Top 40, os seus discos eram diversos no estilo de abordagem ao seu amor pelo jazz, rock, blues e o melhor pop.
roger n
Rolling Stone 500 Melhores Albums de Todos os Tempos posição 168/500
Edição Limitada Numerada (20.000 unidades)
2LP Clarity Vinyl 200 Gramas
Corte a 45rpm para a melhor qulaidade de som
Ultra High Quality Record - UHQR
Prensagem na QRP numa prensa Finebilt manual
Corte totalmente Analógico por Bernie Grundman
Corte a partir das Fitas Master Originais
Caixa rígida Slip-Case Deluxe
Can't Buy A Thrill — Steely Dan's platinum-selling debut studio album now on UHQR! Definitive reissue Ultra High Quality Record, the pinnacle of high-quality vinyl!
45 RPM LP release limited to 20,000 numbered copies. Mastered directly from the original master tape by Bernie Grundman. Pressed at Quality Record Pressings using 200-gram Clarity Vinyl®
Purest possible pressing and most visually stunning presentation and packaging! Tip-on old style gatefold double pocket jackets with film lamination by Stoughton Printing

Steely Dan's platinum-selling debut studio album Can't Buy A Thrill, released in November 1972, was a commercial success, peaking at No. 17 on the Billboard chart. It later appeared on many professional listings of the greatest albums, including Colin Larkin's All Time Top 1000 Albums (2000) and Rolling Stone magazine's "500 Greatest Albums of All Time" (2003)

The album was written by band members Donald Fagen and Walter Becker, recorded in August 1972 at The Village Recorder in Los Angeles, and produced by Gary Katz. Its music features tight song structure and sounds from soft rock, folk rock, and pop, alongside philosophical, elliptical lyrics. Two songs recorded during the Can't Buy A Thrill sessions were left off the album and released as a single: "Dallas" b/w "Sail the Waterway." This is the only Steely Dan album to include David Palmer as a lead vocalist, having been recruited after Donald Fagen expressed concerns over singing live. Drummer Jim Hodder also chips in lead vocals on one song, "Midnite Cruiser" (sometimes spelled "Midnight Cruiser"), as well as singing the "Dallas" single. By the time recording of the next album began, the band and producer Gary Katz had convinced Fagen to assume the full lead vocalist role.

AllMusic gave the album 4.5 stars, with reviewer Stephen Thomas Erlewine praising the core duo Walter Becker and Donald Fagen as "remarkable craftsmen." Erlewine noted that "there are very few of the jazz flourishes that came to distinguish their (later) albums", but added that the first single from the album, "Do It Again," incorporates a tight Latin jazz beat, while the second single, "Reelin' In the Years," features jazzy guitar solos and harmonies.

Rolling Stone, in its review, said the debut album was a collection of some of the group's best jazz/rock songs.

"Two of Fagen's four (vocal solo) songs were the singles, 'Do It Again' and 'Reelin' In The Years,' the later starting off (and continues throughout) with a ripping solo by session player, Elliot Randall, and in fact, was rated by Led Zeppelin's Jimmy Page as his favourite guitar solo of all time. That's quite an endorsement. The song peaked at No. 11 on the Billboard Charts. 'Do It Again' charted at No. 6, making it their second highest chart for a single. 'Dirty Work,' another great song from the record features Palmer. The album is tight, with some of the best musicianship money can buy." — Rolling Stone

The album cover features a photomontage by Robert Lockart that includes an image of a line of prostitutes, standing in a red-light area from Rouen in France waiting for clients. The image was chosen because of its relevance to the album title. Walter Becker and Donald Fagen themselves commented on the album art in their liner notes to the reissued The Royal Scam, saying that The Royal Scam album possessed "the most hideous album cover of the seventies, bar none (excepting perhaps Can't Buy A Thrill)." The cover was banned in Francisco Franco's Spain and was replaced with a photograph of the band playing in concert.

After a brief battle with esophageal cancer, Walter Becker died on September 3, 2017 at the age of 67. Steely Dan has sold more than 40 million albums worldwide and were inducted into the Rock and Roll Hall of Fame in March 2001. VH1 ranked Steely Dan at No. 82 on their list of the 100 Greatest Musical Artists of All Time. Rolling Stone ranked them No. 15 on its list of the 20 Greatest Duos of All Time.

This stereo UHQR reissue will be limited to 20,000 copies, with gold foil individually numbered jackets, housed in a premium slipcase with a wooden dowel spine.

"Happily, for this, my first UHQR experience, it feels super-solid. Musically, Can't Buy A Thrill feels more three-dimensional on this UHQR edition than on other versions I've heard. Overall, the sound is super-clear and crisp, but ultimately presents the music more warmly than the standard 180g 1LP edition does. When you compare them side by side, you start noticing the differences between the UHQR and the standard edition — the sizzling cymbals aren't quite as sizzly on the standard version, for one thing, and, comparatively, the vocals take on a bit of that raw edge around them. Plus, the congas feel less natural-sounding on the standard edition. ... Can't wait to see, and hear, what comes next — but for now, the 200g 2LP Can't Buy A Thrill serves as one of the best listening experiences you'll have this year." — Music = 8/11; Sound = 9/11 - Mark Smotroff, AnalogPlanet

"(Clarity Vinyl) is a very quiet formulation .... This means you can really crank up the UHQR. In fact, to really enjoy it, you must. When you do, the music will come to life on top, the midrange will bloom with detail and the bottom will be firm, deep and satisfying. Vocal clarity and 'body' benefit greatly from Grundman's mastering, yet Victor Feldman's percussive accents remain sharp, clean and present." — Music = 9/11; Sound = 9/11 - Michael Fremer, trackingangle
Músicos:
Bass Guitar, Backing Vocals, Written By – Walter Becker
Drums, Percussion, Vocals – Jim Hodder
Flugelhorn – Snooky Young
Guitar, Electric Sitar – Denny Dias
Guitar, Pedal Steel Guitar – Jeff "Skunk" Baxter
Percussion – Victor Feldman
Tenor Saxophone – Jerome Richardson
Vocals, Backing Vocals – David Palmer
Vocals, Backing Vocals, Piano, Electric Piano, Organ, Written By – Donald Fagen
Lista de Faixas:
01. Do It Again
02. Dirty Work
03. Kings
04. Midnite Cruiser
05. Only A Fool Would Say That
06. Reelin' In The Years
07. Fire In The Hole
08. Brooklyn (Owes The Charmer Under Me)
09. Change Of The Guard
10. Turn That Heartbeat Over Again
Clique aqui para ouvir samples no YouTube.com ♫