Freddie Hubbard The Body & The Soul 2LP 45rpm Vinil 180gr Analogue Productions Audiófilo Impulse RTI USA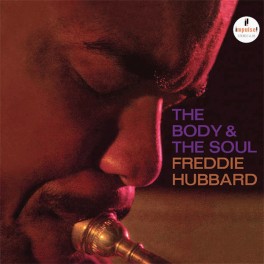 Maximizar
Artista:
Freddie Hubbard
Título:
The Body & The Soul
Número de Catálogo:
Stereo A-38 / AIPJ 38
Editora:
Impulse!
Reeditado por:
Analogue Productions
Código de Barras:
0753088003875
Ano da edição original:
1963
Ano da reedição:
2010
Quantidade de discos:
2
Rotações por minuto:
45 rpm
Tamanho do disco:
12"
Gramagem do Vinil:
180gr
Edição Limitada:
Sim
Edição Numerada:
Sim
Peso Total do Artigo:
726gr
País prensagem:
USA
Produzido para o Mercado de:
USA
Adicionado ao catálogo em:
22 Novembro, 2014
Colecção:
Analogue Productions Impulse! Series
Nota:
Nunca elegível para descontos adicionais
Vinyl Gourmet Club:
Sim
O segundo album de Freddie Hubbard para a Impulse! The Body & The Soul apresenta-o com 25 anos a consolidar a reputação como importante nova voz do Jazz e um dos melhores a emergir nos anos 60. Acompanhado por um sax tenor e cordas em fundo, Skylark, I Got It Bad e Chocolate Shake recebem tratamento maravilhoso com uma banda de 16 elementos e um septeto com Eric Dolphy and Wayne Shorter.
Edição Limitada
Edição Numerada
Masterizado por Kevin Gray na AcousTech
Corte audiófilo 100% Analógico
2LP 45rpm Vinil 180 Gramas Prensado na RTI USA
Capa Gatefold Deluxe
Freddie Hubbard was 25 when he entered the studio with this fantastic band in 1963. The boss of the Jazzmessengers, Art Blakey (in whose quintet Hubbard followed in the footsteps of such brilliant trumpeters as Clifford Brown and Lee Morgan), had given him a few days off, and Bob Thiele, producer with Impulse, got hold of the very best soloists and wind instrumentalists he could find for him to record with. In particular their performance of such standards as Body And Soul, Skylark and I Got It Bad reveals not only a sensitivity and respect for the melody, but also avantgard phrasing (and still considered so even today!) which is lent emphasis by the restrained accompaniment of the strings. Freddie Hubbard's colleague Wayne Shorter is not only leader of the formation but also the arranger. Particularly pleasing is that other soloists such as Eric Dolphy and Cedar Walton are given ample opportunity to display their talents.

The re-release of this album, an album which easily deserves to be called a "milestone in jazz history", is long overdue, especially when one recalls that Rudy van Gelder, one of the very best sound engineers, was hired specially for this Impulse recording, thus guaranteeing an absolutely first-class sound quality for the nine titles on this album – even after almost 40 years.

"At age 25, Freddie Hubbard made inroads into modern jazz most trumpeters could not imagine, much less come through with. As a soloist, one of Hubbard's crowning achievements in his early period was this recording on which he teamed with Wayne Shorter, marginally as a performer but prominent in the role of arranger/conductor for his first time ever. Utilizing a septet, 16-piece big band, and orchestra plus stings to play concise, tight tunes, Shorter provides the backdrop to employ Hubbard's bold toned trumpet and all of its devices in a full display of his powerful melodic talents. Yeoman Reggie Workman plays bass on all selections, with drummer Louis Hayes in the seven-piece combo, and great work from Philly Joe Jones in the larger bands. Interestingly enough, the three tracks with the smaller ensemble are the most interesting, due to the presence of Eric Dolphy, Curtis Fuller, Cedar Walton, and Shorter on the front line. "Clarence's Place" is a post-bop jewel with spiky brass accents and Dolphy's ribald and outre alto sax solo contrasting Shorter's relatively reserved tenor, "Dedicated to You" is a wisp of a tune, while "Body & Soul," an atypical choice for the opening selection, is a straight read of the classic ballad with a chart that sounds larger than the small horn section, and a wavering flute via Dolphy. The big band does an unusual soul-jazz treatment of the Brazilian number "Manha de Carnaval" flavored by Robert Northern's French horn, while "Aries" is a hard bop show stopper with two-note accents buoying Hubbard's great lyrical lines, and goes further into hard bop with "Thermo" as the horns demand attention with the trumpeter as an afterthought. The string section, ten pieces strong, joins the big band on the film noir type Duke Ellington piece "Chocolate Shake," the stock "I Got It Bad," and "Skylark," with its soft clarion intro bubbling underneath with the violins, violas, and cellos. The manner in which this recording is programmed is thoughtful in that it lends to the diversity of the project, but is seamless from track to track. Dan Morgenstern's hefty liner notes also explain the concept behind this ambitious project, one which did not compare to any of Hubbard's other recordings in his career. Therefore it stands alone as one of the most unique productions in his substantive discography, and a quite credible initial go-round for Shorter as an orchestrator." - Michael G. Nastos, All Music
Músicos:

Wayne Shorter (líder, arranjos, sax tenor)
Freddie Hubbard (trompete)
Cedar Walton (piano)
Tommy Flanagan, (piano)
Curtis Fuller, (trombone)
John Gilmore, (sax tenor)
Philly Joe Jones (bateria)
Curtis Fuller (trombone)
Jerome Richardson (fagote)
Eric Dolphy (sax alto, flauta)
Seldon Powell (sax tenor)
Clark Terry (trompete)
Louis Hayes (bateria)
Muitos outros e cordas...

Lista de Faixas:

1. Body And Soul
2. Carnival (Manha De Carnaval)
3. Chocolate Shake
4. Dedicated To You
5. Clatence's Place
6. Aries
7. Skylark
8. I Got It Bad (And That Ain't Good)
9. Thermo
Gravação:
Março e Maio de 1963 em Englewood Cliffs, N.J., USA por Rudy Van Gelder e Frank Abbey
Produção: Bob Thiele
Clique aqui para ouvir samples no YouTube.com ♫