John Coltrane Live At The Village Vanguard LP Vinil 180g Impulse Acoustic Sounds QRP 2022 USA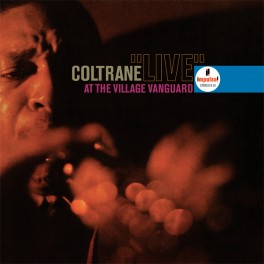 Maximizar

Mostrar todas as imagens
Artista:
John Coltrane
Título:
"Live" At The Village Vanguard
Número de Catálogo:
B0033782-01 / Stereo A-10
Editora:
Impulse!
Reeditado por:
Impulse!
Código de Barras:
602438075751
Ano da edição original:
1962
Ano da reedição:
2022
Quantidade de discos:
1
Rotações por minuto:
33⅓ rpm
Tamanho do disco:
12"
Gramagem do Vinil:
180gr
Peso Total do Artigo:
493gr
País prensagem:
USA
Produzido para o Mercado de:
USA
Adicionado ao catálogo em:
21 Fevereiro, 2022
Colecção:
Verve Acoustic Sounds Series
Nota:
Nunca elegível para descontos adicionais
Vinyl Gourmet Club:
Sim
Criada pela Verve e Universal Music para oferecer edições audiófilas de algumas das melhores gravações de jazz de sempre, a nova Acoustic Sounds Series é supervisionada por Chad Kassem, utilizando engenheiros de masterização de topo e o engenho da Quality Record Pressings, os títulos são masterizados a partir das fitas analógicas originais, prensados em vinil 180g com capas da Stoughton Printing.
Acoustic Sounds Series
Masterizado a partir das Fitas Master Analógicas Originais
Corte por Ryan K. Smith na Sterling Sound
LP Vinil 180 Gramas Audiófilo
Prensagem na Quality Record Pressings, QRP USA
Capa Gatefold Deluxe da Stoughton Printing
Rated 10/11 Music and 10/11 Sound by Michael Fremer (Analog Planet)
Seeking to offer definitive audiophile grade versions of some of the most historic and best jazz records ever recorded, Verve Label Group and Universal Music Enterprises' new audiophile Acoustic Sounds vinyl reissue series utilizes the skills of top mastering engineers and the unsurpassed production craft of Quality Record Pressings. All titles are mastered from the original analog tapes, pressed on 180-gram vinyl and packaged by Stoughton Printing Co. in high-quality gatefold sleeves with tip-on jackets. The releases are supervised by Chad Kassem, CEO of Acoustic Sounds, the world's largest source for audiophile recordings.
"Live" At The Village Vanguard was released in February 1962 on Impulse Records, the first album to feature the members of the classic quartet of Coltrane with McCoy Tyner, Jimmy Garrison and Elvin Jones, and the first Coltrane live album to be issued. Recorded live over four nights in November 1961, the album contains Reggie Workman's final recordings with the group on Side One, with Garrison taking over bass duties on Side Two. Eric Dolphy plays bass clarinet on the track "Spiritual".

"This new Verve/Acoustic Sounds reissue is one of those 'this sounds fantastic until you hear an original pressing', which means it really sounds great... The original is 'you are there' great, in part thanks to RVG's dozen microphone mixing, but you know what? If you never get to hear the original this reissue is 'you are there' great too. I feel so lucky and privileged to be able to just reach back and pick an original from the shelf to compare for you but if you buy this reissue, which you really should, you'll have a great sounding version for not stupid money and the privilege will be all yours too." - Michael Fremer, Analog Planet,

"The reissues of two classic John Coltrane albums released this month in new, sparkling vinyl editions by Acoustic Sounds are the blueprints for what would become the next major phases in the saxophonist's evolution. On the horizon following this early '60s period were the spiritual jazz of A Love Supreme and the explosive free jazz of Ascension. Elements of those progressions flow through these albums like a small stream that heralded a mighty river. The live album, released in 1962, was a particularly bold step forward for Coltrane. For his run of dates at the Village Vanguard, he brought in bass clarinetist Eric Dolphy, who, on the expansive 'Spiritual,' added a splash of astringency to match the acid of Trane's soprano sax within the song's fuming broth." - Robert Ham, Paste Magazine
Músicos:
John Coltrane - soprano & tenor saxophone
Eric Dolphy - clarinete baixo
McCoy Tyner - piano
Reggie Workman - baixo (Lado A)
Jimmy Garrison - baixo (Lado B)
Elvin Jones - bateria

Lista de Faixas:
Lado A
1.Spiritual
2. Softly As In A Morning Sunrise

Lado B
1. Chasin' The Trane
Clique aqui para ouvir samples no YouTube.com ♫