Alphonse Mouzon In Search Of A Dream LP Vinil 180g MPS Audiophile Analogue AAA Series Optimal EU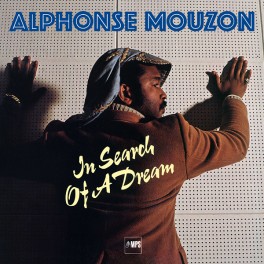 Maximizar

Mostrar todas as imagens
Artista:
Alphonse Mouzon
Título:
In Search Of A Dream
Número de Catálogo:
0211965MSW
Editora:
MPS
Reeditado por:
MPS
Código de Barras:
4029759119654
Ano da edição original:
1978
Ano da reedição:
2017
Quantidade de discos:
1
Rotações por minuto:
33⅓ rpm
Tamanho do disco:
12"
Gramagem do Vinil:
180gr
Peso Total do Artigo:
295gr
País prensagem:
Alemanha
Produzido para o Mercado de:
EU
Adicionado ao catálogo em:
6 Dezembro, 2021
Colecção:
MPS AAA Reissue Series
Nota:
Nunca elegível para descontos adicionais
Vinyl Gourmet Club:
Não
Um jam eléctrico de Alphonse Mouzon, no seguimento do estilo frenético das suas gravações Blue Note, mas com um tempero extra MPS eléctrico! A banda inclui vários dos melhores músicos fusão Europeus como Miroslav Vitous no baixo, Philip Catherine nas guitarras, e Joachim Kuhn no Fender Rhodes, além do Americano Bob Malik com os saxofones.
Remasterização Analógica Audiófila
Remasterizado por Christoph Stickel e Dirk Sommer
Reforest The Legend MPS AAA Reissue Series
Vinil Audiófilo 180 Gramas
Prensagem na Optimal Media, Alemanha
Encarte com foto da caixa da Master Tape Original
A full-on electric jammer from Alphonse Mouzon — cut in the frenetic style of his Blue Note sides, but given an extra electric MPS twist! The lineup includes a host of strong European fusion players — including Miroslav Vitous on bass, Philip Catherine on guitars, and Joachim Kuhn on Fender Rhodes — plus American Bob Malik on saxes, fleshing out the best tunes with a strong funky groove — and the overall sound is quite dynamic, but also nicely focused too — never too over the top, and still very much in the jazz side of the spectrum, not the rock-fusion one. Titles include the break track "Nothing But A Party," plus "The Ram & The Scorpion," "The Unknown Journey," "Nightmare," "Electric Moon," "Shoreline," and "The Light."

Before they recorded Nothing but a Party, his fellow musicians sang Happy Birthday to You; Alphonse Mouzon celebrated his 29th birthday during the November 1977 MPS session in Stuttgart, Germany. The American drummer is one of the originators of jazz-rock, the fusion of jazz and rock music; "Incest is best" was German rocker Udo Lindenberg's comment on the coupling. No one had a better understanding of this melding of jazz polyrhythms with rock's pulsating beat than Mouzon; with his furious propulsive style, he was welcome in both camps. Weather Report founders Joe Zawinul, Wayne Shorter, and Miroslav Vitous brought him into the premier edition of the band. Mouzon and bassist Vitous made up the rhythm section. From Prague, Czech, Miroslav had also played in Miles Davis' band. As he had already shown with Weather Report, he demonstrates how well he could integrate acoustic bass into a jazz-rock concept. In duo with Mouzon, Vitous bows the deep tones on his composition The Light; he grabs the electric bass on the other compositions. Vitous as well as saxophonist Bob Malik and keyboard player Stan Goldberg were all part of the 1977 version of Mouzon's touring band. Pianist/keyboarder Joachim Kühn and guitarist Philip Catherine joined the troup for the recording of In Search of a Dream. Thus, the session was a sort of summit meeting of the jazz-rock elite of that time.

On December 25th, 2016, Master drummer Mouzon died in Los Angeles from complications brought on by a rare form of cancer. He was 68 years old. In its obituary, the New York Times printed a 1970's quote from Mouzon: "Because my mind is open, I don´t always want to be identified as just a jazz drummer." Today, there are at least as many rock fans as there are jazz aficionados who know Mouzon's music.
Músicos:
Baixo – Miroslav Vitous
Bateria – Alphonse Mouzon
Guitarra – Philip Catherine
Tenor Saxofone – Bob Malik
Lista de Faixas:
Lado A
01. Nightmare
02. Electric Moon
03. horeline
04. The Light

Lado B
05. The Unknown Journey
06. The Ram And The Scorpio
07. In Search Of A Dream
08. Playing Between The Beat
09. Nothing But A Party
Clique aqui para ouvir samples no YouTube.com ♫