Mieko Hirota My Funny Valentine LP Vinil Nippon Columbia Edição Limitada 2021 Japão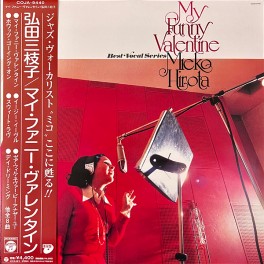 Maximizar

Mostrar todas as imagens
Artista:
Mieko Hirota
Título:
My Funny Valentine
Número de Catálogo:
COJA-9440
Editora:
Columbia
Reeditado por:
Nippon Columbia
Código de Barras:
4549767135755
Ano da edição original:
1976
Ano da reedição:
2021
Quantidade de discos:
1
Rotações por minuto:
33⅓ rpm
Tamanho do disco:
12"
Edição Limitada:
Sim
Peso Total do Artigo:
349gr
País prensagem:
Japão
Produzido para o Mercado de:
Japão
Adicionado ao catálogo em:
5 Dezembro, 2021
Colecção:
Best Vocal Series
Nota:
Nunca elegível para descontos adicionais
Vinyl Gourmet Club:
Não
Mieko Hirota, cantora popular Japonesa, nasceu em 1947 em Setagaya, Tokyo. Cresceu a ouvir música pop e jazz em locais como Tachikawa, que eram frequentadas por tropas de Ocupação. Fez a sua estreia em 1961 com apenas 14 anos e em 1965 tornou-se a primeira cantora Japonesa a participar no Newport Jazz Festival. Este álbum apresenta uma versão incrível de What's Going On de Marvin Gaye!



Edição Limitada
Masterizado por Shigeru Buzawa
Capa Deluxe
Made In Japan
OBI Strip
A Japanese female singer born in Tokyo on February 5, 1947. Died on July 21, 2020. Her nickname is Mico (also spelled Miko).


Due to her dynamic and growing vocal she was also called "queen of pops". That singing ability was also reputed as "the best singing skill of Japanese women singers" at that time. She was singing jazz, popular, etc. at the US occupation army camp in Tachikawa city from the age of 7 when she was in elementary school. She learned the advice from her brother who was doing Hawaiian music and the teacher about nursery rhymes and English.

In 1961 she made a debut with Toshiba Music Industry at the age of 14 with "Don't Treat Me Like A Child" (Helen Shapiro's cover). In the following year, "Vacation" (Connie Francis's cover) issued by each company competition, but her cover version on Toshiba records made a big hit. Most of the release of her girl pop singer era on Toshiba were covering Western hits.

Music critic Hisao Murata argues, "As a means of overcoming the problem of the Western rhythm, melody line and the language's ability to communicate as a Japanese language, it is Mieko Hirota who invented English-like Japanese."

In October 1964 she left the Toshiba music industry and moved to Nippon Columbia. In July 1965, she first appeared as a Japanese singer in the American Newport Jazz Festival. Top jazz musicians of the time, such as Carmen McRae, Frank Sinatra, Quincy Jones, Count Basie Orchestra, Stan Getz, John Coltrane, Wes Montgomery, Duke Ellington etc.

She sang with Billy Taylor Trio back and acted as the last performer of the third day. On the other hand, in 1968 she performed the first rhythm and blues concert at Sankei Hall in Tokyo. Following jazz, pop, she pioneered her new genre R&B/Soul/Funk. Her releases from Nippon columbia are funky songs.
Mieko Hirota, born in February 5, 1947 was a Japanese popular singer. Her nickname was Mico (also spelled Miko).

Miko Hirota was born in Setagaya, Tokyo. She grew up listening to pop and jazz in places like Tachikawa, which was frequented by Occupation troops. She made her debut in 1961 at age 14. In 1965, Mico became the first Japanese singer to sing the song Sunny (Bobby Hebb song) on album and the first to appear at the Newport Jazz Festival.

Mico appeared on the NHK New Year's Eve Kōhaku Uta Gassen eight times. Her first performance was in 1962, when she sang the Connie Francis tune "Vacation." NHK tapped her for the next four years in succession, and again in 1969, 1970, and 1971.

She sang the theme song, "Leo no Uta", for the animated television series Kimba the White Lion. Hirota's commercial career included endorsements for Nescafé, Nippon Oil, Daikin Industries, Fujiya, Renown, and Sapporo Beer.

Hirota died on July 21, 2020 at the age of 73 following a fall. She became one of eight recipients of the Special Lifetime Achievement Award at the 62nd Japan Record Awards.
Músicos:
Arranjos, Piano, Piano Eléctrico e Sintetizadores – Hiromasa Suzuki
Bateria – Yasushi Ichihara
Baixo Eléctrico – Akira Okazawa, Isao Eto
Electric Guitar – Takao Naoi, Tsunehide Matsuki
Percussão, Bateria – Akira Ishikawa
Tenor Saxofone, Soprano Saxofone, Flauta – Takeru Muraoka
Voz – Mieko Hirota

Lista de Faixas:
A1 - My Funny Valentine
A2 - Easy Evil
A3 - What's Going On
A4 - Sweet Love

B1 - There Will Never Be Another You
B2 - You're As Right As Rain
B3 - Day Dreaming
B4 - My Love