Vivaldi Four Seasons Interpreti Veneziani LP Vinil 180 Gramas D2D Direct To Disc Chasing The Dragon EU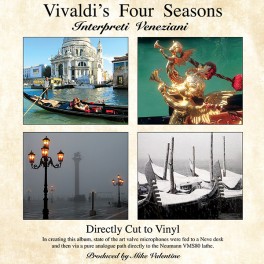 Maximizar

Mostrar todas as imagens
Artista:
Interpreti Veneziani
Título:
Vivaldi Four Seasons
Número de Catálogo:
VALDC001
Editora:
Chasing The Dragon
Código de Barras:
693692999464
Ano da edição original:
2015
Quantidade de discos:
1
Rotações por minuto:
33⅓ rpm
Tamanho do disco:
12"
Gramagem do Vinil:
180gr
Peso Total do Artigo:
378gr
País prensagem:
Holanda
Produzido para o Mercado de:
EU
Adicionado ao catálogo em:
10 Outubro, 2021
Nota:
Nunca elegível para descontos adicionais
Vinyl Gourmet Club:
Não
A obra mais conhecida de Vivaldi, As Quatro Estações, recebe uma nova vida nesta gravação audiófila Direct to Disc D2D da Chasing The Dragon. A Interpreti Veneziani Chamber Orchestra toca cada lado do album ao vivo no estúdio, gravado com microfones a válvulas state of the art que alimentam uma consola da Neve e daí de forma pura analógica para o corte na Neumann VMS80, uma delícia audófila!
Corte para vinil Direct To Disc
Gravado nos Air Studios
Vinil Audiófilo 180 Gramas
Prensagem na Record Industry
Capa Gatefold
TAS Super LP List! Special Merit: Classical

The Absolute Sound Top New Vinyl Release of 2016!

180g Audiophile Direct to Disc LP! A dynamic performance, pure analog delight!

Vivaldi's best known work, The Four Seasons is given new life in this Audiophile Direct to Disc recording from Chasing the Dragon. In order to make this D2D recording, the Interpreti Veneziani Chamber Orchestra performs each album side live in the studio, recorded via state of the art, all-tube valve microphones, fed to a Neve Desk, and then via a pure analogue path directly to the Neumann VMS80 lathe.

This Direct to Disc performance is a pure analog delight! The brilliantly captured session was carefully engineered, and mixed live, no overdubs! During the performance, the Neumann VMS 80 Cutting head engages the master lacquer ("stamper" used for pressing LPs) and is not stopped until the entire side is complete! The results are amazing! A more accurate recording, a greater immediacy and interaction among the players, less background noise through the elimination of master tapes, overdubs, etc. by directly cutting the recording to vinyl. A dynamic album that needs to be heard!

"The playing is extremely vigorous in places, which adds to the dynamics and drama, and credit should be given to the nine musicians in Interpreti Veneziani and the many period instruments they play...It's the combination of the original sound, coupled with the shortness and purity of the signal chain, which make this such an astonishing record ...a lot more robust that most I've heard." -Hi-Fi+ Magazine Read more!

"Producer Mike Valentine used all-tube microphones, and the sound is as you might expect... String tones were rich and fully expressed, yet the somewhat distantly placed harpsichord had appropriate transient zip and definition." - Michael Fremer, Stereophile Magazine Read more!

"...the playing is spirited and unrestrained and the recording superbly transparent and three-dimensional... For this kind of small, nine person ensemble, I think producer Mike Valentine's, "minimalist with some spotlight mike enhancement" approach works really well...if harmonic structure is King and transparency Queen, then this recording rules." - analogplanet, Music 10/11, Sound 10/11 Read more!
Músicos:

Interpreti Veneziani Chamber Orchestra
Giacobbe Stevanato, violin
Nicola Granillo, violin
Sebastiano Maria Vianello, violin
Pietro Talamini, violin
Anania Maritan, violin
Sonia Amadio, viola
Davide Amadio, cello
Angelo Liziero, double bass
Paolo Cognolato, harpsichord

Lista de Faixas:

Antonio Vivaldi (1678-1741)
The Four Seasons

Lado A:
Spring
1. Allegro
2. Largo
3. Allegro
Summer
4. Allegro
5. Adagio
6. Presto

Lado B:
Autumn
1. Allegro
2. Adagio
3. Allegro
Winter
4. Allegro
5. Largo
6. Allegro