Miles Davis Kind Of Blue (Mono) LP Vinil 180 Gramas Sterling Sound Columbia Sony Legacy RTI USA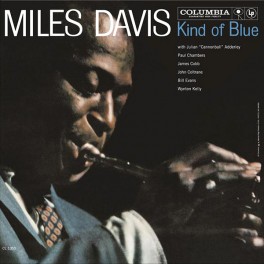 Maximizar

Mostrar todas as imagens
Artista:
Miles Davis
Título:
Kind Of Blue
Número de Catálogo:
CL 1355 / 88883761031S2
Editora:
Columbia
Reeditado por:
Legacy
Código de Barras:
821797450119
Ano da edição original:
1959
Ano da reedição:
2013
Quantidade de discos:
1
Rotações por minuto:
33⅓ rpm
Tamanho do disco:
12"
Gramagem do Vinil:
180gr
Peso Total do Artigo:
295gr
País prensagem:
USA
Produzido para o Mercado de:
USA
Adicionado ao catálogo em:
21 Setembro, 2021
Nota:
Nunca elegível para descontos adicionais
Vinyl Gourmet Club:
Não
Como podemos descrever um album intemporal? Talvez começando por ser o album de jazz mais vendido de sempre, todos os anos milhares de cópias desta obra-prima são compradas mesmo passadas mais de cinco décadas desde o seu lançamento original. Além disso Kind Of Blue retém o seu estatuto de album mais referenciado, e para muitos é a melhor gravação de jazz de todos os tempos.
Avaliado em 11/11 Música e 11/11 Som por Michael Fremer (Analog Planet)
Rolling Stone 500 Melhores Albums de Todos os Tempos posição 12/500
Edição Mono Totalmente Analógica!
Vinil 180 Gramas Audiófilo prensado na RTI USA
Corte por Ryan K. Smith na Sterling Sound
"The mono original (and reissue) provides a better overall instrumental balance, with greater emphasis on the piano and more solid imaging. Yes, its not as ethereally spacious, but it better layers and balances the instruments in my opinion and if you remain unconvinced that mono can produce three-dimensionality, this record will convince you.

The reissue's mix down from three tracks to one has been so skillfully and carefully done, even veteran mono KOB listeners might have difficulty guessing the source were that the only criterion. However, compared to my later "6-eye" 1AJ pressing, the reissue sounds far less "milky-cloudy" and far more transparent to the source, without veering off into the analytical. You can 'see' further into the mix and hear a clear delineation of direct and echo chamber sound as well as what sounds like 30th street studio room sound. Instrumental timbers are natural and textures rich. But most importantly, the music experience is complete and organically "whole," making a strong case for the superiority of the mono mix. If you love this record (and who in the world does not?), the mono reissue is a necessity not an "add-on" option!" - Michael Fremer, leia mais em Analog Planet
How does one properly introduce an epochal record? Perhaps by unequivocally stating that it is the best-selling jazz album in history. Or by affirming that, every year, it sells tens of thousands of copies more than five decades after its original release. There's also the matter of its status as the most-referenced, and arguably, most important, jazz recording of all-time. And the Dream Team lineup of Miles Davis, Cannonball Adderley, John Coltrane, Bill Evans, Wynton Kelly, Paul Chambers, and Jimmy Cobb. Yes, Kind of Blue is utterly inimitable.

While no one has ever completely identified the magic behind the record's allure--the otherworldly nature is part of its inherent charm--much of the success lies with the band members. Davis intentionally handpicked these musicians to comprise this particular cast, with everyone from former foil Evans to blues maestro Kelly to percussive genius Cobb interacting and reacting with peerless skill.
Miles Davis Kind Of Blue on 180g Mono LP Vinyl Reissue Brings History's Best-Known and Best-Selling Jazz Album Back to Mono! Ranked #12 on Rolling Stone's List of the 500 Greatest Albums of All Time and Ubiquitously Recognized as a Cultural Touchstone: There Is No Substitute for Kind of Blue. If You Own a Turntable and Enjoy Mono Sound, You Need This LP!

The best-selling jazz album of all time, Miles Davis' Kind of Blue found its way into classical, rock, and pop canons, becoming one of the most influential cultural touchstones of the last half of the 20th century and one of the most transcendent pieces of music ever recorded.

Davis' sublime trumpet playing is supported by a slightly revamped quintet (sextet) that differed from his previous lineups. Although the talents of John Coltrane, Cannonball Adderley, and Paul Chambers are retained, "Philly" Joe Jones is replaced by Jimmy Cobb on drums, and Red Garland is replaced on piano by Bill Evans (on "So What," "Blue In Green," "All Blues," and "Flamenco Sketches") and by Wynton Kelly (on "Freddie Freeloader").

The impact of Kind Of Blue, not only on jazz but on popular music in general, continues to reverberate. It is part of the Library Of Congress National Recording Registry, #12 on the Rolling Stone list of the 500 Greatest Albums of All Time, and even honored by the U.S. House of Representatives in 2009, the album's 50th anniversary.

Davis later summed up the sessions for Kind Of Blue: "That was my gift, having the ability to put certain guys together that would create a chemistry and then letting them go; letting them play what they knew, and above it."
Músicos:

Miles Davis, trompete
Julian "Cannonball" Adderley, saxofone alto
John Coltrane, saxofone tenor
Wynton Kelly, piano
Bill Evans, piano
Paul Chambers, contrabaixo
James Cobb, bateria

Lista de Faixas:

01. So What
02. Freddie Freeloader
03. Blue in Green
04. All Blues
05. Flamenco Sketches

Clique aqui para ouvir samples no YouTube.com ♫