Chasing The Dragon Audiophile Recordings By Mike Valentine LP Vinil 180 Gramas Disco Demonstração EU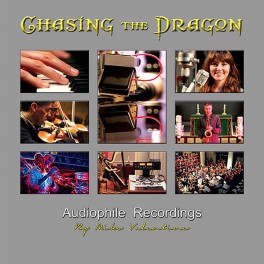 Maximizar

Mostrar todas as imagens
Artista:
Vários
Título:
Audiophile Recordings
Número de Catálogo:
VAL007
Editora:
Chasing The Dragon
Código de Barras:
693692999457
Ano da edição original:
2014
Quantidade de discos:
1
Rotações por minuto:
33⅓ rpm
Tamanho do disco:
12"
Gramagem do Vinil:
180gr
Peso Total do Artigo:
278gr
País prensagem:
EU
Produzido para o Mercado de:
EU
Adicionado ao catálogo em:
12 Setembro, 2021
Nota:
Nunca elegível para descontos adicionais
Vinyl Gourmet Club:
Não
Este álbum de demonstração audiófilo contém 13 faixas que foram gravadas com microfones a válvulas Neumann de 50 anos. Este disco audiófilo foi utilizado por Michael Fremer do Analog Planet como referência para testar tapetes de gira-discos. O álbum inclui uma selecção de músicos e compositores como Vivaldi, Mozart, Ellington, Rachmaninoff, Verdi, e outros!
Disco Demonstração Audiófilo
Vinil 180 Gramas
Masterizado nos Air Studios de Londres
Produzido por Mike Valentine
This audiophile demonstration album contains 13 tracks which were recorded with 50 year old Neumann valve microphones. Many tracks use the "Decca tree" configuration, invented by engineers in the early 1950's using 3 Neumann M50 microphones. Some tracks were recorded with a 1/2" Studer reel to reel recorder running at 30ips. This audiophile disc was used as a reference by Michael Fremer of Analog Planet in testing various record mats. The album contains selections from composers and musicians that include Vivaldi, Mozart, Ellington, Rachmaninoff, Verdi, and more!

"...the whole album is very impressive, with the combination of old and new technologies proving particularly effective at revealing timbre and reverberation, not to mention dynamics. I'm not generally a fan of audiophile recordings, but this one is so impressive that I have to make an exception." - Jason Kennedy, Hi-Fi Choice Magazine, rated 5 stars

"Throughout, Valentine's obvious goal was to produce maximum natural spaciousness while preserving instrumental timbres as well as instrumental focus. The results are uniformly engaging, three-dimensional and natural..." - Michael Fremer, Analog Planet

"Outstanding Chasing The Dragon LP" - Peter Breuninger, AV Showrooms Read more!

"The audiophile world involves a staggering amount of minutia. Everything leads, however, to an emotional payoff, as you're constantly reminded while rubbing shoulders with people devoted to good sound. So while, if you study the literature on, say, speaker placement or multichannel audio, you might expect everyone who cares about such matters to walk around with a pencil protector in his shirt pocket, instead you're much more likely to encounter someone whose passion for audio can hardly be contained and who has a lively sense of humor. Those points were underscored when I began correspoding with Mike Valentine, the owner of the UK audiophile label Chasing the Dragon...He isn't afraid to say something controversial (certainly his statement, "The sound quality here...is better than sex!" could spark a heated debate), and because he's filmed underwater sequences for over 90 films, including five James Bond movies, you quicky understand that he knows how to pursue lofty professional goals and have fun." - Jeff Wilson, The Absolute Sound
About the Music:

Side One:
1. Chamber Orchestra: Vivaldi's Concerto for 2 Mandolins
In the early 1950's Decca engineers were experimenting with stereo recording techniques. Using 3 omni directional Neumann M50 microphones, their system became know as the "Decca Tree". The same "Decca Tree" has been used here to capture Vivaldi's wonderful composition. This approach also re-creates the warmth of the monastery were it was recorded in Venice.

2. Cello Interior: Bach's Cello Suite No. 1
Interior: In an English church, 3 M50's were set up to record cellist Justin Pearson performing Bach's Prelude. Between the mic, a Jecklin Disc was placed. This increased the separation of the spaced pair. The acoustics of the church are wonderful!

3. Cello Exterior: Bach's Cello Suite No. 1
The same microphones, performer, cello and the same piece of music... but this time recorded outside in the graveyard! How important are acoustics? What would it sound like to be able to remove the church from the last recording? Compare the tracks to hear for yourself the results of this interesting experiment! Which do you prefer?

4. Brass Ensemble: Mouret's Rondeau
Mouret's Rondeau is performed here by 5 musicians which were spread uniformly across the stage. From left to right are a trumpet, french horn, bass trombone, trombone and cornet. In a recording studio each musician would probably have had their own microphone. Here the ensemble were captured in a real acoustic space using the "Decca Tree".

5. Piano: Davidson's Improvisation
A piano has a very wide frequency response and here the recording has been closely miked it to bring out its detail and definition. The tracks begins with the opening chord being plucked by the pianist, Bruce Davidson.

6. Jazz Group: Ellington's Caravan finale
One U47 in front of the trumpet and one for the electric bass. Two M50's over the drums and another for the piano. Perhaps a little like "Jazz At The Pawnshop"? Recorded live in a jazz club in Turkey.

7. Orchestra: Verdi's Force of Destiny finale
The acoustics of any concert hall are obviously very important. The space used here uses a great sounding combination of wood and stone. A great performance by the Ljubljana International Orchestra.

Side Two:
1. Orchestra: Badelt's Pirates Of The Caribbean
Recorded in St. Johns Smith Square, London. A "Spaced Pair" of U47s were used as the main microphones to capture this exciting piece, performed by the Young Musicians Symphony Orchestra.

2. Soprano: Mozart's Durch Zartlicheit & Schmeicheln
Rising star Daisy Brown, was recorded with a "Spaced Pair" of U47s set to omni directional. The natural acoustics really complement Daisy's beautiful voice.

3. Saxophone: Graham's Improvisation
Written and performed by saxophonist David Graham. No artificial reverberation has been added to the recording.

4. Chamber Orchestra: Sarasate's Tarantella
the "Decca Tree" has been used to record Sarasate's ravishing Tarantella. To reduce reflections form the windows in this venetian monastery, 6 mattresses have been added. Mush to the amusement of the musicians! The "Decca Tree" is wonderful at capturing the should of the music and just as importantly, the acoustic space.

5. Harp: Falla's Spanish Dance No. 1
Fall's lyrical music is played here by the young harpist Valeria Kurbatova. The track was recorded with a half inch Studer, running at 30 inches per second. 50 year old mikes with a 25 year old recorder!

6. Piano: Rachmaninoff's Piano Concerto No. 2 finale
Rachmininoff's ubiquitous piano concerto is performed by the YMSO and the pianist Konstantinos Destounis, who is only 22 years old! A great finale to the album!
"In creating this album I have combined 50 year old Neumann valve microphones with a high resolution Nagra digital recorder. The tracks were mastered at Air Studios in London by my cutting engineer John Webber. The final icing on the cake was to use state of the art cables from ZenSati, who supplied all of the cables used in the entire recording chain. I really hope you enjoy this LP." - Mike Valentine, producer/engineer
Músicos:

Interpreti Veneziani Chamber Orchestra (1A, 4B)
Justin Pearson, cello (2-3A)
Bruce Davidson, piano (5A)
Ljubljana International Orchestra (7A)
Young Musicians Symphony Orchestra (1B, 6B)
Daisy Brown, soprano (2B)
David Graham, saxophone (3B)
Valeria Kurbatova, harp (5B)
Konstantinos Destounis, piano (6B)

Lista de Faixas:

Lado A
Antonio Vivaldi (1678-1741)
1. Concerto for 2 Mandolins
Johann Sebastian Bach (1685-1750)
2. Cello Suite No 1 (Interior)
3. Cello Suite No 1 (Exterior)
Jean-Joseph Mouret (1682-1738)
4. Rondo
Bruce Davidson
5. Improvisation
Duke Ellington (1899-1974)
6. Caravan - Finale
Giuseppe Verdi (1813-1901)
7. Force of Destiny - Finale

Lado B
Klaus Badelt (1967)
1. Pirates of the Caribbean
Wolfgang Amadeus Mozart (1756-1791)
2. Durch Zartlicheit & Schmeicheln
David Graham
3. Improvisation
Pablo de Sarasate (1844-1908)
4. Tarantella
Manuel de Falla (1876-1946)
5. Spanish Dance No. 1
Sergei Rachmaninoff (1873-1943)
6. Piano Concerto No.2 - Finale