Jeff Beck Truth 2LP 45rpm Vinil 180 Gramas Edição Limitada Mobile Fidelity MoFi MFSL RTI 2021 USA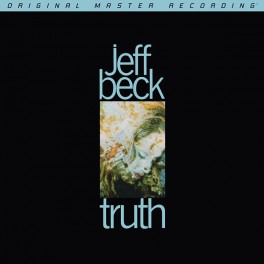 Maximizar
Artista:
Jeff Beck
Título:
Truth
Número de Catálogo:
MFSL 2-502
Editora:
Epic
Reeditado por:
Mobile Fidelity Sound Lab
Código de Barras:
821797250214
Ano da edição original:
1968
Ano da reedição:
2021
Quantidade de discos:
2
Rotações por minuto:
45 rpm
Tamanho do disco:
12"
Gramagem do Vinil:
180gr
Edição Limitada:
Sim
Edição Numerada:
Sim
Peso Total do Artigo:
799gr
País prensagem:
USA
Produzido para o Mercado de:
USA
Adicionado ao catálogo em:
22 Agosto, 2021
Colecção:
MFSL Original Master Recording
Nota:
Nunca elegível para descontos adicionais
Vinyl Gourmet Club:
Não
Com Jeff Beck, Rod Stewart, Mickey Waller e Ron Wood as performances arrebatadoras de Truth estão entre as mais influentes alguma vez editadas. Este marco de 1968 precedeu e impactou a estreia dos Led Zeppelin, envolveu membros dos Zeppelin, The Faces e The Who, e continua a ser uma referência de como fazer hard rock para muitos especialistas.
Edição Estritamente Limitada (

5

000 unidades

)
Edição Numerada
Corte a partir das Fitas Master Analógicas Originais
2LP Vinil 180 Gramas de Alta Definição 45rpm prensado na RTI USA
Masterização half-speed no Gain 2 Ultra Analog System da MFSL
Masterização Mobile Fidelity Sound Lab
Masterizado por Krieg Wunderlich e Shawn R. Britton
Capas interiores especiais antiestáticas
Capa Gatefold Deluxe
*Limitado a 2 unidades por cliente/morada
The core lineup – Jeff Beck, Rod Stewart, Mickey Waller, Ron Wood – responsible for the groundbreaking performances Truth alone qualifies as a watershed accomplishment. That the 1968 landmark predated and impacted Led Zeppelin's debut; involved members of Zeppelin, the Faces, and the Who; continues to be cited by many experts as the blueprint for hard rock; and unspools with indescribable guitar wizardry and primal energy put it into rarefied territory. Among the most influential sets ever released, Beck's solo debut has never spoken with more truth than on this exceptional analog reissue.

Mastered from the original master tapes and limited to 5,000 numbered copies, Mobile Fidelity's 180g 45RPM 2LP vinyl set puts you in Abbey Road and Olympic Sound Studios with the band. Free of the haze, thinness, and constrained nature of many prior editions, it presents the music with three-dimensional depth, revealing texture, and unmistakable liveliness. Just as crucially, and in line with Beck's request in the original liner notes, this audiophile release can be played loud without harshness and distortion. Truth is not for the fainthearted; it will help take your system to its limits.

Steeped in blues, swing, heaviness, and firepower, Beck's six-string voodoo pushed conventions and boundaries at the time – and still does now. As scribe Gene Santoro writes in his essay for Beckology, "The guitar may slash and burn or sigh an aching melody, blaze a fusillade or arc a lyrical air – but from the touch, the phrasing, you know it's him." And Mobile Fidelity's meticulously engineered reissue lets you identify Beck with unsurpassed certainty and intimacy. You can practically hear his fingertips on the frets while savoring the endless tones echoing from his notes, sustains, bends, glissandos, slides, and major and minor chords.

Of course, Beck's charismatic contributions aren't the only dramatically elevated features. Truth towers above nearly every other one of the British icon's records due to the cohesiveness of its songs and chemistry shared by the band members – as well as several choice guests. The full measure of Waller's foundation-busting percussive thunder, for example, can now be enjoyed without limitations. Ditto Wood's steadying rhythms, and the grit and grain present in Stewart's deliveries. The latter's fabled combination of ragged looseness, soulful shouting, and organic rasp first make their appearance on Truth – and would soon help him land his gig with the Faces, not to mention catapult him to global stardom.

Such commercial success may have eluded Truth, yet few platters remain more revered by listeners, critics, and fellow musicians. Considering it also involves Rolling Stones session/touring pianist Nicky Hopkins, Zeppelin guitarist Jimmy Page, Zeppelin bassist John Paul Jones, and Who drummer Keith Moon – and includes a roof-shaking rendition of Willie Dixon's "You Shook Me" that inspired Page, given Zeppelin included it on its debut months later – the sheer importance and scope of Truth cannot be over-exaggerated. Neither can the brilliance of the performances or inventiveness of Beck's approaches.

He slyly traces back to his days in the Yardbirds with an acrobatic rendition of "Shapes on Things" that opens the album and puts listeners on notice that things have changed. Slow, chilling interpretations of "Morning Dew" and "Ol' Man River" ache with regret. A solo acoustic version of the traditional "Greensleeves" conveys grace and delicacy, while Beck and company demonstrate they can turn on a dime the very next moment with "Rock My Plimsoul." And that's saying nothing of Beck's signature piece, the wordless "Beck's Bolero," a tense powder keg further ignited by Page and Moon, with the latter yelling halfway through and smashing the microphone, leading to what you can now hear in stellar clarity – a tidal wave of cymbals dominating the percussion.

By itself, the song justifies Truth, as does the seven-and-half-minute "Blues Deluxe," which stands up with any blues from any era, and showcases Hopkins' massive personality on the 88s. And lest we forget, Beck turns his guitar into a carnival of animal and human voices on "I Ain't Superstitious," with Stewart responding to every one. From start to finish, there's not a single lapse. And that's the straight truth.
Lista de Faixas:
01. Shapes of Things
02. Let Me Love You
03. Morning Dew
04. You Shook Me
05. Ol' Man River
06. Greensleeves
07. Rock My Plimsoul
08. Beck's Bolero
09. Blues Deluxe
10. I Ain't Superstitious
Clique aqui para ouvir samples no YouTube.com ♫