The Gil Evans Orchestra Out Of The Cool LP Vinil 180g Sterling Impulse Acoustic Sounds Series QRP 2021 USA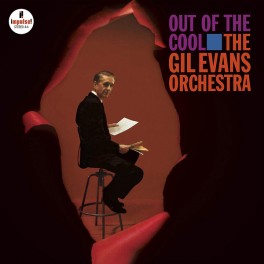 Maximizar

Mostrar todas as imagens
Artista:
Gil Evans
Título:
Out Of The Cool
Número de Catálogo:
B0033211-01
Editora:
Impulse!
Reeditado por:
Impulse!
Código de Barras:
602435439631
Ano da edição original:
1961
Ano da reedição:
2021
Quantidade de discos:
1
Rotações por minuto:
33⅓ rpm
Tamanho do disco:
12"
Gramagem do Vinil:
180gr
Peso Total do Artigo:
514gr
País prensagem:
USA
Produzido para o Mercado de:
USA
Adicionado ao catálogo em:
11 Julho, 2021
Colecção:
Acoustic Sounds Series
Nota:
Nunca elegível para descontos adicionais
Vinyl Gourmet Club:
Não
Criada pela Verve e Universal Music para oferecer edições audiófilas de algumas das melhores gravações de jazz de sempre, a nova Acoustic Sounds Series é supervisionada por Chad Kassem, utilizando engenheiros de masterização de topo e o engenho da Quality Record Pressings, os títulos são masterizados a partir das fitas analógicas originais, prensados em vinil 180g com capas da Stoughton Printing.
Acoustic Sounds Series
Masterizado a partir das Fitas Master Analógicas Originais
Corte por Ryan K. Smith na Sterling Sound
LP Vinil 180 Gramas Audiófilo
Prensagem na Quality Record Pressings, QRP USA
Capa Gatefold Deluxe da Stoughton Printing
"Out Of The Cool is nearly as striking an album now as it must have been when it hit the bins in 1961. Not only is it Gil Evans' masterpiece and his best album that didn't front Miles Davis as a soloist; it's a peculiar masterpiece, stretching modal jazz to minimalist extremes yet soaking with swing. ... This Acoustic Sounds QRP pressing comes very close to the sound of the Impulse! original. Piano, percussion, guitar, bass, and horns all waft through what seems to be a vast space (perhaps the result of subtly mixed echo) with tonal colors, crisp transients, and bloom intact. Trombones lack some of the oomph heard on the original pressing, and in a few spots where horns play loud in unison, there's some distortion — a problem with the original as well. Otherwise, no complaints at all." — Performance = 5/5; Sonics = 5/5 - Fred Kaplan, Stereophile, August 2021.

"The album is worth getting for the 15 minutes of 'La Nevada' alone but the rest is equally great including the cinematic side closer 'Where Flamingoes Fly.' ... The sonics here with a cut from the master tape by Ryan K. Smith (yes, the master tape- I have a current photo that for some reason I can't share with you) are incredibly transparent, spacious and flat-out thrilling ... and somewhat brighter and less mid-band rich than the long out of print Alto-Analogue edition Bernie Grundman cut in 1997. Both are worth having for different sonic reasons and if you have a clean original Rudy Van Gelder cut (A-4) you may think you are set, but that cut is less spacious, somewhat dynamically compressed, has the RVG lower bass roll-off and is definitely less transparent — not that it's bad and some people do like the more 'in your face' excitement. This one's here now though! Do not miss it!" — Music = 10/11; Sound = 10/11 - Michael Fremer, AnalogPlanet

"And in keeping with past releases from these folks — and the Blue Note Tone Poet releases for that matter — the results are exemplary. The pressing quality is excellent, delivering pretty much everything you could want and expect from a reissue like this: 180-gram, dark black, dead quiet and perfectly centered vinyl. Kudos again to Quality Record Pressing (QRP) for that attention to important details." — Mark Smotroff, Audiophile Review, May 18, 2021. Read the entire review here.

A groundbreaking jazz recording by the longtime Miles Davis collaborator Gil Evans highlights the latter's supreme and influential skills as a jazz orchestrator.

This album is a brilliant example of Evans' ability to make a large orchestra sound like a smaller jazz combo using orchestrations that infuse the larger unit with the immediacy and spontaneity of the smaller. Out Of The Cool features some of Evan's finest compositions, including the famous "La Nevada" as well as a magnificent performance of George Russell's "Sratosphunk." Soloists include Budd Johnson (tenor), Johnny Coles (trumpet), Ray Crawford (guitar), Elvin Jones (drums), Ron Carter (bass) and Jimmy Knepper (trombone). The ensemble is superbly recorded by the legendary Rudy Van Gelder. A must-have for all lovers of jazz.
Musicians:

Ron Carter, Contrabaixo
Johnny Coles, Trompete
Budd Johnson, Saxofone Soprano / Tenor
Elvin Jones, Percussão, Bateria
Jimmy Knepper, Trombone
Ray Crawford, Guitarra
Phil Sunkel, Trompete
Billy Barber, Tuba
Raymond Beckenstein, Flauta, Piccolo, Saxofone Alto
Eddie Caine, Flauta, Piccolo, Saxofone Alto
Gil Evans, Piano, Condutor
Keg Johnson, Trombone
Charlie Persip, Percussão, Bateria
Tony Studd, Trombone Baixo
Bob Tricaric, Flauta, Fagote, Piccolo

Lista de Faixas:

1. La Nevada
2. Where Flamingos Fly
3. Bilbao Song
4. Stratusphunk
5. Sunken Treasure


Clique aqui para ouvir samples no YouTube.com ♫