The Best Of Slim Harpo The Original King Bee LP Vinil 200g Kevin Gray Analogue Productions QRP USA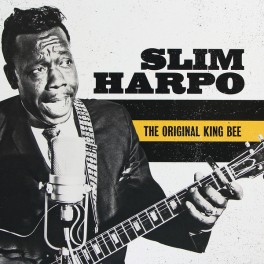 Maximizar
Artista:
Slim Harpo
Título:
The Original King Bee
Número de Catálogo:
APB 114
Editora:
Rhino Records
Reeditado por:
Analogue Productions
Código de Barras:
753088011412
Ano da edição original:
1983
Ano da reedição:
2017
Quantidade de discos:
1
Rotações por minuto:
33⅓ rpm
Tamanho do disco:
12"
Gramagem do Vinil:
200gr
Edição Limitada:
Sim
Peso Total do Artigo:
506gr
País prensagem:
USA
Produzido para o Mercado de:
USA
Adicionado ao catálogo em:
30 Agosto, 2020
Nota:
Nunca elegível para descontos adicionais
Vinyl Gourmet Club:
Não
Slim Harpo morreu em 1970 com um ataque de coração. Mais conhecido pelo seu nome de palco do que pelo verdadeiro, James Isaac Moore, foi o epitomo do estilo swamp blues, e por altura do seu falecimento estava prestes a ficar famoso e reconhecido como merecia desde o lançamento do seu primeiro single, o contagiante 'King Bee' 13 anos antes.
Edição Limitada
LP Vinil Audiófilo 200 Gramas
Prensagem na Quality Record Pressings, QRP USA
Masterizado a partir das Fitas Master Originais Analógicas
Corte por Kevin Gray na Cohearant Audio
Capa Gatefold Deluxe pela Stoughton Printing
"What's the point in listening to us doing 'I'm A King Bee' when you can hear Slim Harpo do it?" Mick Jagger, 1968
"Mastered by Cohearent Audio from the best analogue tapes, this compilation covers 1957-1969, so judgments about sound quality are not meant to be taken as sonic absolutes. Rather, it reflects what care and integrity can do with iffy "historic" originals. Harpo was a blues legend revered by the British — The Rolling Stones covered "I'm A King Bee," while The Yardbirds, The Kinks, Them and others also plundered his catalogue. This disc gives you 14 original recordings from the Excello label, including the 1957 takes of 'I'm A King Bee,' 'I Got Love If You Want It,' and 1960s 'Moody Blues' which may have inspired the band that left blues for Prog, sounding almost too good to be true." — Sound Quality: 90% — Ken Kessler, Album Choice, Hi Fi News, September 2018

"A flat, quiet pressing on 200g vinyl, nicely packaged in a tip-on jacket from Stoughton Printing, it's typical of AP's quality work. ... Chad Kassem did find and use, as the source for his compilation, a 1983 analog tape that had been used by Rhino Records for the original 1983 LP version of this reissue: The Best of Slim Harpo: The Original King Bee. ... Kassem's latest passion is a classic piece of American roots music." — Robert Baird, Stereophile, May 2018

"Analogue Productions' 'greatest hits' package is in the spirit of early blues releases, and it's a much better packaging than Excello's own 'best of' release from 1969. ... The new reissue was mastered by Kevin Gray at Cohearent Audio and is pressed on 200-gram vinyl by Quality Record Pressings. It easily beats the fine Rhino mastering from Richard Simpson (of RCA fame). Original pressings of Slim Harpo's Excello albums — from which these songs were culled — sound thin, bass shy and two-dimensional compared to Gray's new mastering. But that doesn't begin to describe how good this LP sounds. ... This is big raw sound that grips you and won't let go. It succeeds because Slim Harpo was one of the underrated great blues singers and hopefully this great sounding reissue will remedy that failing. Highest recommendation for sound and music." — Recording = 9/10; Music = 10/10 - Dennis D. Davis, Hi-Fi +, Issue 155

Slim Harpo died in 1970. Better known by his stage name than his given, James Isaac Moore, he epitomized the swamp blues style, and at the time of his passing he was at the brink of enjoying the kind of fame he'd deserved since the release of his first single, the infectious "King Bee" 13 years earlier.

Harpo was just beginning to play for urban, white audiences when he succumbed to an unexpected heart attack. There were plenty of people who were aware of Slim and not all of them were young British musicians who knew a good tune when they heard it. Pete Welding, writing in Rolling Stone, described Harpo as "a stylist who's carved out his own niche, and within the relatively narrow confines of that approach he's unbeatable — and of course, immediately recognizable ... the emphasis is on forceful, direct rhythm, tight and simple arrangements (even when horns are used) that work beautifully with Slim's sly, laconic singing and harmonica playing and, above else, feeling."

What an iconic performer — perfect for the full Analogue Productions reissue treatment. The Best of Slim Harpo (The Original King Bee) has his iconic hits from a formidable career: "I'm A King Bee," "Got Love If You Want It," "Baby Scratch My Back," "Shake Your Hips," "Te Ni Nee Ni Nu," "Mohair Sam" and more. They're included on an incredibly silent and rich-sounding 200-gram LP pressed by Quality Record Pressings. Mastering from the original analog tapes was by Kevin Gray at Cohearent Audio. Finally, it's all contained in a old-style tip-on heavyweight cardboard jacket from Stoughton Printing. Spectacular sound and an eye-catching package. That's the Analogue Productions difference.

Just up the Mississippi from Baton Rouge, on February 11, 1924, James Isaac Moore was born. He would live in the area for practically all of his life. As a child he took up harmonica, and later, in adulthood, supported himself and his family as a laborer, as a gas station attendant, he hauled sugar cane, and did other odd jobs. He didn't become a professional musician until he began to record in the mid-'50s. In 1955, Moore began recording with Lightnin' Slim at J.D. Miller's studio in Crowley, Louisiana.

Two years later Moore first recorded as a featured artist. The initial session at Miller's studio resulted in three completed masters, all originals: "I'm A King Bee," "Got Love If You Want It" and "This Ain't No Place For Me." Still, Slim, through his career, didn't tour much, and his record label — Excello — was a small independent with promotion and distribution problems typical for its size. Most of Slim's fame and fortune came second-hand.

We're betting you'll enjoy this Slim Harpo compilation as much as we've enjoyed putting it together and bringing it to you. As Mick pointed out, there's nothing like the original. And Slim Harpo was original to the hilt. We're excited to honor his memory with this exceptional release.
Lista de Faixas:
Lado A
1. Baby Scratch My Back
2. I Got Love If You Want It
3. I'm A King Bee
4. Shake Your Hips
5. Te Ni Nee Ni Nu
6. I've Been A Good Thing (For You)
7. Raining In My Heart
Lado B
1. The Music's Hot
2. Mohair Sam
3. Tip On In
4. Moody Blues
5. The Hippy Song
6. Don't Start Crying Now
7. Rock Me, Baby
Clique aqui para ouvir samples no YouTube.com ♫