Joe Walsh The Smoker You Drink The Player You Get LP Vinil 200g Kevin Gray Analogue Productions QRP USA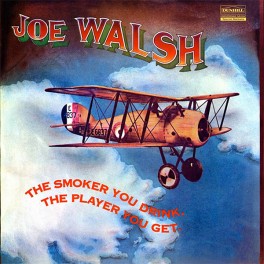 Maximizar
Artista:
Joe Walsh
Título:
The Smoker You Drink The Player You Get
Número de Catálogo:
APP 108
Editora:
Dunhill
Reeditado por:
Analogue Productions
Código de Barras:
753088010811
Ano da edição original:
1973
Ano da reedição:
2017
Quantidade de discos:
1
Rotações por minuto:
33⅓ rpm
Tamanho do disco:
12"
Gramagem do Vinil:
200gr
Edição Limitada:
Sim
Peso Total do Artigo:
498gr
País prensagem:
USA
Produzido para o Mercado de:
USA
Adicionado ao catálogo em:
22 Agosto, 2020
Nota:
Nunca elegível para descontos adicionais
Vinyl Gourmet Club:
Não
Pelo meio das suas sessões com os Eagles e James Gang, Joe Walsh trabalhou no seu segundo album de estúdio a solo The Smoker You Drink The Player You Get que se tornou no seu maior sucesso a solo. Para obter o melhor som possível a Analogue Productions entregou a remasterização a Kevin Gray da Cohearent Audio, a partir das Fitas Master Originais Analógicas, e prensagem na QRP, USA.
Edição Limitada
LP Vinil Audiófilo 200 Gramas
Prensagem na Quality Record Pressings, QRP USA
Masterizado a partir das Fitas Master Originais Analógicas
Corte por Kevin Gray na Cohearant Audio
Capa Gatefold Deluxe pela Stoughton Printing
Featuring "Rocky Mountain Way," "Book Ends" and more! Remastered by Kevin Gray at Cohearent Audio. Old style gatefold tip-on jacket from Stoughton Printing. Plated and pressed on 200-gram audiophile vinyl at Quality Record Pressings!

"(Side one) ends with the appropriately titled 'Happy Ways,' a Latin-tinged guitar-fest with lovely chunky bass lines that sounds absolutely glorious on this Analogue Productions pressing. The zing of steel string guitar almost sounds dead on the CD and tired on my ancient vinyl pressing, so this is clearly not one of those remasters that's based on an umpteenth generation copy of the tapes. ... You owe it to yourself to hear this album — and it will not sound any better than this spectacular pressing." — Recording = 8/10; Music 10/10 — Jason Kenedy, Hi-Fi+

"An outstanding new 200gm LP reissue from Analogue Productions, with improved sound thanks to a sparkling new remaster by Kevin Gray at Cohearent Audio, makes it clear that this 1973 release remains — with the possible exception of 1978's But Seriously, Folks . . . — the undisputed highlight of Walsh's solo career. ... Another week, another beautiful-sounding, wonderfully packaged reissue from Analogue Productions." Read the whole review here. — Robert Baird, Stereophile

In between his stints with the James Gang and the Eagles, Joe Walsh tackled his second solo studio album The Smoker You Drink The Player You Get which became his most successful solo outing. The 1973 LP continued the heavy and light rock mix of tracks found on his previous release, Barnstorm.

Analogue Productions has done reissue justice to the album that AllMusic decries "features some of the most remembered Joe Walsh tracks, but it's not just these that make the album a success. Each of the nine tracks is a song to be proud of. This is a superb album by anyone's standards."

To obtain the best sound possible we turned to Kevin Gray at Cohearent Audio to remaster this superb album from the original analog tapes. Next we plated the lacquers and pressed LPs on 200-gram audiophile vinyl at the world's best LP maker, Quality Record Pressings. Top it all off with a deluxe Stoughton Printing gatefold tip-on jacket and you've got the makings for audiophile joy.

This amazingly eclectic rock gem has Joe's smash "Rocky Mountain Way," his hit "Meadows," plus "Bookends," "Wolf; Dreams" and more! Walsh's abililty to swing wildly from one end of the rock scale to the other is unparalleled and makes for an album to suit many tastes.
Lista de Faixas:
Lado A
1. Rocky Mountain Way
2. Book Ends
3. Wolf
4. Midnight Moodies
5. Happy Ways

Lado B
6. Meadows
7. Dreams
8. Days Gone By
9. Daydream (prayer)
Clique aqui para ouvir samples no YouTube.com ♫