Ray Charles Genius Loves Company 10º Aniversário 2LP 45rpm Vinil 180gr Concord Records 2014 USA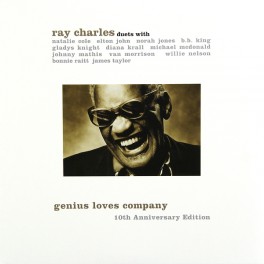 Maximizar
Artista:
Ray Charles
Título:
Genius Loves Company
Número de Catálogo:
825646202997
Editora:
Concord Records
Reeditado por:
Concord Music Group
Código de Barras:
825646202997
Edição:
Edição 10º Aniversário
Ano da edição original:
2004
Ano da reedição:
2014
Quantidade de discos:
2
Rotações por minuto:
45 rpm
Tamanho do disco:
12"
Gramagem do Vinil:
180gr
Peso Total do Artigo:
579gr
País prensagem:
USA
Produzido para o Mercado de:
USA
Adicionado ao catálogo em:
15 Agosto, 2020
Nota:
Nunca elegível para descontos adicionais
Vinyl Gourmet Club:
Não
O último album completado pelo eterno Ray Charles antes da sua morte. Genius Loves Company representa um marco na sua impressionante carreira, incluindo duetos com Norah Jones, Elton John, Van Morrison, Diana Krall, Natalie Cole, James Taylor, Bonnie Raitt, Willie Nelson, Michael McDonald, B.B. King, Gladys Knight e Johnny Mathis, um disco fabuloso!
Edição 10º Aniversário
2LP Vinyl 180 Gramas 45rpm
Corte por Doug Sax no The Mastering Lab
Capa Gatefold
Versão USA
Upon its release in 2004, few could have predicted the extraordinary, game-changing effect that Ray Charles' final recording would have on both his career and the industry as a whole. To celebrate the 10th anniversary of the legend's milestone recording, Concord/Hear Music is offering a special 180-gram 45 rpm 2LP reissue.
One of Charles' most inspirational and historically significant albums, Genius Loves Company captures the genius of the music icon in his last studio recording pairing him with legendary guest artists including Norah Jones, Diana Krall, James Taylor, Elton John, Willie Nelson and Bonnie Raitt to name a few. The album went on to receive an astounding 8 Grammy Awards, including Album of the Year and Record of the Year. To help launch a then-groundbreaking consumer marketing campaign, Genius Loves Company was tapped as the first original release through the Starbucks Hear Music imprint in conjunction with Concord Music Group. Since its release on August 31st, 2004, Genius Loves Company has been certified multi-platinum with worldwide sales in excess of 5 million copies.
Norah Jones, who teamed with Charles on "Here We Go Again" shares that she was both excited and nervous about singing with one of her biggest idols. "I didn't want to ruin it with me, [but] I had to do it," she explains. "I would never forgive myself if I didn't." Elton John notes that he "got a lump in [his] throat and people in the control room were crying" when he and Charles laid down vocals for "Sorry Seems to Be the Hardest Word."
Produced by John Burk, Concord Music Group's chief creative officer, and co-produced by the legendary Phil Ramone, Genius Loves Company garnered critical acclaim upon its release. NPR All Things Considered hailed, "It's got flashes of fire you wouldn't expect from such a setting, gems of phrasing that remind you how Ray Charles transformed the wreckage of heartbreak into poignant sound," and Rolling Stone added, "the tone is reverential and warm, as the Genius sings…"
"Ray was shocked that these people wanted to sing with him," recalls Ray Charles Foundation president Valerie Ervin. "He just didn't understand the magnitude of where he was in the industry. As weak as he became…he made sure he gave his best for every artist that was there for him."
"Ray Charles was one of those rare artists who, throughout his incredible career, had far-reaching impact that forever changed the conventions of popular music as well as the music business," said Concord Music Group chief creative officer John Burk. "Looking back at the last 10 years, it's clear that this album was certainly no exception. We are humbled, honored and blessed to have had the opportunity to work with such a musical giant, and we are eternally grateful to Ray for elevating both Concord Records and Hear Music to new heights, far beyond our wildest dreams ten years ago."

Lista de Faixas:
LP1
1. Here We Go Again with Norah Jones
2. Sweet Potato Pie with James Taylor
3. You Don't Know Me with Diana Krall
4. Sorry Seems to Be the Hardest Word with Elton John
5. Fever with Natalie Cole
6. Do I Ever Cross Your Mind? with Bonnie Raitt
LP2
1. It Was A Very Good Yearwith Willie Nelson
2. Hey Girl with Michael McDonald
3. Sinner's Prayer with B.B. King
4. Heaven Help Us All with Gladys Knight
5. Over the Rainbow with Johnny Mathis
6. Crazy Love with Van Morrison
Clique aqui para ouvir samples no YouTube.com ♫