Grateful Dead From The Mars Hotel 2LP 45rpm Vinil 180 Gramas Edição Limitada Mobile Fidelity MFSL USA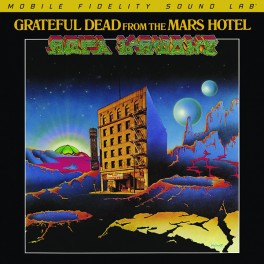 Maximizar
Artista:
Grateful Dead
Título:
From The Mars Hotel
Número de Catálogo:
MFSL 2-482
Editora:
Grateful Dead Records
Reeditado por:
Mobile Fidelity Sound Lab
Código de Barras:
821797248211
Ano da edição original:
1974
Ano da reedição:
2019
Quantidade de discos:
2
Rotações por minuto:
45 rpm
Tamanho do disco:
12"
Gramagem do Vinil:
180gr
Edição Limitada:
Sim
Edição Numerada:
Sim
Peso Total do Artigo:
782gr
País prensagem:
USA
Produzido para o Mercado de:
USA
Adicionado ao catálogo em:
29 Janeiro, 2020
Nota:
Nunca elegível para descontos adicionais
Vinyl Gourmet Club:
Não
Bem-vindo amigo. Acabou de entrar no Mars Hotel. A parede sonora, o maior sistema PA já construído, está pronta. Phil Lesh está atarefado a experimentar um conceito de baixas frequências conhecido por 'Grave Terramoto'. Jerry Garcia sorri, entusiasmado pelo flagrante e descarado hino 'U.S. Blues' que serve ao mesmo tempo como grito de orgulho e como comentário irónico.
Edição Estritamente Limitada

(4000 unidades)

Edição Numerada
2LP Vinil 180 Gramas de Alta Definição 45rpm prensado na RTI USA
Masterização half-speed no Gain 2 Ultra Analog System da MFSL
Masterização Mobile Fidelity Sound Lab
Masterizado por Krieg Wunderlich
Capas interiores especiais antiestáticas
Capa Gatefold Deluxe
Wave That Flag: Grateful Dead's From the Mars Hotel Spotlights Elementary Strengths of Each Band Member and Features "U.S. Blues," "Unbroken Chain," "China Doll," and More. Mastered on Mobile Fidelity's World-Renowned Mastering System and Strictly Limited to 4,000 Numbered Copies: 180g 45RPM Vinyl 2LP Set Boasts Dynamic, Smooth Sound.

Welcome, friend. You've just checked into the Mars Hotel. The Wall of Sound, the greatest PA system ever constructed, is freshly built and ready to go. Phil Lesh is busy experimenting with a low-frequency concept known as "Earthquake Bass." Jerry Garcia is smiling, fresh from blaring a tongue-in-cheek anthem titled "U.S. Blues" that serves as both an irresistible rallying cry of pride and ironic commentary. And the Grateful Dead's interplay continues to wow, peaking on "Unbroken Chain," the most obvious example yet of the group's shared chemistry and individual talents. Yes, we're certain you'll enjoy your stay. In the lobby, you'll find decoratively funky "Scarlet Begonias." Do we need mention the music, performances, and sights sound and look better than ever?

Mastered on Mobile Fidelity's world-renowned mastering system, pressed at RTI and strictly limited to 4,000 numbered copies, Mobile Fidelity's 180g 45RPM vinyl 2LP set of From the Mars Hotel comes on as both an audiophile delight and Deadhead's dream. Vastly improving upon the long-out-of-print 1984 MoFi version that currently commands upwards of hundreds of dollars on the aftermarket, the new version takes advantage of enhancements to the cutting system, pressing process, and mastering gear. MoFi's engineers have taken every precaution in honing the sound and feel of the Dead classic. And you cannot argue with the extra information within the wider 45RPM grooves.

Originally made in a modern facility dubbed Studio A – a large cinderblock room that Columbia Records specially outfitted for Simon and Garfunkel, who, ironically, split up before they could use it – From the Mars Hotel was primarily recorded live to 16-track machines. After laying down the basic structures, a few overdubs got added, most notably in the form of John McFee's rustic pedal-steel guitar accents on one track and Ned Lagin's spacey synthesizer passages on another. Always prized for its superb fidelity, the effort possesses an uncanny sense of airiness around the vocals, brilliant microdynamics, excellent transients, reference-caliber balance, accessible tonalities, and the distinctive aura of a real band playing in a defined space.

With Keith Godchaux's spry quick-finger piano notes adding a barroom blues feeling and wife Donna Godchaux's soaring background vocals bringing up the rear, the Dead puts a vibrant spring into the step of contagious fare such as the rousing "U.S. Blues," down-and-dirty funky soul of "Loose Lucy," and slippery "Money Money." These songs stand as some of the loosest black-inspired music the Dead composed. And why not? True to the era's burgeoning mix of soul, R&B, psychedelic rock, and dance, the collective places its own memorable stamp on the day's popular fusion.

Yet From the Mars Hotel earns its stripes as a must-own album for Deadheads and traditional listeners alike because of the manners in which the six band members communicate, bond, react, and create. Singing lead on the high country of "Pride of Cucamonga" and interlocking centerpiece "Unbroken Chain" while threading the record's golden tapestries with silvery bass lines that cradle, shift, and anchor the arrangements, Lesh turns in a heroic individual performance.

Each of his mates maximize their own techniques: Garcia lending equal doses of sincerity and salaciousness; Bob Weir hunting, pecking, and jabbing guitar phrases into the flux; drummer Billy Kreutzmann demonstrating jazz-like flair, flawless timing, and rhythmic wit. It's no wonder that many Deadheads, if forced to choose, would select "Unbroken Chain" as the premier example of third-era Dead interaction. Relatively concise, eminently soothing, and named for a crumbling hotel down the street from Studio A, From the Mars Hotel forever dispels the tired notions that the Dead never succeeded in the studio after leaving Warner Bros. and aimlessly drifted (the longest track here clocks in at a scant 6:45).

Book your reservation at the Mars Hotel by ordering now. You'll check in and never want to leave.
Lista de Faixas:
01. U.S. Blues
02. China Doll
03. Unbroken Chain
04. Loose Lucy
05. Scarlet Begonias
06. Pride of Cucamonga
07. Money Money
08. Ship of Fools
Clique aqui para ouvir samples no YouTube.com ♫